Reality show junkies and ink enthusiasts alike have been obsessing over MTV's reality series, How Far Is Tattoo Far?, which aired its first season in 2018. The show, which was originally hosted by Nico Tortorella and Nicole Polizzi (aka Snooki), has pairs of friends, family members, and couples design tattoos for each other that they don't get to see until after they've been tatted. It's fun, it's emotional, and let's be real, it's pretty shocking.
During Season 2 of the show, however, Snooki was seemingly replaced by "Candy Land" rapper and model Justina Valentine. Why did Snooki leave How Far Is Tattoo Far? as the original host?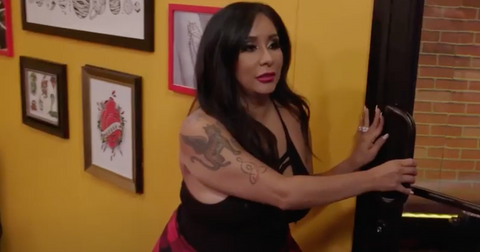 Why did Snooki leave 'How Far Is Tattoo Far?' in Season 2?
Snooki seemed to thoroughly enjoy hosting How Far Is Tattoo Far?, so fans were confused that she was no longer appearing in Season 2 episodes. Was she kicked off the show? Was it because of that one episode where she seemed legitimately terrified, before Kailah and Mikey revealed their questionable creations? The answer is simple: She was pregnant, and embarking on a few months of maternity leave.
During filming for Season 2 of How Far Is Tattoo Far?, the Jersey Shore alum gave birth to her third child, Angelo, on May 30, 2019. Snooki parented Angelo with her husband, Jionni LaValle, according to People. And while the reality star was away on maternity leave, rapper, singer-songwriter, and model Justina Valentine stepped in as a temporary host.
That being said, it seems like Snooki is most likely planning to return for How Far Is Tattoo Far? Season 3 (if it happens!). And on the bright side, after giving birth to her third child, Snooki said she's done having kids. So, she would most likely be hosting the series for the long haul, if it continues.
Here's what we know about 'How Far Is Tattoo Far?' Season 3:
The second season of How Far Is Tattoo Far? was officially released on May 23, 2019 on MTV, and as of August 2020, Viacom has not announced whether there will be a third season. However, since the show has gained tremendous traction, according to The Cinemaholic, it would be quite surprising if it isn't renewed. They predicted, though, a third season would have come out in May 2020, though the ongoing pandemic may have affected the release date and possibly filming.
How Far Is Tattoo Far? is the American version of the U.K. reality series Just Tattoo Us. There have been five seasons of the British version so far, which hopefully bodes well for the U.S. iteration. We're on the edge of our seats, waiting for a green light.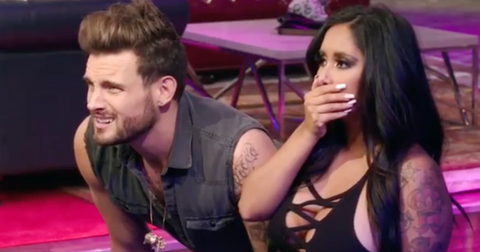 We're glad Snooki left How Far Is Tattoo Far? on good terms, and we're really hoping — if there is a Season 3 — that she will step back in to host. After all, there's truly no replacement for Snooki.