Trill Withers Left 'Barstool' — Is the Reason Hidden in This Specific Podcast?
Why did Trill Withers leave 'Barstool Sports'? Fans of the personality weigh in with their speculations that point to a specific podcast.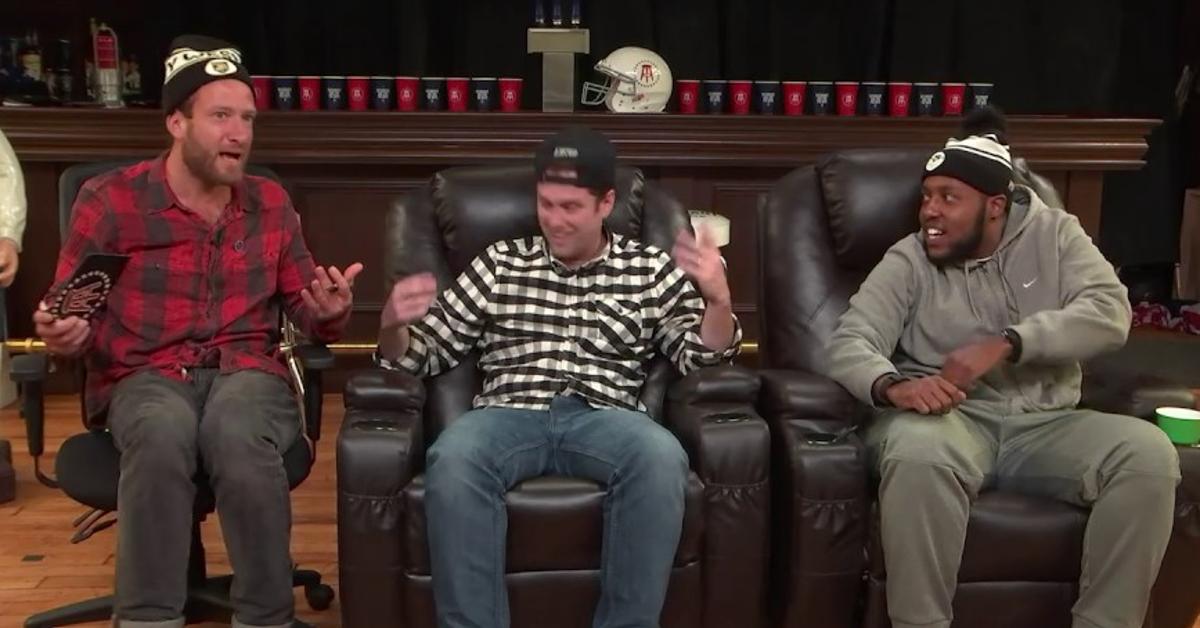 Barstool Sports was able to amass a huge following thanks to its assortment of personalities who aren't afraid to voice their personal opinions on high-profile athletics news stories. The site has managed to draw an equal number of fans and critics alike, and has been involved in a number of "cancel culture" discussions, especially when it comes to "Big Cat" (Dan Katz) and Barstool Sports founder Dave Portnoy.
But why did Trill Withers leave the site?
Article continues below advertisement
Trill Withers resigns and he hasn't given an official reason as to why.
The personality shocked Barstool fans after making what seemed like an impromptu announcement on social media: "I've decided to resign from my position at Barstool Sports."
Unlike a lot of personalities who have resigned from their jobs recently, Trill's departure doesn't have to do with him suffering a controversy, but rather a voluntary decision to quit.
Barstool has recently been the subject of controversy due to a number of old clips featuring some of the outlet's more prominent employees engaging in conversations that many are calling offensive, in poor taste, and in some cases, racist.
Clips of "Big Cat" joking about blackface, for example, began making the rounds on social media in recent weeks.
Article continues below advertisement

The commentator had publicly apologized for his comments, saying that while they were entirely in jest, he realized the offensive nature of them and vowed to "speak up more" and "use [his] platform to help people understand issues at a deeper level..."
Dave Portnoy has openly expressed his distaste for "cancel culture" and hasn't apologized for quips and comments he's made over the years that have sparked outrage on Twitter.
Article continues below advertisement
Dave has attributed the ire that's being directed toward him and his "unsavory" past clips, in part, to a shift in cultural norms over time: "Sensitivities change, cultures change. When you've been doing it as long as we have, things f--king change. I'm not going to apologize, I'm not going to bend the knee."
Article continues below advertisement
Dave has also said that the more cancel culture goes after Barstool Sports, the better it will be for the site, ultimately. He said in a tweet:
"Here's the thing: I've been doing this for two decades. I've made fun of every group of people. Every race, every creed, every culture—you name it. The no-fun club of the Cancel Culture wants to go back, blog-by-blog, video-by-video, day-by-day, week-by-week, month-by-month, year-by-year, decade-by-decade, and comb through everything we've ever f--king said and done, yeah, you're gonna find a few jokes that missed the mark."
Article continues below advertisement
So why did Trill leave 'Barstool'?
He hasn't directly commented as to why he was leaving. However, his latest appearance on 2Biggs' podcast, titled "Now It's Gonna Get Extremely Real," where several other minority reporters and personalities for the site got together to discuss the latest controversies surrounding their employer may explain why. Specifically when it comes to Dave's "past racist remarks and his refusal to apologize for them."
Article continues below advertisement
There was a ton of speculation that Trill would leave the site following the 2Bigg's podcast and in some of his more recent shows, viewers got the sense that he not only wasn't in agreement with Dave Portnoy's stance on his past racist remarks but, furthermore, he wasn't interested in working for an employer that demonstrated that kind of behavior.
Again, Trill didn't state this outright or "trash" Barstool or Dave for that matter because "that's not the type of guy he is," but many of his listeners believed he was alluding to a potential break from the podcast.
Sports fans were sad to see him go and his co-workers had nothing but good things to say about the man, like Liz Gonzales.
Article continues below advertisement


Article continues below advertisement
While many are disappointed Trill is leaving, others say that there will probably be even more talent departing from the outlet, with some social media accounts going so far as stating that there are a considerable number of "racists" under the site's employ that need to be exposed.
What do you think? Is Trill's decision to leave Barstool related to the recent controversy it's now mired in?