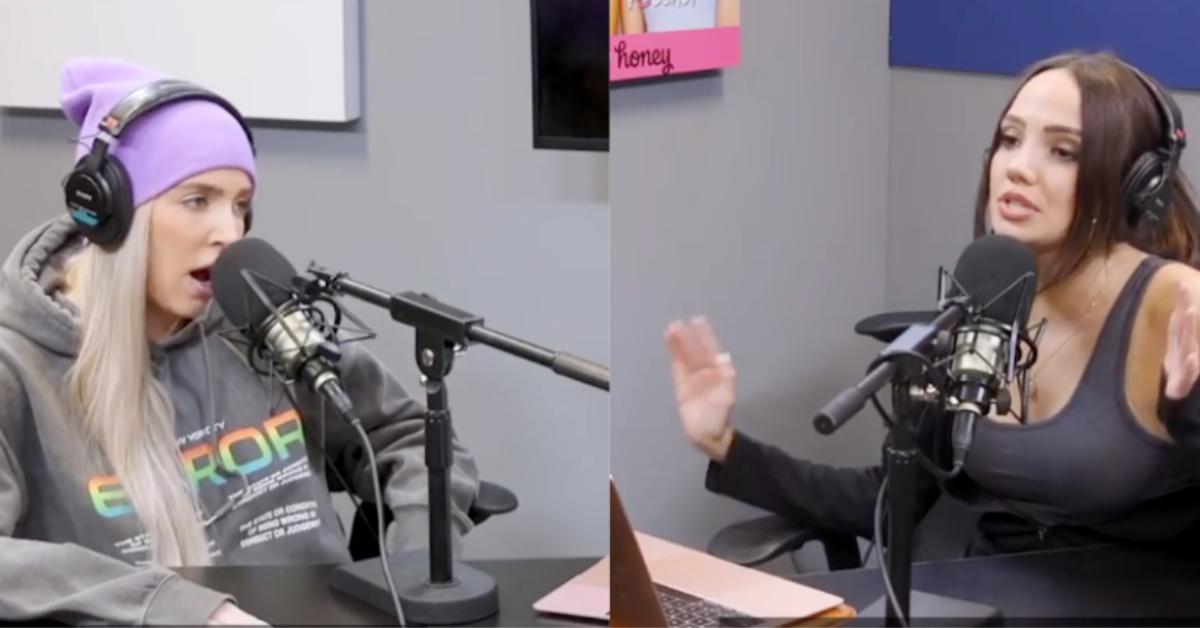 The Drama Around the 'Call Her Daddy' Podcast Continues
By Abi Travis

May. 18 2020, Published 2:33 p.m. ET
(Updated May 18)
As if things weren't already bad enough out there, fans of the Call Her Daddy podcast have a new tragedy to contend with. After several weeks without a new episode, it seems like the podcast is definitely going through something — but what? Here's what we know about what happened to Call Her Daddy.
Article continues below advertisement
What happened to the 'Call Her Daddy' podcast?
Call Her Daddy is a podcast hosted by 20-somethings Sofia Franklyn and Alexandra Cooper, who both live in NYC. Each episode features Sofia and Alexandra discussing the modern-day sex and dating scene, and let's just say they do not hold back. Their discussions are frank, explicit, and — in the minds of their many fans — hilariously addicting. 
Unfortunately, those discussions also seem to have disappeared for the time being. Call Her Daddy was originally part of the Barstool Sports podcast lineup, but rumors are now going around saying that is no longer the case. Information regarding the apparent split is scarce, but there have been some interesting posts on the Call Her Daddy social media pages, like this one that was shared on both Instagram and Twitter:
Article continues below advertisement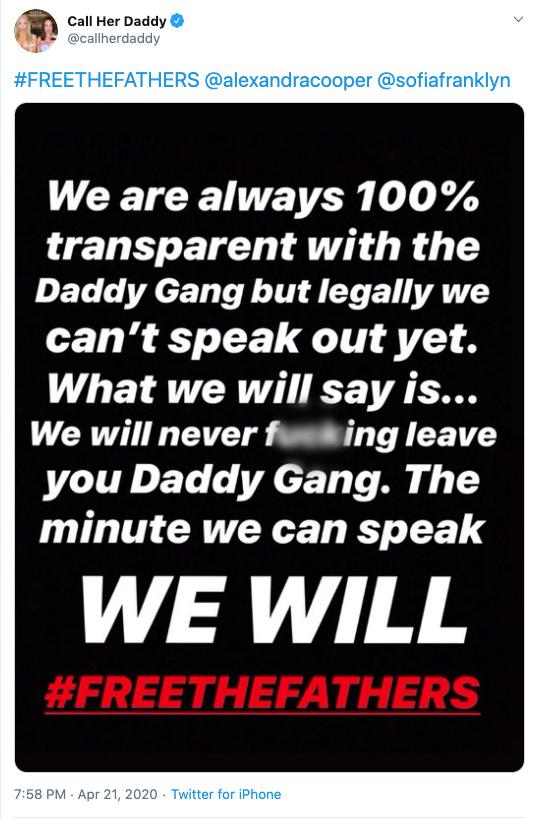 The #FREETHEFATHERS hashtag quickly picked up steam on social media with many fans wondering what exactly is going on. From what we can tell, it looks as though Sofia and Alex no longer work for Barstool Sports. And knowing the drama that tends to follow both them and the Barstool Sports network as a whole, we're guessing things may get messy.
Article continues below advertisement
What's going on with 'Call Her Daddy' and Barstool?
The tension between all the parties involved in Call Her Daddy has, as of May 18, turned even the podcast co-hosts against each other. "They're not speaking to each other anymore," said an insider, according to The New York Post. "They're completely turned on each other and started arguing over who was the real talent and who did more of the heavy lifting."
Article continues below advertisement
According to the outlet, the pair wanted out of their contract with Barstool as soon as other offers began coming in and rather than honor the contract, altogether stopped recording episodes in early April. Things came to a head when Sofia, who dates HBO Sports executive vice president Peter Nelson, began asking her boyfriend for legal advice behind the scenes. 
"He was quietly shopping them even though they were still under contract with Barstool," says The Post's insider, adding that the Call Her Daddy girls were offered a deal with the podcast network Wondery. 
Article continues below advertisement
Despite the unprecedented nature of their retaliation against their contract, Barstool Sports founder Dave Portnoy is still prepared to play ball with the ladies. "We offered them mid- to high six-figure salaries and a way for them to get the intellectual property," he said. "We offered them substantial raises just to get them to honor their existing contract."
It sounds like the deal was good enough for Alexandra to want to return to the pod, but Sofia hasn't yet accepted or rejected Barstool's offer. Add to that the fact that the two allegedly aren't even talking and we totally understand why the insider says things at Call Her Daddy have "gotten ugly."
We'll have to see how this plays out...