The Drama With 'Call Her Daddy' Might Finally Be Over — What's Next After Its "Season Finale"
Fans of the 'Call Her Daddy' podcast are wondering what happened to their favorite show. So, what's the drama surrounding 'Call Her Daddy'? Details!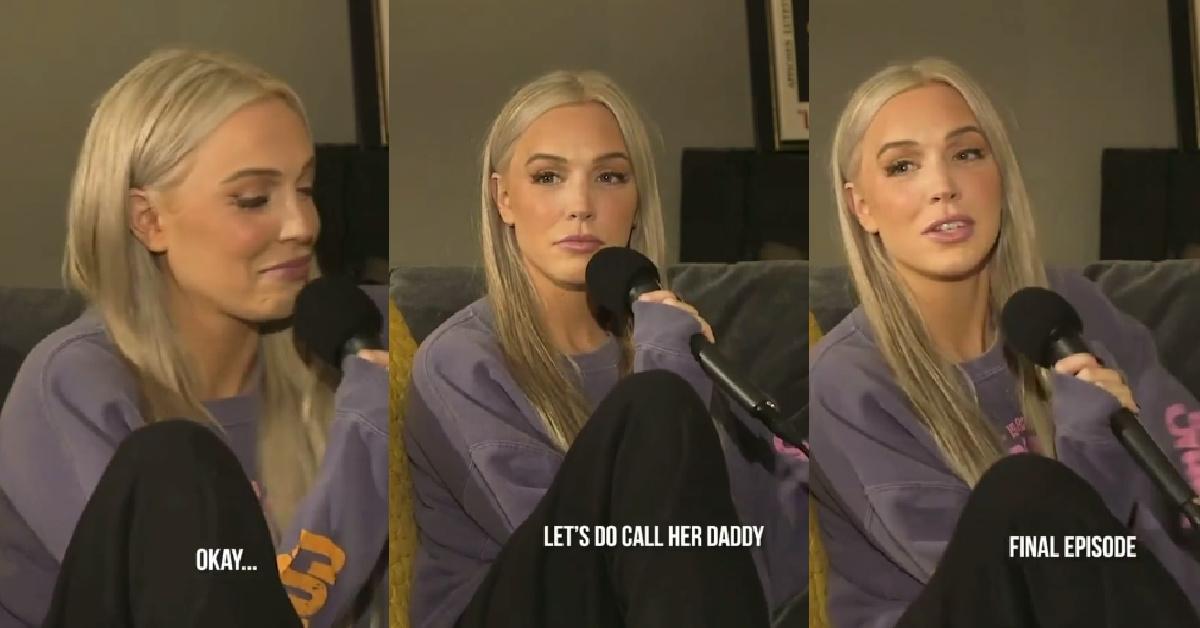 It's been a rocky road for Call Her Daddy, one of the most popular podcasts out there right now. The podcast started facing issues in early 2020 when rumors started swirling that the two hosts were fighting and trying to find deals for the show outside of its home on Barstool Sports, all while Call Her Daddy would go on intermittent hiatuses. Here's what we know about what happened to Call Her Daddy.
Article continues below advertisement
What happened to the 'Call Her Daddy' podcast?
Call Her Daddy started out as a podcast hosted by 20-somethings Sofia Franklyn and Alex Cooper, who both live in NYC. Each episode featured Sofia and Alex discussing the modern-day sex and dating scene, and let's just say they did not hold back. Their discussions were frank, explicit, and — in the minds of their many fans — hilariously addicting.
Unfortunately, things with the podcast haven't really been smooth sailing as of late. In April of 2020, new episodes stopped being released. Rumors started going around saying that Call Her Daddy would be removed from the Barstool Sports lineup, but official information — from either the podcast hosts or Barstool — remained scarce. There were some interesting posts on the Call Her Daddy social media pages, though, like this one that was shared on both Instagram and Twitter:
Article continues below advertisement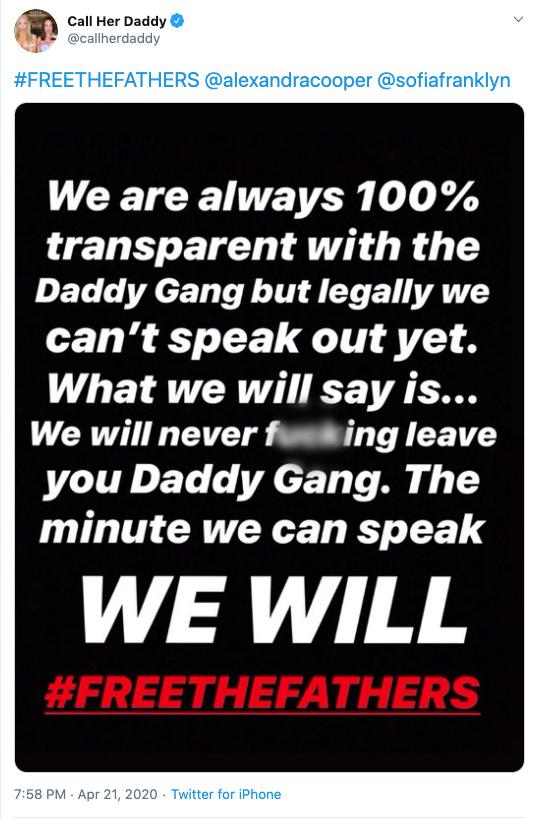 The #FREETHEFATHERS hashtag quickly picked up steam on social media with many fans wondering what exactly was going on. Eventually, in May of 2020, Barstool Sports founder and president Dave Portnoy released an episode in the Call Her Daddy feed revealing some of what had happened.
Article continues below advertisement
What's going on with 'Call Her Daddy' and Barstool?
The tension between all the parties involved in Call Her Daddy ultimately turned even the podcast co-hosts against each other. "They're not speaking to each other anymore," said an insider, according to the New York Post. "They're completely turned on each other and started arguing over who was the real talent and who did more of the heavy lifting."
Article continues below advertisement
According to the outlet, the pair wanted out of their contract with Barstool as soon as other offers began coming in. Rather than honoring the contract, they instead stopped recording episodes in early April of 2020. Things came to a head when Sofia, who was dating HBO Sports executive vice president Peter Nelson (aka "Suitman"), began asking her boyfriend for legal advice behind the scenes.
"He was quietly shopping them even though they were still under contract with Barstool," said The Post's insider, adding that the Call Her Daddy girls were offered a deal with the podcast network Wondery.
Article continues below advertisement
Despite the unprecedented nature of their retaliation against their contract, Barstool Sports founder Dave Portnoy was still prepared to play ball with the ladies. "We offered them mid- to high six-figure salaries and a way for them to get the intellectual property," he said. "We offered them substantial raises just to get them to honor their existing contract." The deal proved good enough for Alex to want to return to the pod, but Sofia left to start her own podcast — Sofia With an F.
Article continues below advertisement
Did 'Call Her Daddy' leave Barstool for good?
Fast forward to May of 2021, when an episode entitled "Season Finale" dropped in the feed and made a ton of fans start to panic. After all of the drama that has followed the podcast for the past year, the word "finale" sent the Daddy Gang into a bit of a tailspin and made people worry that the podcast was ending or leaving Barstool for good. But don't worry! Things are going to be just fine.
"Daddy Gang, this is it for this week's episode. I'd just like to clarify that this is a season finale, it's not a series finale," Alex said in the episode. "You b---hes know that I will never f--king leave you. You are gonna be getting a whole lot more of Call Her Daddy. I will see you in a couple of weeks."
Article continues below advertisement
Turns out, this season finale was because Alex signed an official deal with Spotify, making Call Her Daddy an exclusive podcast on the streaming service. The multi-year deal reportedly was worth around $60 million — and Alex is looking to expand her empire far beyond that.
Article continues below advertisement
"I now feel more pressure, because I'm such a competitive person — I've played sports my whole life — so now that I have [the deal], I think it's only the beginning for me," she told Entertainment Tonight. "I want to be the biggest podcaster in the world. I want every single woman / man to know this brand, live this brand."
Despite the previous drama, it seems as though she and Dave ended on good terms, and he supported Alex's decision to take the show to Spotify.
"I'm really grateful, and I've always said with regard to Dave and my relationship, I'm so thankful for the platform that he gave me," she said. "We actually had a really good heart-to-heart phone conversation with him and then the CEO [of Barstool], Erika Nardini, and I remember getting emotional on the phone call."
Now, all previous and future episodes of Call Her Daddy will be available only on Spotify.