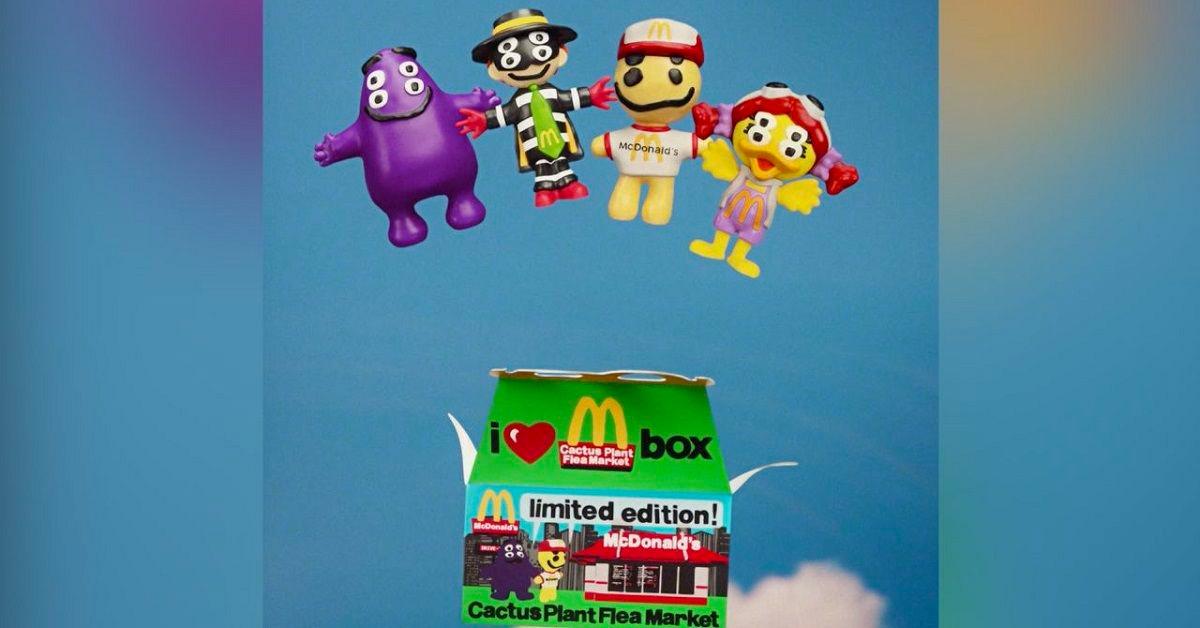 The Eyes on the New Adult Happy Meal Toys at McDonald's Are Freaking People Out
Following the announcement that McDonald's would be selling Happy Meals made solely for adults, plenty of people were thrilled by the news. The boxes will be available throughout the month of October, and customers can choose between a 10 piece McNugget meal or a Big Mac along with fries and a drink in order to get one. Just like Happy Meals for kids, these boxes also come with toys.
Article continues below advertisement
Why do the adult Happy Meal toys have four eyes?
As people begin to purchase their adult Happy Meals and check out their toys, many have noticed that all of the toys included in their boxes have four eyes. While that design element may seem innocuous to some, others wondered if it had some deeper meaning that they were just missing. As it turns out, the main reason that toys have four eyes is because McDonald's collaborated with streetwear brand Cactus Plant Flea Market on their designs.
Article continues below advertisement
The brand is known for their off-beat designs, and one of their signature elements has long been a face with four eyes. The company has previously produced bracelets and t-shirts that feature a yellow smiley face with two sets of eyes. Now, the brand has taken their own signature style and attempted to meld it with many of the signature characters that McDonald's customers are likely familiar with.
Every adult Happy Meal comes with one of four toys.
There are four available toys that you could get when you order an Adult Happy Meal. Three of those toys are redesigned versions of the McDonald's mascots Grimace, the Hamburglar, and Birdie. There's also a new figure associated with Cactus Plant Flea Market named Buddy, who is dressed in the uniform of a McDonald's employee.
Article continues below advertisement
In addition to the toys, you can also win merch that Cactus Plant Flea Market designed specifically for its collaboration with McDonald's if you order through the app. All you need to do is order your Happy Meal through the app to be entered, and you can enter as many times as you want. The merch apparently includes a hoodie, a t-shirt, an acrylic sign, and a chair, as well as an assortment of plushies.
Article continues below advertisement
What is Cactus Plant Flea Market?
If you've never heard of Cactus Plant Flea Market, you might be confused about why a major fast food chain like McDonald's has chosen to partner with them. Essentially, the brand creates limited quantities of highly sought after clothing, and that clothing is often resold for exorbitant sums after they initially release it.
Cactus Plant Flea Market has a lot of cultural cache, which is one of the reasons that McDonald's may have sought them out as a partner. They work to make McDonald's seem less corporate and cooler, and Cactus Plant Flea Market in turn gets a chance to spread its name to a much wider audience. If you vibe with their Happy Meals, you may eventually find yourself wanting some of their other clothes, as well.
The McDonald's adult Happy Meal is available for purchase while supplies last.