McDonald's Is Offering Nostalgia-Fueled Happy Meals That Are Just for Adults
McDonald's, seemingly driven by nostalgia, is collaborating with a streetwear brand to sell Happy Meals that are just for adult buyers.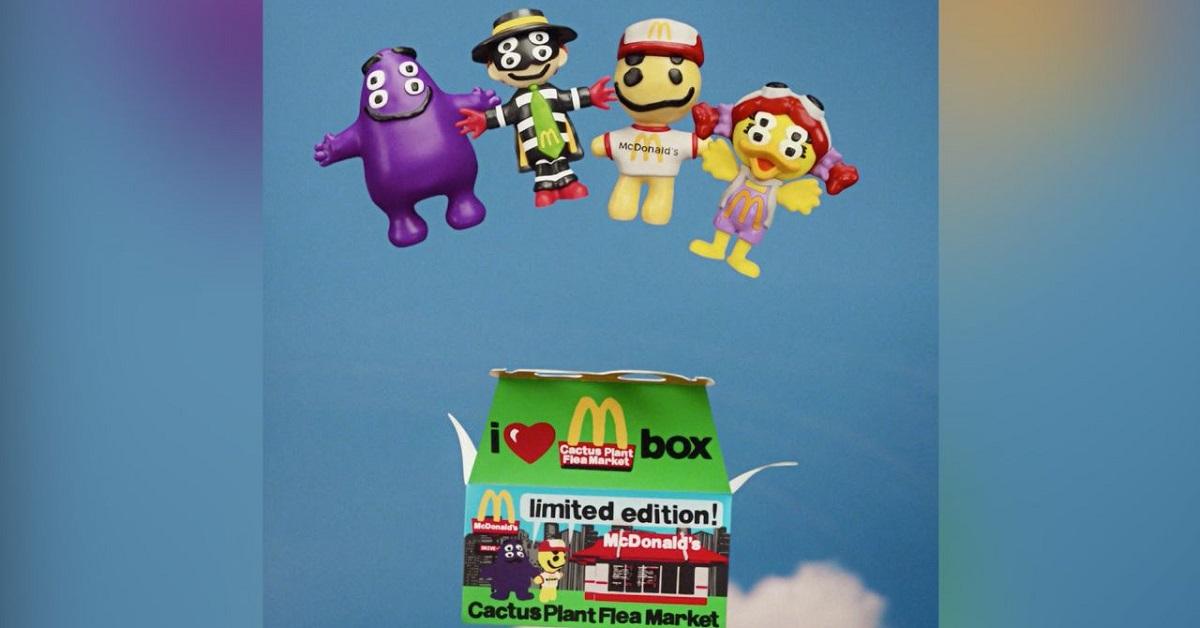 If you're one of those people who will forever be nostalgic for the trips you took to McDonald's as a child, then you might just be in luck. News recently broke that McDonald's is planning to offer a line of Happy Meals, including the toys, that are only for adults. These new Happy Meal boxes are designed to be more adult-friendly, but they also play on the nostalgia of every millennial who misses their youth.
Article continues below advertisement
McDonald's is selling Happy Meals for adults.
Beginning on Oct. 3, you can go to any participating McDonald's location and order a Cactus Plant Flea Market box, which can contain a Big Mac or a 10-piece chicken McNuggets along with fries and a drink. The box is a collaboration between McDonald's and Cactus Plant Flea Market, a streetwear brand that is already hooking its customers on nostalgia about the past.
Article continues below advertisement
The food will be served in a box that should remind customers of a Happy Meal, and the boxes will also feature redesigned versions of classic McDonald's characters like Grimace, the Hamburglar, and Birdie, as well as a totally new character named Cactus Buddy.
"We're taking one of the most nostalgic McDonald's experiences and literally repackaging it in a new way that's hyper-relevant for our adult fans," McDonald's USA chief marketing and customer experience officer Tariq Hassan said.
Ordering an adult Happy Meal is a simple process.
Now that you've wrapped your mind around adult Happy Meals being a thing, it's time to explore how to order the new addition. According to Axios, a McDonald's rep shared that customers can purchase an adult happy meal at restaurants via the drive-through or walk-in. Additionally, customers can also nag the adult happy meal by delivery, via the McDonald's delivery app or others.
Article continues below advertisement
How much is the adult Happy Meal?
Although some sites report that the adult Happy Meal is priced at $10.79, it appears that costs will vary. Per Axios, a McDonald's rep shared that restaurants have free will to create prices as they see fit.
In fact, New York City locations, via the McDonald's app, have the 10-piece Chicken McNuggets box currently listed as $13.09, with the Big Mac box priced at $13.99.
Article continues below advertisement
The Cactus Plant Flea Market collaboration is a little unusual.
It may seem surprising for a streetwear brand that has been popularized by people like Pharrell and Kanye West would collaborate with one of the most popular fast food chains in America. After all, hoodies from the brand can sell for as much as $1,000, which stands in sharp contrast to the remarkably cheap prices that McDonald's has made its name on.
While it may seem unusual, CNN reports that McDonald's has often found success in its past collaborations with celebrities. In the past, they've collaborated with people and bands like BTS, J Balvin, and Travis Scott. The collaboration with Travis was so popular, in fact, that they actually ran out of meals. It remains to be seen whether this new collaboration will be similarly successful, but the reintroduction of Happy Meals could be a major success.
Article continues below advertisement
Rumors recently spread that McDonald's would be bringing back all-day breakfast.
In 2015, McDonald's announced that it would start serving breakfast all day, and plenty of people were thrilled by the news that they could get their favorite breakfast items whenever they wanted them. When the pandemic caused cutbacks in many restaurants, McDonald's was also affected, and one of the first things to be cut was the all-day breakfast.
Rumors recently began circulating that McDonald's would be bringing all-day breakfast back, but it seems that rumor was false. McDonald's has no plans to resume all-day breakfast in the foreseeable future, in spite of what many people may want. For now, it seems that regular customers will have to be happy with the Happy Meals that they can now order, whether or not they have a kid.