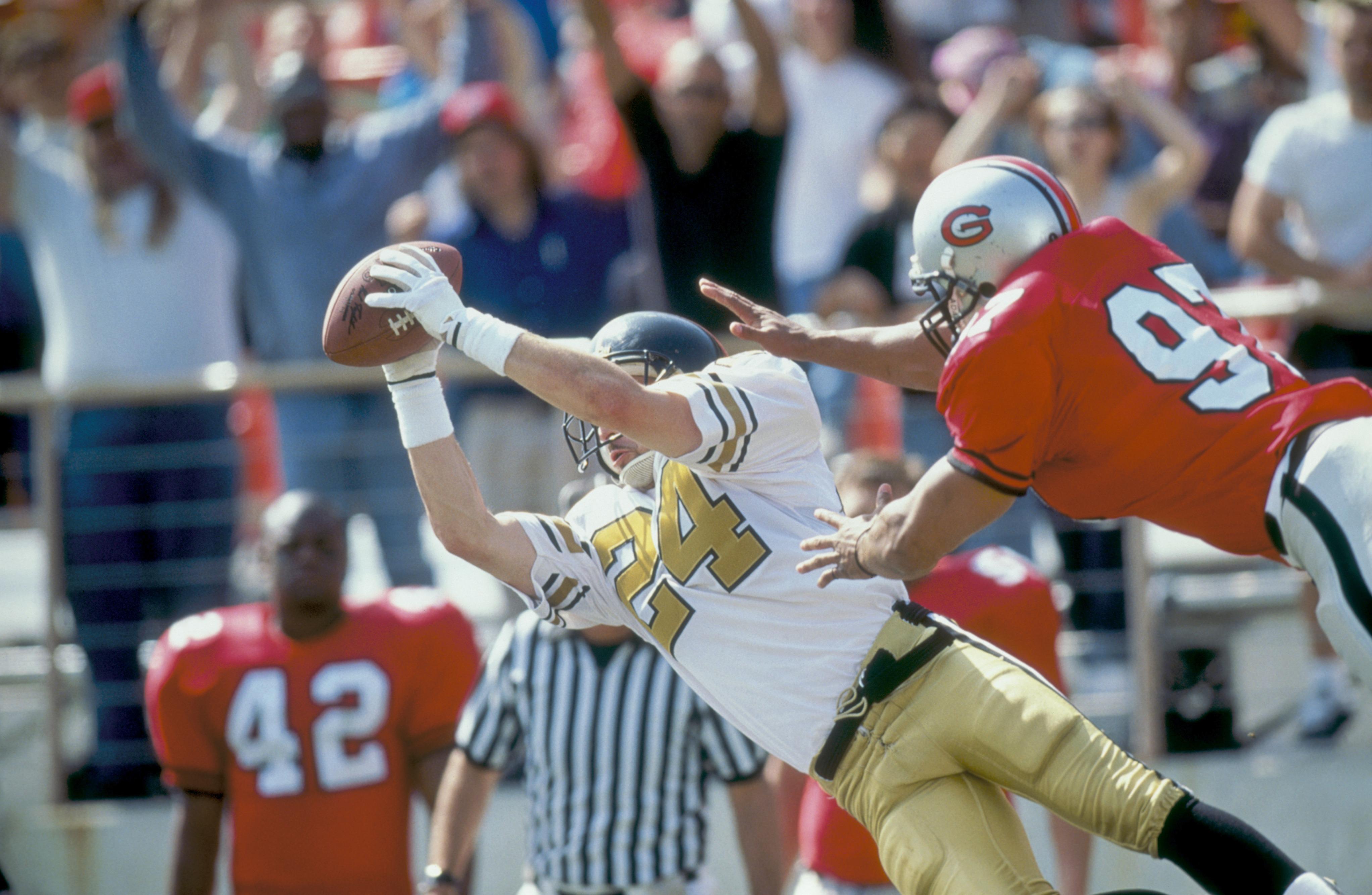 Why Do Some Football Players Wear Fanny Packs During Games?
In the NFL, it's pretty common to see players wearing a fanny pack around their waists. More often than not, quarterbacks and wide receivers sport the bag-like pouch, especially during more frigid temperatures. Is there a reason for that? Why do football players wear fanny packs? Wait, is it even really a fanny pack? Let's find out!
Article continues below advertisement
Why do football players wear fanny packs?
Though it mirrors the physical appearance of a fanny pack, the gear around the football player's waist is far from it. If you're unaware, the so-called fanny pack is actually a hand warmer; they play a vital role in football, especially in colder conditions.
Whether you're watching a Pop Warner level game or a high-stakes professional matchup, plenty of football players don a hand warmer because obviously, you want to keep your hands from freezing off mid-game.
Article continues below advertisement
For a quarterback like Joe Burrow, a hand warmer is incredibly beneficial. Not only will it keep his hands from freezing in between plays, but it will allow him to keep throwing effectively to his teammates.
When it comes to wide receivers, having a hand warmer is just as important; their hands must be as warm as possible if they want to catch the football and zone in for more yards or, possibly, a touchdown.
Are there different types of hand warmers for football players to use?
The last thing anyone wants is a turnover, so if wearing a hand warmer will prevent that and elevate a player's performance level, then, by all means, we feel all players handling the football should consider wearing one. Of course, there are different types of hand warmers, so players want to make sure that the one they use will enhance their gameplay.
Article continues below advertisement
Per Viqtory Sports, there are two types of hand warmers — the traditional one, which wraps around a player's waist, and the one attached to their jersey. The standard hand warmer can be as tight as the player wants, but there is some concern that a defender may completely rip it off. So, that's where the new style of hand warmers comes into play.
Article continues below advertisement
The hand warmers directly bound to a player's jersey are prevalent in the NFL, and they "help players from losing them or getting them completely ripped off," the outlet noted. They added that Baltimore Ravens quarterback Lamar Jackson frequently dons this style of hand warmer, which looks like a thick pocket at the front of his uniform.
What do football players put in their hand warmers?
If football players want to warm their hands in between plays or before heading onto the field, they need to keep air-activated warmers in the pouch. When the time comes to warm their hands, players will squeeze (or hold) the warmers for approximately 10-20 seconds to gain warmth.
Article continues below advertisement
Plus, by keeping the air-activated warmers in there, the pocket will remain warm the entire time — now that's what we call an innovative invention. So, the next time you play a game of football in cold or rainy conditions, consider picking up a hand warmer and saving your hands from harm.