Gymnasts Rely on a Range of Tricks to Reduce Friction on Uneven Bars — Some of Which Involve Molasses
Why do gymnasts spray the uneven bars? What substances do they use? Here's what you should know about the common practice many Olympians rely on.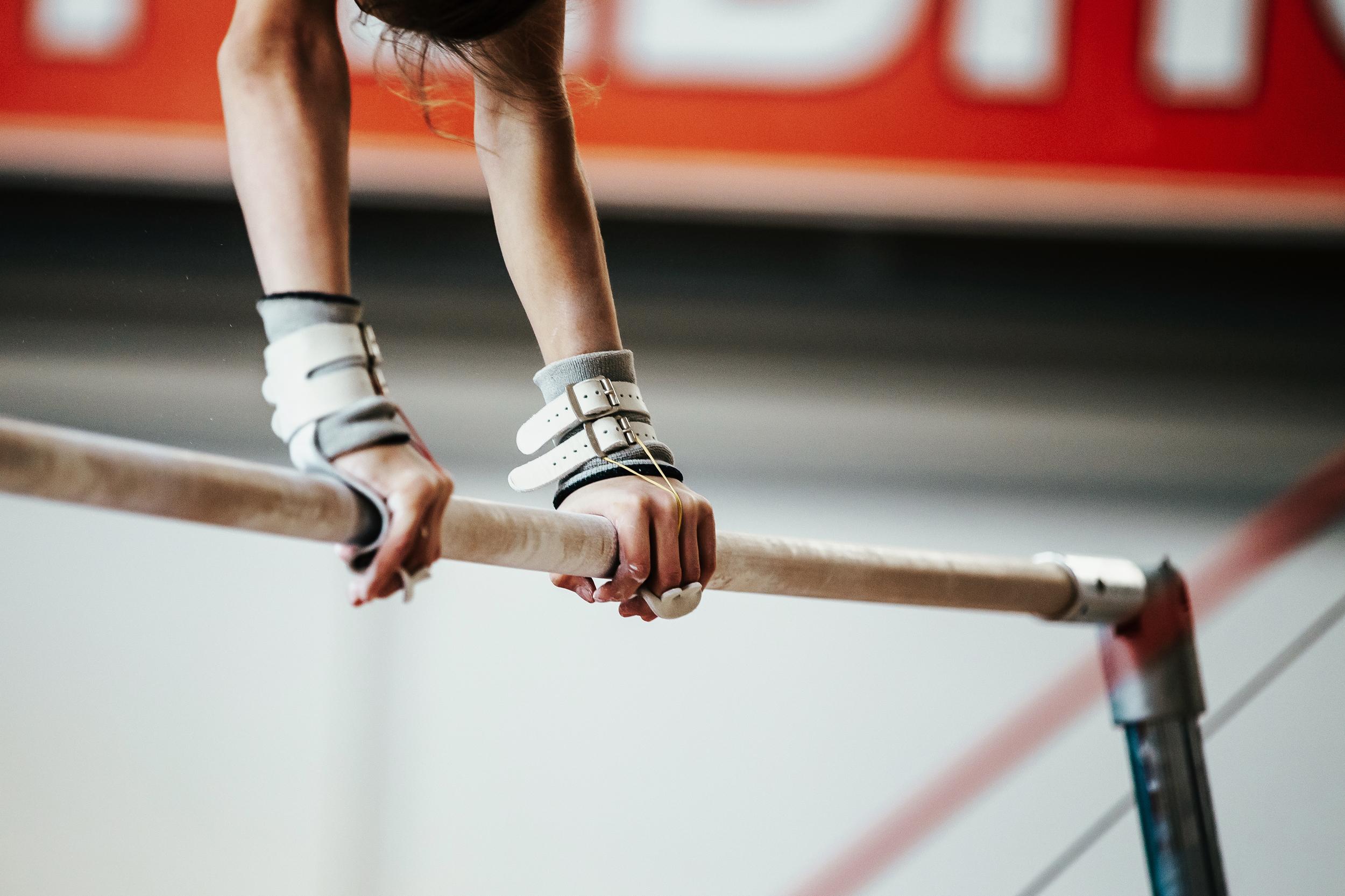 Frequently hailed as the most-watched sport at the Summer Olympic Games, gymnastics continues to enjoy unmatched popularity among spectators eager to catch a glimpse of performances that, at times, seem to defy the laws of gravity.
Known for its extremely strict rules, gymnastics is undoubtedly one of the toughest disciplines out there. So, why are gymnasts allowed to spray the uneven bars?
Article continues below advertisement
Why do gymnasts spray the uneven bars?
If you've been closely following the Olympic Games Tokyo 2020 broadcasts, you will have likely spotted that top-tier gymnasts like Sunisa Lee tend to cover their hands and legs in white dust.
Gymnasts frequently use chalk (Magnesium carbonate or CMgO3) to fend off the threat of sweat (at least in one respect, they are just like us!), decrease friction, and make certain that they will be able to maintain a perfect grip throughout the routine. But why do they spray the uneven bars?
Article continues below advertisement
A similar principle underpins the practice of spraying the uneven bars as well. Gymnasts have to ensure that they will have a good grip for the duration of the entire performance — and they are allowed to use whatever mixture they like to prepare the uneven bars so they will stick and their grip will hold.
According to Yahoo Sports, water is among the most common substances used to prepare uneven bars. Some swear by a mixture of resin and water. Either way, the main purpose remains the same. The gymnasts need to ensure that they will be able to hold onto the apparatus no matter what. Not only are they aiming to get high scores, but they also have to try and avoid injuries.
Article continues below advertisement
The use of chalk has a fairly divisive impact on fans. Some took to Twitter to point out that their strong dislike of chalk is one of the main reasons that they couldn't pursue the sport.
"Could never be a gymnast because I couldn't put chalk on my hands. That's the only reason," joked Alie Benge (@aliebenge3).
"I could never be a gymnast. I hate the feeling of chalk on my hands," wrote @cupcakesbytheLB.
Article continues below advertisement
Some male gymnasts gotten even more creative while on the quest for the perfect grip.
Because they tend to weigh more than female gymnasts, male gymnasts have to get even niftier when it comes to devising the right concoction to be used during a routine. It's understood that they use several substances, most of which are likely applied to their hands.
Article continues below advertisement
Take Trent Wells, a former gymnast who competed on the parallel bars and inspired an urban legend. Trent was using a potion made of molten gummy bears before upgrading to a special type of sugary water created with the help of a chemist friend, per Gizmodo.
But Trent is far from the only person who seems to swear by sticky, sugar-heavy mixes. Molasses, Karo syrup, golden syrup, beer, honey, and honey mixed with chalk are just some of the solutions results-driven gymnasts are thought to have relied on while performing a routine.