Why Do Hockey Players Tape Their Sticks? There's More to It Than You Probably Think
There really aren't many sports that are as exciting to watch live as hockey. Even if you're not a huge fan of the sport, watching a game live is anything but a boring affair. The fast-paced nature of the game, the puck flying all around the ice, the hard hits against the glass and subsequent fights that sometimes break out — they're just a joy to watch.
If you've never played the sport, however, some of its practices might seem a little strange. Like why do players tape their sticks, for instance?
Article continues below advertisement
Why do hockey players tape their sticks?
There's a good chance you've seen wiffle ball bats wrapped with black tape around the grip area, and the reason behind that is simple: to help get a better grip on it and hopefully improve your swing.
But with hockey, the stick-taping process seems to be a little more involved. There are different-colored tapes on some sticks (usually black or white) and they're placed on different areas of the stick.
There are actually a few different reasons why this is done, according to Source for Sports. Let's start with the bottom portion, the "blade" of the stick. Wrapping that area with tape is supposed to give players a better "puck feel," which results in greater control of the puck as they're playing.
Article continues below advertisement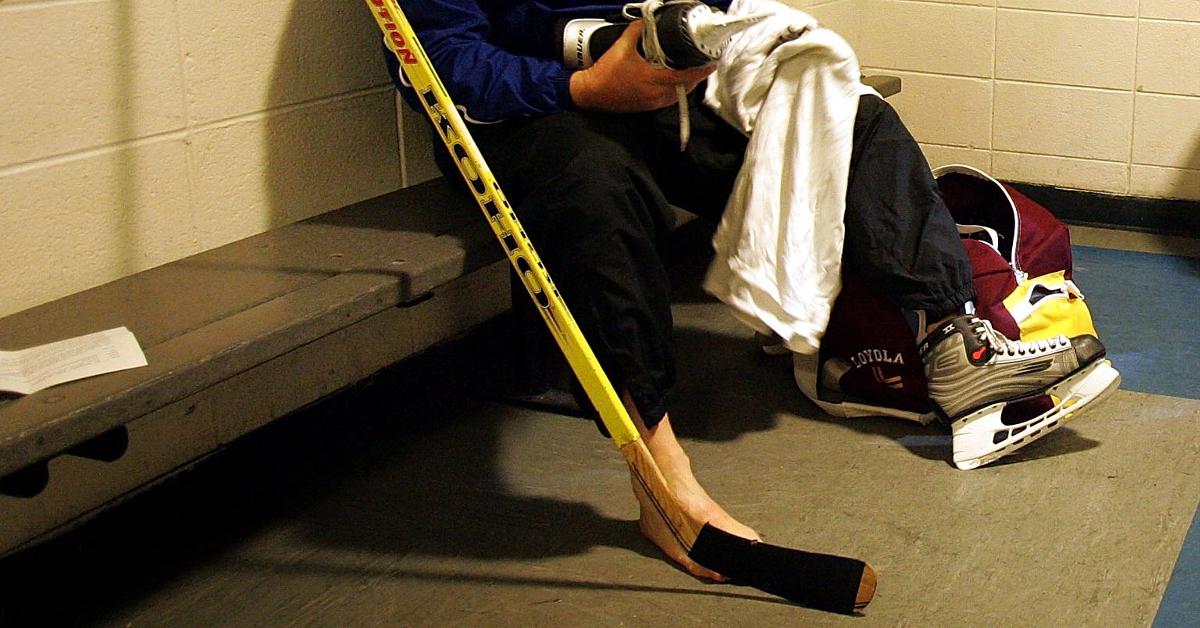 The added weight/friction of cloth tape on the stick means that there's a better chance of the puck holding onto the stick, which affords players greater mobility/movement with the puck as they're dodging defenders and trying to make it to the goal.
Now the color of the tape that's used on the blade, believe it or not, is of some significance.
Article continues below advertisement
White tape will help create better contrast against the puck, and when you're playing with a helmet on in a fast-paced situation, those split-second glances down at the ice to see where the puck is at will help you tremendously. However, more experienced players will tape the bottom portion of their stick black, which helps to "camouflage" the puck a bit more.
Article continues below advertisement
Goalies may rock sticks with white tips in order to better see the puck, or wrap white tape around them too in an effort to more easily see the puck, as a result.
Taping the top of the stick also helps players grip it more effectively, and you will usually see hockey players create a "ball" or "knob" of sorts at the top. This helps with ensuring it doesn't slip through the players' gloves.
Article continues below advertisement
There's also another practical reason why players tape their sticks: It helps to protect them from wearing out on the ice. No one wants a chipped stick blade as they're nailing slap shot after slap shot. In the olden days, tape was placed on the bottom of a stick to help it from warping; all of that ice and moisture isn't exactly ideal for a piece of wood.
Article continues below advertisement
But newer sticks are designed to withstand the ice, and there's still the issue of chipping that needs to be addressed, which makes tape a hockey player's best friend. Well, that and a good enforcer who'll throw down for you at a moment's notice.