Why Do Olympic Swimmers Slap Themselves and Splash Water Before Swimming?
Why do swimmers slap themselves before swimming? Why do they splash water? Why do they put on two swim caps? Get answers to your swimming questions.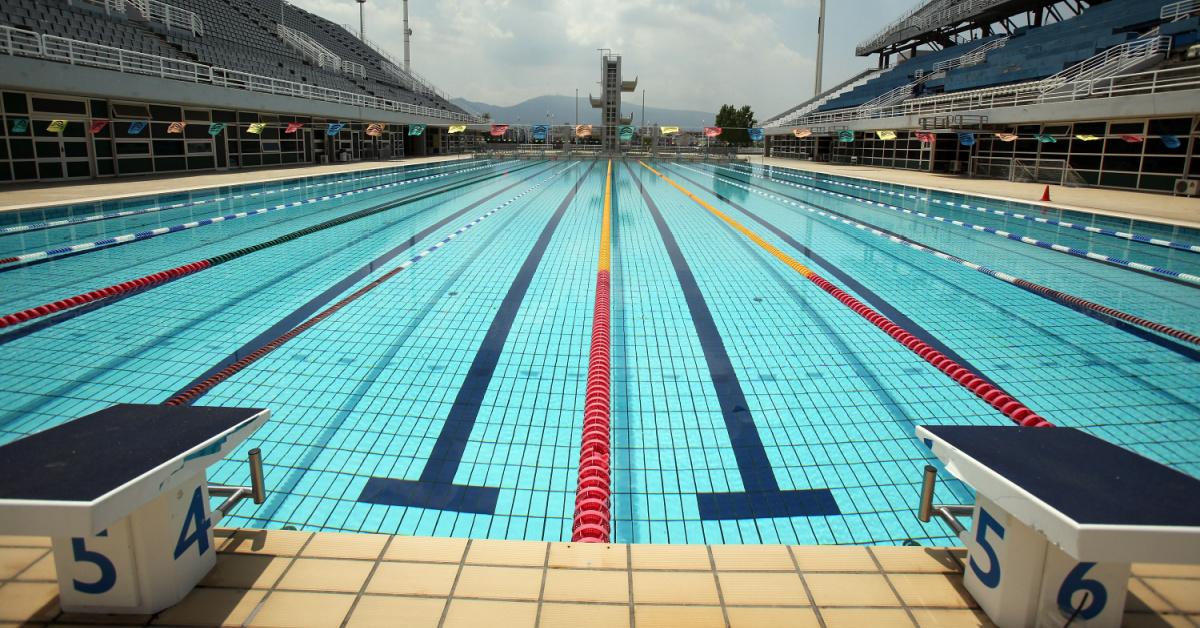 If you've been tuning into the 2020 Tokyo Summer Olympics, you may have questions swimming around in your head. One of the biggest: Why do swimmers slap themselves before diving into the pool?
Article continues below advertisement
U.S. swimmer Lilly King, hailed by USA Today as "the queen of psyching out her opponents," slaps her thighs for dramatic effect, intimidating other opponents with the sound. (At the 2017 worlds, she stood over Russia's Yuliya Efimova in the ready room, slapping her leg for "a good five minutes," as Yahoo! Sports reported.)
But the leg-slapping serves another purpose for other swimmers. Read on for more info!
Why do swimmers slap themselves before swimming?
Matt Barbini, USA Swimming's director of performance, explained these pre-race rituals to Today recently, saying that some swimmers and coaches believe slapping one's body helps increase blood flow to their muscles.
"So you'll see people go up and down their arms and across their chest," he said. "And they consider it part of their warmup or activation, just making sure that there's sort of maximal blood flow going to those parts of the body before you swim."
Article continues below advertisement
He also speculated that the body-slapping and the water-splashing serves a psychological purpose, too: "Anything that sort of kills those in-between moments before the race starts, I think helps keep athletes calm, and it helps to distract them from the nerves. And then the fact that there's some sort of scientific backing behind it, I think, lends some credibility and makes people more likely to adopt it."
Why do swimmers splash themselves before swimming?
Matt told Today that swimmers splash themselves with water for two reasons: One, some swimmers think the water helps lock their swimsuits in place, and two, they douse themselves with pool water to help themselves adjust to the water temperature after their pre-race warmups.
Article continues below advertisement
"You're diving into 80-degree water, which is fairly cool, and so the difference between your body temperature and the water is significant," Matt adds. "Some athletes can find that to be a little bit of a shock to the system. So by splashing water on yourself, you're lessening the shock of diving into the water."
Why do swimmers wear two swim caps?
You may also have noticed that many swimmers double up on swim caps. This is to reduce drag in the water. The inner cap is made from latex, which clings to the head better. The outer cap, meanwhile, is made from silicone, which doesn't wrinkle as much as latex and is thus more hydrodynamic.
Article continues below advertisement
Wearing two swim caps also helps swimmers keep goggles in place, since they can sandwich the goggle strap between the two layers. That can prevent mishaps like the one U.S. swimmer Lydia Jacoby experienced during the Olympic mixed 4x100m medley relay on Friday, July 30, when her goggles slipped down her face when she dove into the pool.
"I've never really had that happen before," Jacoby said after the race, per to USA Swimming. "It's out of my control at that point once I was in the water, so I just swam as best I could with what was happening at the moment."