The Phillies' Celebration Gesture Is a Reference to a Classic Comedy and a Vulgar Joke
The Phillies juggle their hands whenever they make a good hit, and now that they're Wild Card contenders, fans are wondering what the gesture means.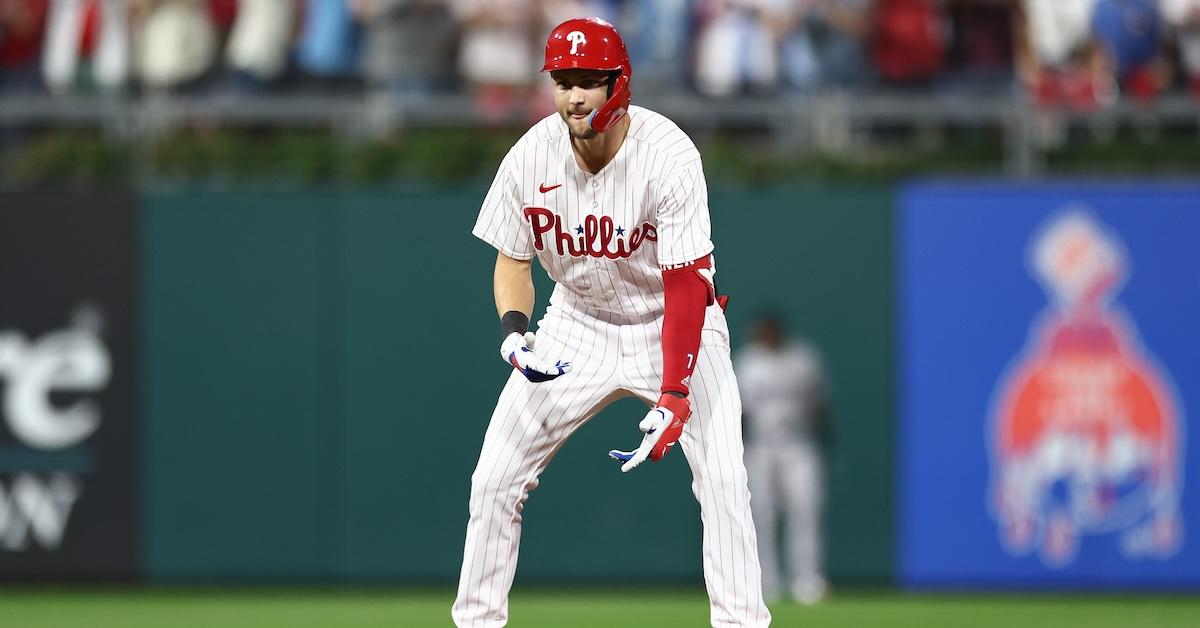 The Gist:
The Phillies are in the 2023 MLB playoff season, and they celebrate big hits by juggling their hands.
Juggling hands is actually a reference to Major League II.
Phillies fielder Christian Pache shares a trajector with Major League II character Pedro Cerrano.
Article continues below advertisement
As we gear up for another playoff season of baseball, the Phillies are front and center. In 2022, they upset the New York Mets by jumping into the new Wild Card spot and going all the way to the World Series, which they lost to the Astros. Now, in 2023, the Phillies are once again Wild Card contenders and they're expected to go far.
But this year, the biggest change in the Phillies is their celebration. The Phillies players often juggle their hands below their belt when someone makes a good hit, and it isn't totally clear why. Well, it isn't clear to the casual baseball viewer. But it makes a lot of sense for a movie aficionado and hardcore baseball fan.
Article continues below advertisement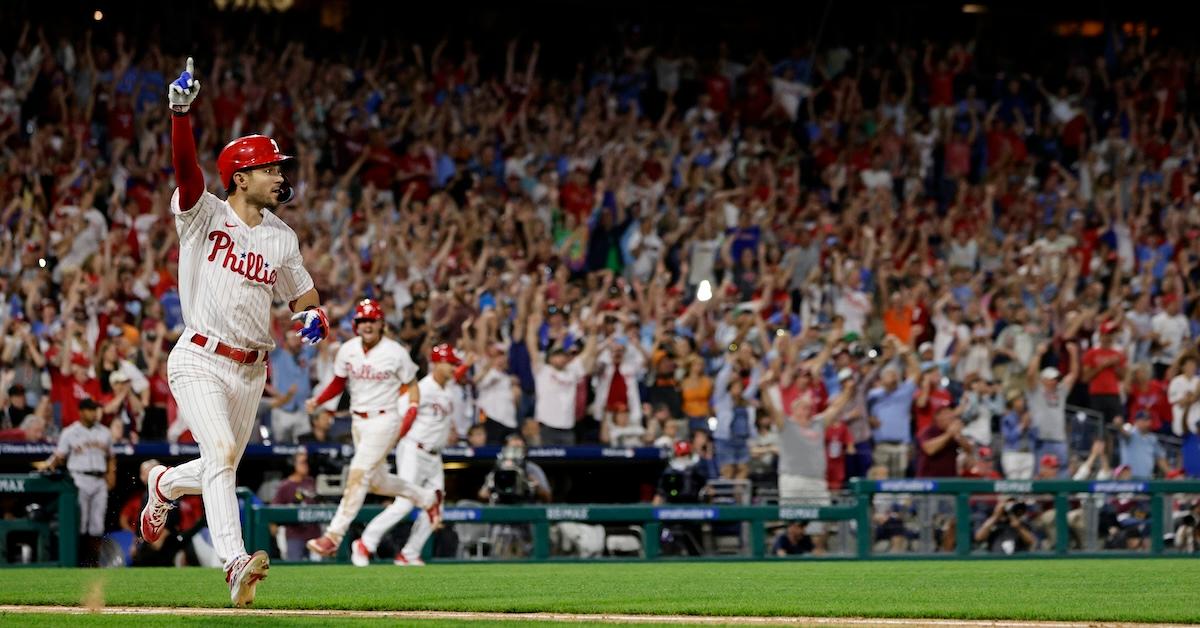 The Phillies juggle their hands as a reference to 'Major League II.'
The 1994 film, Major League II, is a hilarious sequel to the 1989 sports comedy, Major League. Major League II stars Charlie Sheen, Tom Berenger, and Corbin Bernsen, but the guys who created the iconic juggling gesture are Dennis Haysbert and Takaaki Ishibashi. Dennis plays Pedro Cerrano, a hitter in a slump, who's trying to meditate his way to a good hit. Takaaki plays a Japanese player, Isuro "Kamikaze" Tanaka, who speaks little English.
Article continues below advertisement
As Cerrano tries to finally hit the ball, Kamikaze tells him, "You have no marbles!" At first, Cerrano doesn't understand what Kamikaze is saying, but when he says, "Juevos?" he realizes that Kamikaze is referring to balls … and not the baseball kind of ball. Essentially, Kamikaze challenges Cerrano by saying he has no guts (or balls).
Article continues below advertisement
In Major League II, Cerrano asks to pinch hit in the ninth inning, and he hits a game-winning homerun. Kamikaze juggles his hands below his belt, referring to Cerrano's balls that he has after hitting it big. Now, the Phillies have the same celebration! But why? Well, it comes down to Christian Pache.
Phillies player Christian Pache followed a similar trajectory to Cerrano.
Before this year, Christian was considered one of the worst hitters in the MLB. However, he's a great fielder, so the Phillies decided to pick him up on Opening Day. And as a fielder, he has to bat. No one had hope for him. But in July, after nine failed at-bats, he pinch-hit in the ninth inning. And just like Cerrano, he smashed a pitch to deep center to make the winning run.
Article continues below advertisement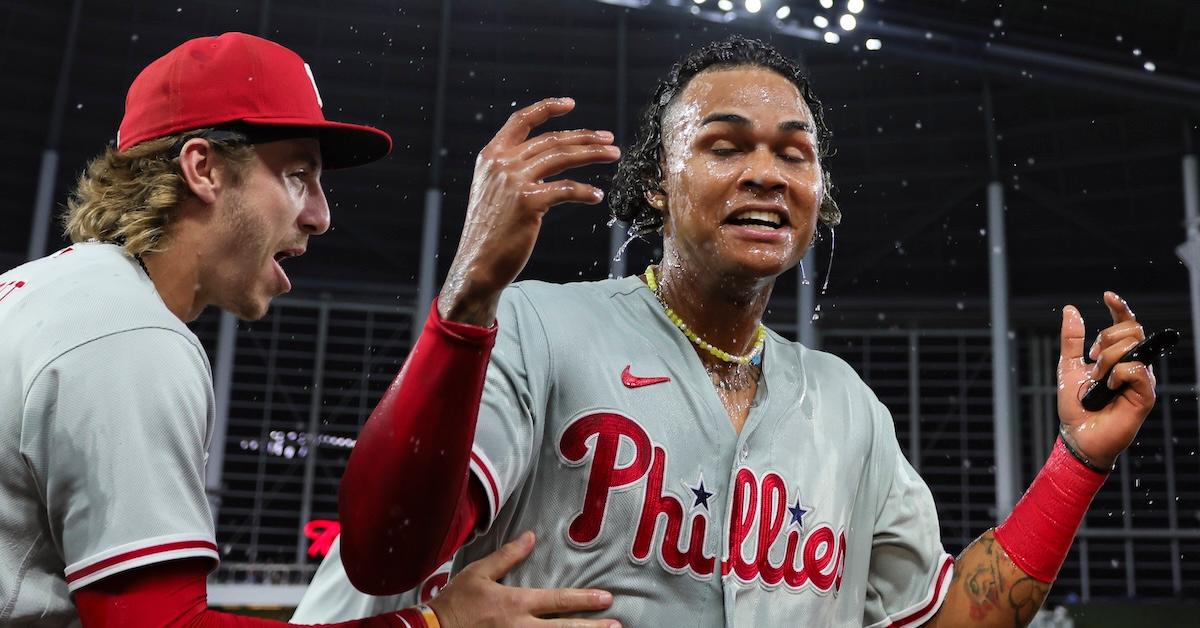 From there, the Phillies began celebrating by juggling their juevos. It's their way of saying, beyond language barriers and differences, that they've got what it takes to get to the end. And now that they're only mere games away from playing in the World Series two years in a row, celebrating their gumption seems to be an apt celebration.