Why Are the Swabs for COVID-19 Tests So Long?
The current COVID-19 swab test involves swabbing inside someone's nose with a very long swab. Why do they have to swab so far back?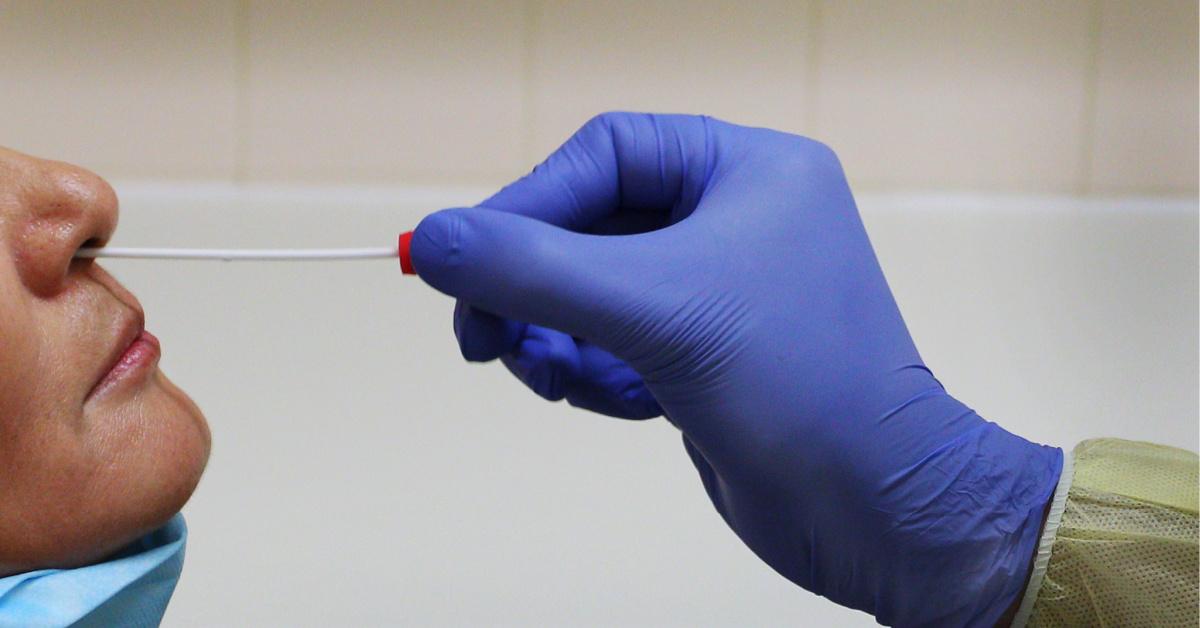 As the COVID-19 pandemic continues to affect millions of people around the world — particularly in the U.S. — new experiences are suddenly becoming more and more common. Suddenly, contact-free food delivery is the norm. So is wearing a mask (it should be, anyway!). One-way aisles in the grocery store, too. And, of course, people are lining up (in their cars) to get tested for the coronavirus.
Article continues below advertisement
If you have been tested for COVID-19, either due to possible exposure or just as a safety precaution, there's one thing you definitely noticed. The swab they use for testing is, like, insanely long. Longer than you think it should be possible to be. Why do they have to swab so far back for COVID-19 tests? Here's what we know.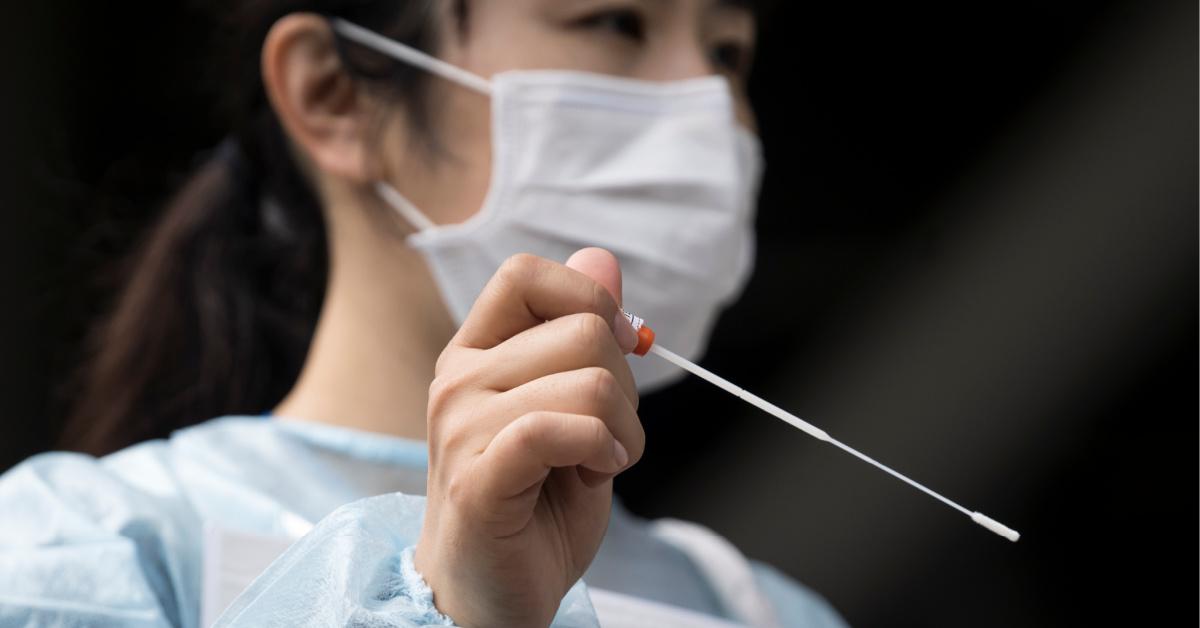 Article continues below advertisement
Why do they have to swab so far back for COVID-19 tests?
The test that's currently in use for COVID-19 is known as a nasopharyngeal swab test. That's basically just a fancy way of saying it's a swab test that is used to collect specimens from the back of the nose and the throat. And so, naturally, the swab has to get to the back of the person's throat. Via the nose.
"The moment you see the swab, you're like, 'Oh no, my face isn't that deep,'" Fernanda Ferreira, a virologist at Harvard University told The New York Times. "Turns out it is." The reason the swabs have to be so long is simple: They have to get to where the virus is most likely to be detected: the nasopharynx.
Article continues below advertisement
The nasopharynx is a cavity located behind your nose, and it also happens to be a place where the most genetic bits of the virus can be collected (if they're in your body, obviously). And so, people getting tested for the coronavirus must endure some discomfort. The swab might make your eyes water, but — obviously — the information it provides is totally worth the fleeting discomfort.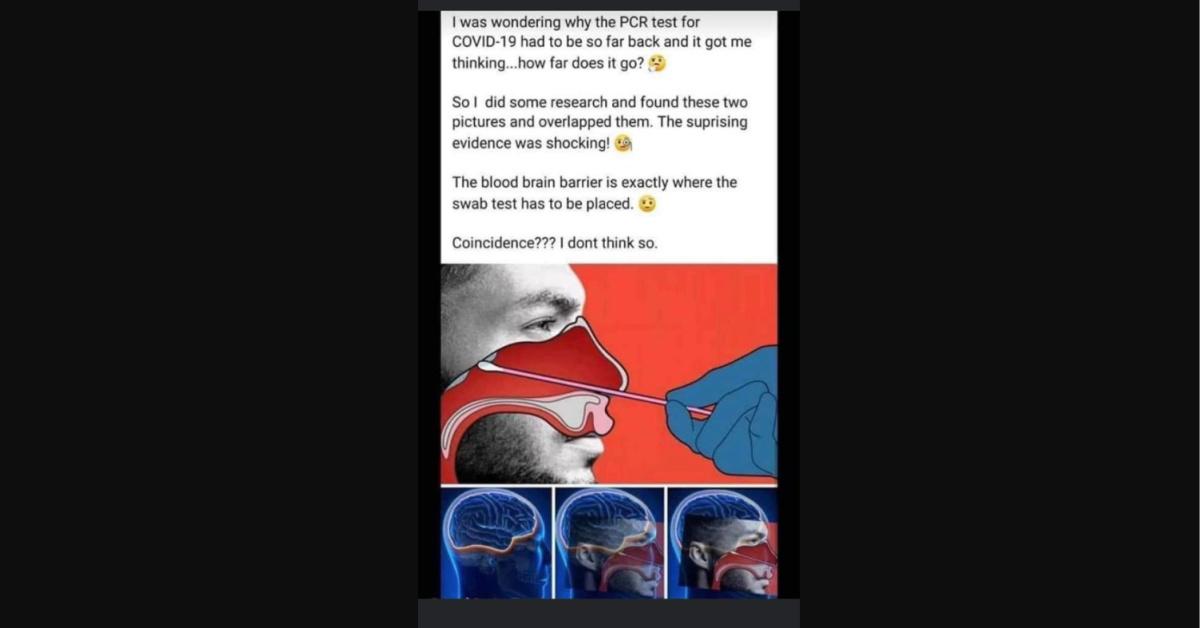 Article continues below advertisement
Could a coronavirus swab test do brain damage?
As you've probably noticed, there are plenty of myths floating around in regards to the coronavirus. Some people claim that wearing masks can cause oxygen deficiency. Others think the disease is spread by 5G mobile networks. Some people even think adding hot peppers to your soup can prevent or cure you of COVID-19. None of these are true.
Article continues below advertisement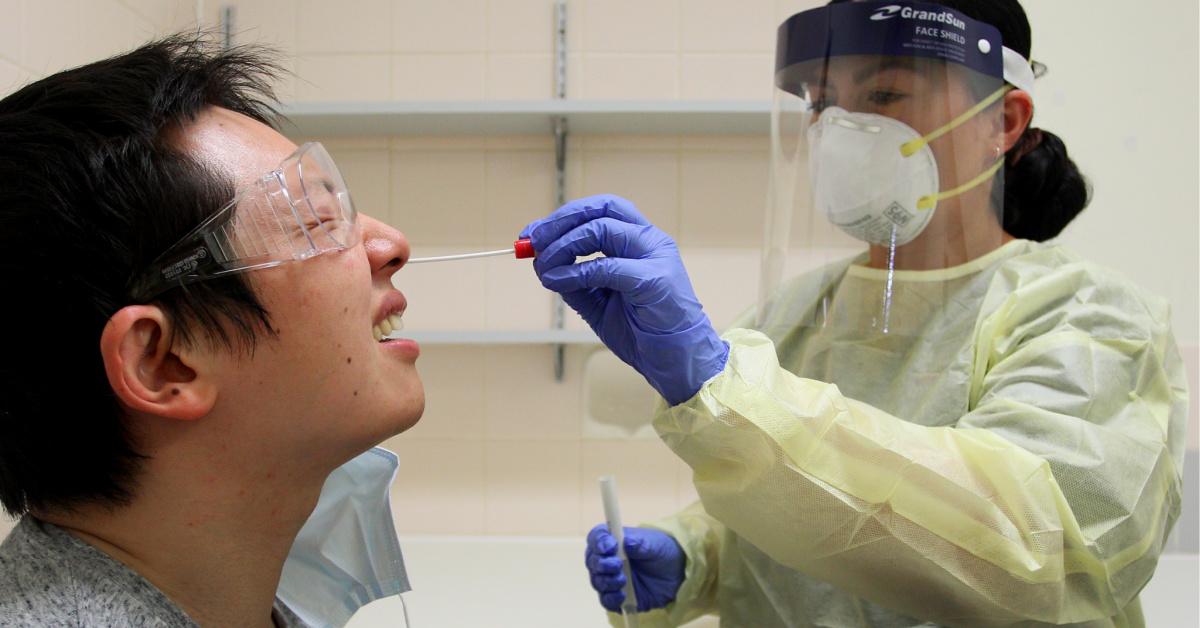 What's more, it literally cannot touch the blood-brain barrier. According to Dr. Morgan Katz, an assistant professor of medicine at Johns Hopkins University, the swab "would have to go through layers of muscle and fascia, as well as the base of the skull, which is a thick bone, in order to get anywhere near the blood-brain barrier, and I would say that it is not possible." While getting a swab test is uncomfortable, it is certainly not break-through-the-base-of-your-skull uncomfortable.
Article continues below advertisement
You know what could compromise your blood-brain barrier, though? A harmful virus. That's why medical professionals are encouraging some people to get tested for COVID-19 — even if it is decidedly not a fun experience.
The best way to prevent contracting or spreading coronavirus is with thorough hand washing and social distancing. If you feel you may be experiencing symptoms of coronavirus, which include persistent cough (usually dry), fever, shortness of breath, and fatigue, please call your doctor before going to get tested. For comprehensive resources and updates, visit the CDC website. If you are experiencing anxiety about the virus, seek out mental health support from your provider or visit NAMI.org.