Here's How Vaseline Helps Protect a Fighter's Face
Why do cutmen/cornermen put Vaseline on fighters' faces? Is it for protection?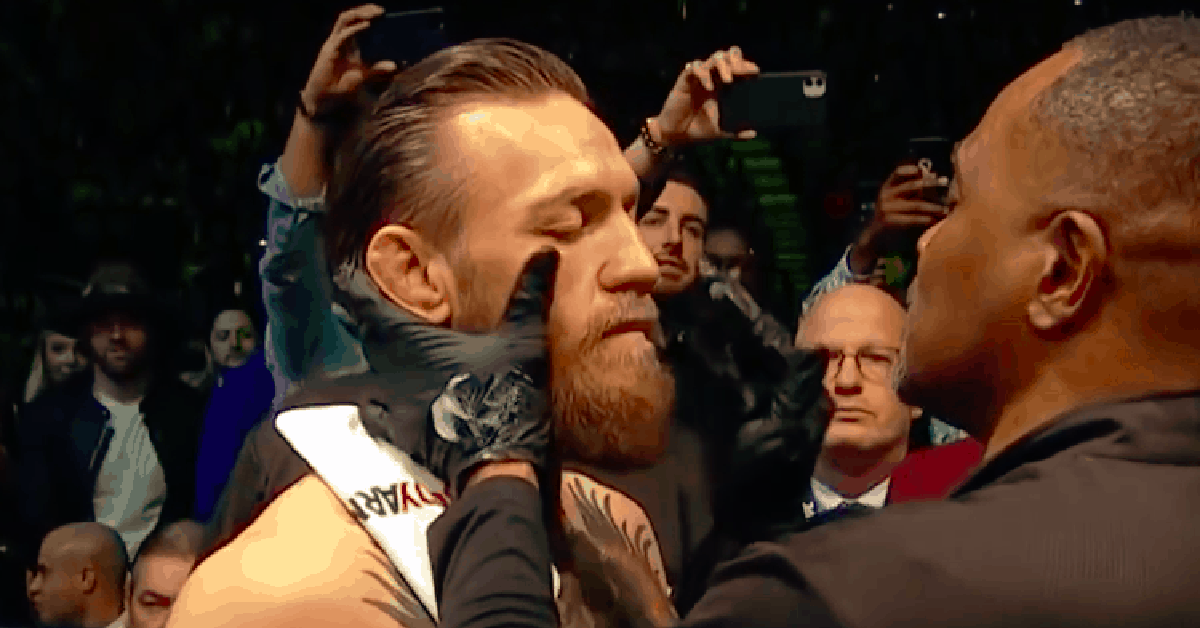 Each combat sport has its own subset of rules. Just because you're a world-champion mixed martial artist doesn't mean you're going to dominate in the sport of boxing, and just because you're an awesome boxer doesn't mean you're going to light people up in Muay Thai or sambo. That's because each sport has its own unique restrictions that force pugilists into different areas of creativity to excel and outmaneuver their opponents within those restrictions.
But almost all fighters who engage in striking contests put vaseline on their faces. Why do they do that?
Article continues below advertisement
Why do they put Vaseline on fighters' faces? It's to protect them.
Think of a dry piece of leather car chair that's been baking out in the sun. Now whip at it with a jump rope. It's probably going to crack. OK, that analogy is completely unnecessary. Think about your own lips in the winter time when they're all dried and jacked up. The slightest movement will split them open.
Vaseline is an occlusive substance, meaning that it doesn't allow moisture to leave a surface, which means that a person's skin will stay hydrated throughout a grueling physical encounter. Sweat may pour out of other parts of their body, but a face with Vaseline in it will retain moisture.
It'll also make a fighter's face slippery, mitigating the potential for cuts and other injuries during the bout.
Article continues below advertisement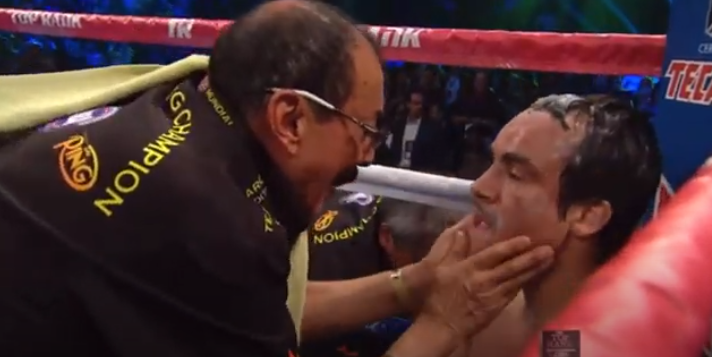 So Vaseline on a fighter's face will help punches to glide off if they aren't landing flush, but these aren't the only allowed "tricks" cutmen use in order to protect their pugilists. You may have a noticed that sometimes a fighter's corner will press a piece of metal up against a combatant's face in between rounds.
Article continues below advertisement
That's usually referred to as an end-swell, which is basically a small piece of metal that's kept on ice which is applied to any area of a fighter's face that is swelling or bruising.
By decreasing blood flow to a specific area of a fighter's face, cornermen can help to reduce swelling, particularly around the eyes. This is to ensure that their vision isn't impaired during a bout, as well as minimize the appearance of damage on their face to curry visual favor with the judges.
Article continues below advertisement
Vaseline is traditionally not allowed to be wiped on other parts of the body, however.
#GreaseGate is a controversy that a bunch of longtime MMA fans will recall during a bout between Georges St. Pierre and BJ Penn. "Rush" was accused by "The Prodigy" of intentionally smearing an overabundance of petroleum jelly over his body during their match in order to make him more slippery and less vulnerable to submissions during their contest.
Penn was called "The Prodigy" due to his unbelievable natural acumen in picking up Brazilian jiujitsu. He attained his black belt in only three years and four months. Traditionally, becoming a black belt in the discipline takes around 10 years, but Penn was submitting veterans of the game early on in his training.
Article continues below advertisement
During his prime, Penn was hard to deal with on the feet, but especially on the ground. So if someone was "greased up" to more easily escape submissions, that would negate a big part of his game plan, as fighters could use wrestling more liberally to take Penn down and cause damage there without having to worry about being submitted as much.
Article continues below advertisement
Professional mixed martial artist Guy Mezger reportedly said that close analysis of the fight shows that GSP definitely didn't "grease" (as he was toweled off in between rounds) and that the way the fight went down, "GSP could have been dipped in Crisco and it wouldn't have changed the fight."
That being said, MMA fighters aren't allowed to douse themselves in Vaseline before or during a fight and officials will check to make sure that they aren't too slippery.