A.J. Brown Wears Colorful Shoes So His Children Can Spot Him on the Field
Eagles receiver A.J. Brown was recently spotted rocking some bright pink shoes, leading many to wonder why he wears pink shoes during games.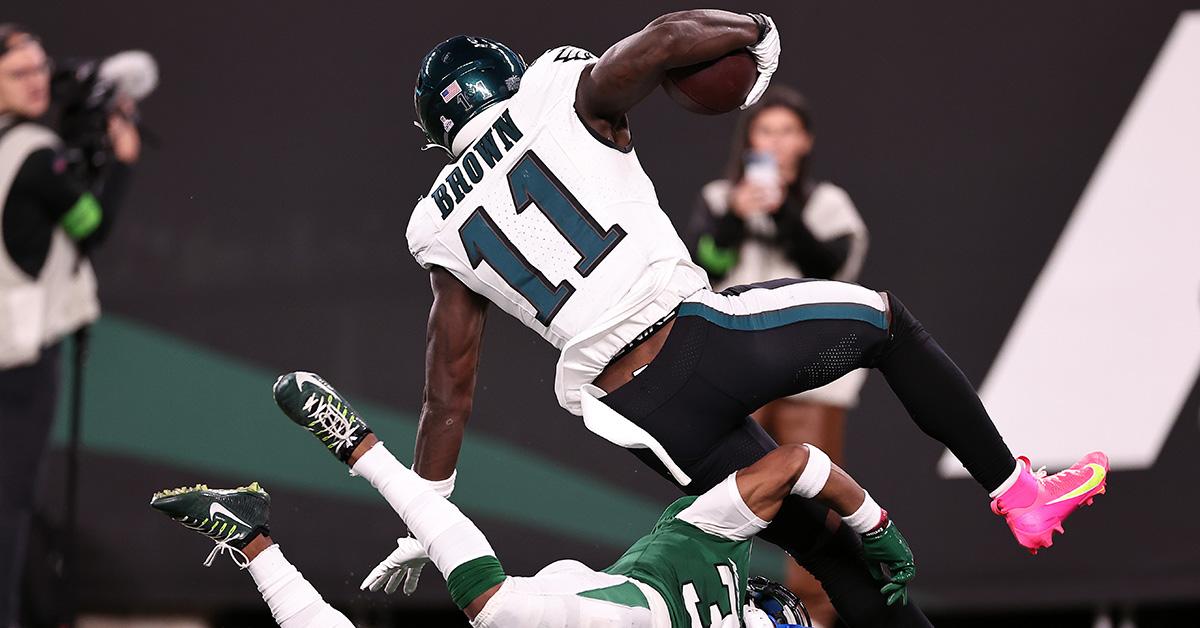 The Gist:
Eagles star A.J. Brown usually wears colorful shoes to games so that his kids can spot him on the field.
A.J. shares his three-year-old daughter Jersee and son A.J. Jr., 12 months, with partner Kelsey Riley.
For his part, teammate Jason Kelce said that he wouldn't be copying A.J.'s shoes in his own gameday ensemble.
Article continues below advertisement
The Philadelphia Eagles may be coming off of a shocking loss to the Jets, but one undeniable bright spot on their roster is wide receiver A.J. Brown. A.J. has been a star for them the past few seasons, and most recently went viral because of a video of Jason Kelce's daughter, Wyatt, commenting on his shoes.
In the video, Wyatt makes repeated references to A.J.'s pink shoes every time she sees them on screen. The pink shoes call out led many to wonder why A.J. picks such a distinctive color for his cleats. As it turns out, it's very much related to Wyatt's ability to spot him.
Article continues below advertisement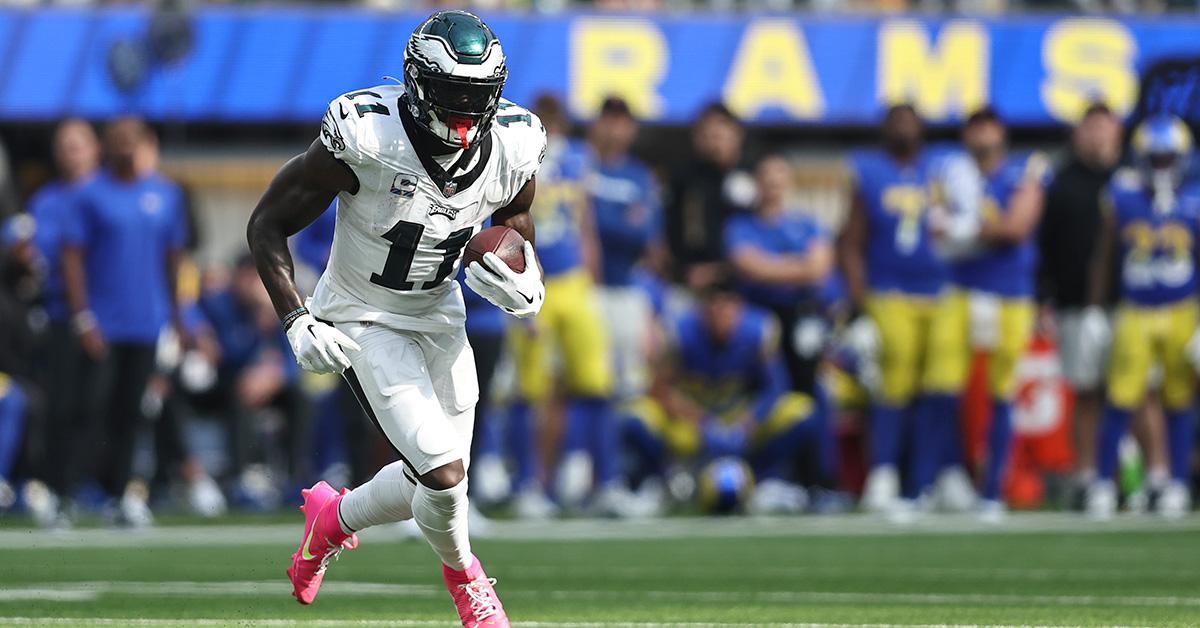 Why does A.J. Brown wear pink shoes?
In a recent video, A.J. explained that he wears the shoes so that his young kids can spot him when they're watching him play on TV.
"My daughter does the same thing [and] always points out my shoes, but that video was so cute," A.J. said, referring to Wyatt consistently pointing out his shoes.
A.J. has a three-year-old daughter named Jersee and a son A.J. Jr., 12 months, with partner Kelsey Riley.
Article continues below advertisement
For his part, Jason said that he wouldn't be joining his teammate on the pink shoes bandwagon.
"I am not wearing pink shoes," Jason explained in a video of his own. "I don't want her to confuse me for A.J."
"Let me tell you, it's brilliant marketing," Jason added of A.J.'s bright shoes. "If you can hold the attention of a child, you're grabbing the attention of everybody else too."
Jason's three daughters frequently watch him play.
For his part, Jason's wife Kylie has said that their three daughters, Wyatt, Elliotte, and Bennett, typically watch their dad play as long as it isn't past their bedtime.
"They watch the ones that are at an appropriate time of day. If it's a night game [or] even if it's an 8:15 start, I'll let them stay up and watch for a little bit," Kylie explained on an episode of New Heights, the podcast Jason hosts with his brother Travis.
Article continues below advertisement
"Because at the very least, they'll see him [on TV] for a couple drives and then they'll go to bed," she added. "They understand that when there's green jerseys on the field, that's Dad and vice versa, they do understand that when there's a red jersey on the field, that it's Uncle Trav's team."
Clearly, Wyatt was also very receptive to A.J.'s colorful shoes, which is precisely the reason he wears them so regularly.
Article continues below advertisement
Whether A.J. is also trying to get a broader swath of attention remains to be seen, although given that this article exists, it seems to be working. In the month of October, players are allowed to wear colored cleats for cancer awareness and to support the NFL's Crucial Catch initiative. The cleats just have to be one of the cancer awareness ribbon colors. In A.J.'s case, pink or hot pink counts for breast cancer awareness.
When A.J. wore bright green cleats in the Eagles' week 3 game, he had to change them after two drives otherwise he would have gotten fined or taken out of the game. According to NFL rules, for most of the season, players are only allowed to wear white, black, or tertiary team color cleats during games. The only other exception is during "My Cause, My Cleats" promotion when players can design and wear a pair of cleats for a cause that's important to them.