If an NFL Player Is Wearing a Mask, It's Probably for This Specific Reason
One question that keeps coming up from Indianapolis Colts fans regarding Carson Wentz is: Why does he wear a mask? Here's what we know.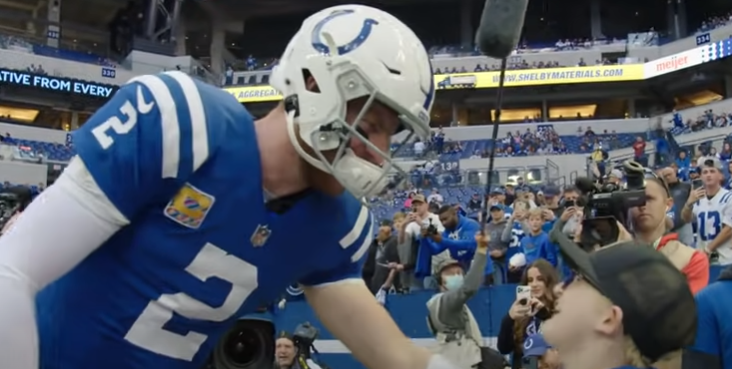 Many professional athletes have declined to report whether or not they've been vaccinated. Some players might just want to keep themselves out of a heavily politicized conversation. It's no secret that COVID-19 immunizations are a hot-button issue.
Article continues below advertisement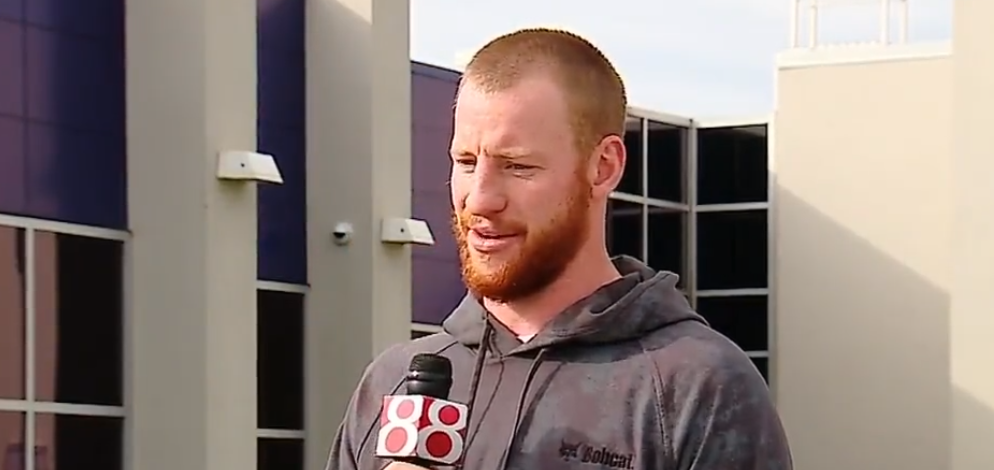 Article continues below advertisement
Why does Carson Wentz wear a mask? Is he vaccinated?
Not everyone who is wearing a mask is unvaccinated, but all unvaccinated players are forced to wear masks, if that makes sense. Many speculated that the quarterback hasn't gotten his shot since he's regularly seen rocking a mask.
The same day he was supposed to return to full team practice with the Colts, it was reported that he was placed on the Reserve/COVID-19 list.
While this doesn't necessarily mean Wentz tested positive for the virus, it does mean that he could've come into contact with someone who did. Or that the team was undergoing contact tracing for the pigskin slinger.
And recently, Wentz has come out and said he isn't vaccinated against COVID-19.
Article continues below advertisement
What happens if an NFL player tests positive for COVID?
If Wentz or any other NFL athlete tests positive for the virus, there are some pretty strict protocols they're forced to follow. Let's say Wentz received a positive diagnosis. He'd be forced to isolate himself from the team for 10 days. If any other unvaccinated players came into contact with him, then they would have to quarantine for five days too.
Colts fans, along with Wentz himself, wanted to see the quarterback on the field and back in action. However, many believed that the time away from practicing with the squad would put a damper on his comeback. Would he be playing catch up with other league QBs who've been hitting it hard sans interruptions?
Article continues below advertisement
Had Wentz missed the entirety of Week 1, which looked like it might've been a possibility, he would have missed 5.8 percent of the season.
But Wentz has proven that despite the team's losing record (as of this writing), his time out of practice hasn't hindered the way he can play.
Article continues below advertisement
He recently set an Indianapolis Colts record. The team ran the ball 30 separate times for 260 yards with a staggering 8.7 yards per carry, giving Indy a 45-30 victory over the NY Jets.
Wentz managed to complete 22 of 30 passes for 272 yards — and he didn't throw a single interception. He attributed their victory to many of the runs Colts receivers went on during the game, saying, "Those chunk runs are huge. It's tough on a defense.
"They want to come out and play their soft zone coverage, make it hard for us in the passing game to get chunk plays, and so when you can get chunk plays on the ground, that's huge for us."
Article continues below advertisement
One of those "chunk runners" is Jonathan Taylor, who was named the AFC's Offensive Player for the Month of October. He managed to clock a staggering 22.05 miles per hour while running on the field, which is the fastest of the 2021-2022 NFL season.