Here's Why You'll Never See Guy Fieri Eat Eggs on His TV Shows
Fans of Guy Fieri probably know that the TV star and celebrity chef doesn't eat eggs, but why? Find out why he doesn't like the breakfast food here.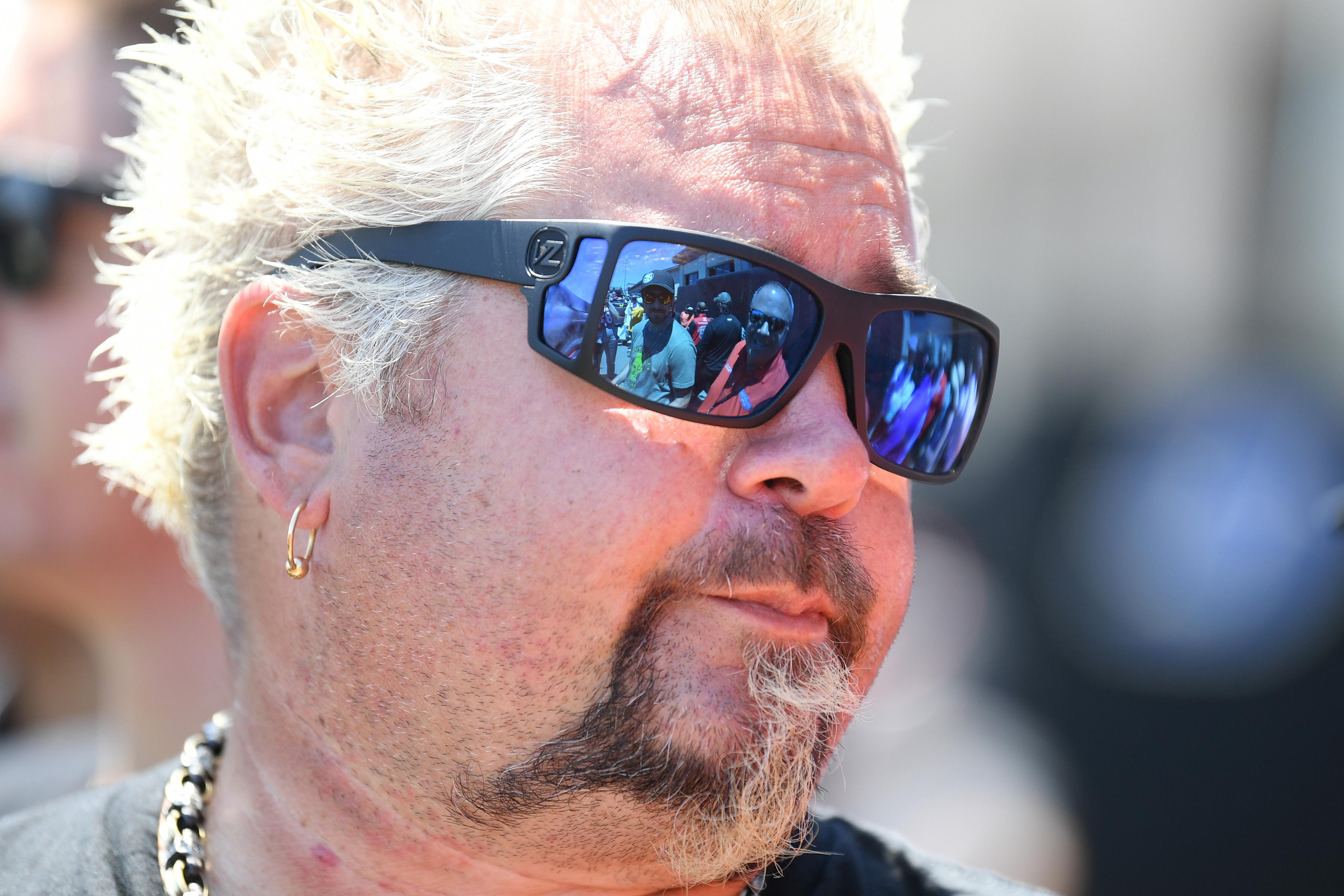 If you watch Guy Fieri on Food Network, then you know the TV star and celebrity chef eats anything and everything. Specifically, on his hit show, Diners, Drive-Ins, and Dives, the 52-year-old indulges in some of the most appetizing foods at restaurants around the country. But did you know there's one popular item that he won't eat? Eggs! So, why does Guy Fieri not like eggs? Here's everything we know!
Article continues below advertisement
Why does Guy Fieri not like eggs?
Guy is not allergic and he doesn't avoid eggs for religious reasons — he just simply doesn't like them because of a bad experience he had with them as a kid. In a previous interview with Extra Crispy, he chronicled the bizarre story.
He revealed that he actually used to love the common breakfast food. "I love eggs in all aspects of food. I used to eat fried egg sandwiches like they were going out of style," he shared, adding that he'd indulge in the eggs with processed cheese on white bread.
Article continues below advertisement
But when he was 10 years old, he cracked open an egg... and found a whole chicken inside of it! The experience turned him off completely. "So I came to understand the whole process. And that didn't really freak me out, but you know what it was? It's that I had a bad hard-boiled egg. It was the chalky yolk," he explained. "After that, I just kind of took a different spin."
Eggs shouldn't take it personally, however, because the Food Network star just simply isn't a fan of the first meal of the day. "I've never really been a breakfast person anyway, because I'm pretty high-energy and I'm on the go, so usually by the time my feet hit the floor, I'm out and going," Guy explained, sharing that he does enjoy ham and grits with redeye gravy from time to time.
Article continues below advertisement
In another interview with The Tampa Bay Times, Guy recalled an episode of DDD from back in 2012 when he was asked to eat a pizza with runny, sunnyside eggs on top. He looked absolutely repulsed, and did everything he could to avoid biting into what guest Andrew Zimmern described as "liquid chicken."
"Oh, I eat eggs every once in a while. My buddy Andrew Zimmern, he was on the show in Minneapolis a couple of years ago, and they put a raw egg on the pizza and he said, 'C'mon, eat it,'" he recalled.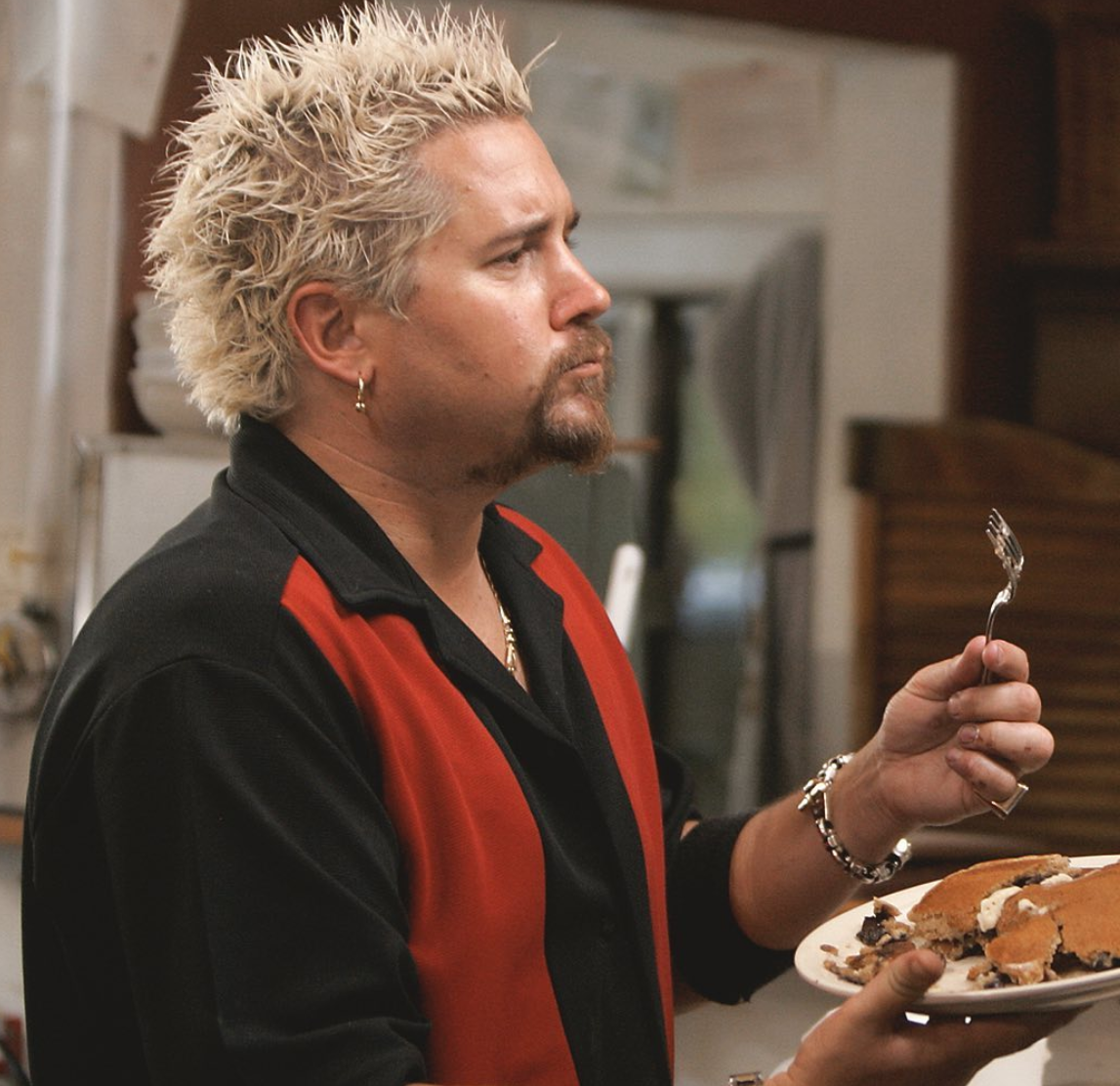 Article continues below advertisement
"Alright. Hard-boiled and scrambled — that's just not the way I like to party," Guy added. "My wife will sit there and bust that yolk and scoop with the bread and the whole thing and..." While his family and friends may like them, the egg life just simply isn't for Guy.
But honestly, eggs seem to be one of the only foods the energetic chef doesn't eat. "I eat them in dressings but sunny-side up, over-easy or scrambled? No, thank you," he once told People. However, he's always indulging in unique and eclectic cuisine from all different cultures, so cut him some slack. He is the Mayor of Flavortown, after all!