15 Little-Known Facts About Guy Fieri
The Food Network star has lived a way more eventful life than you may have originally thought.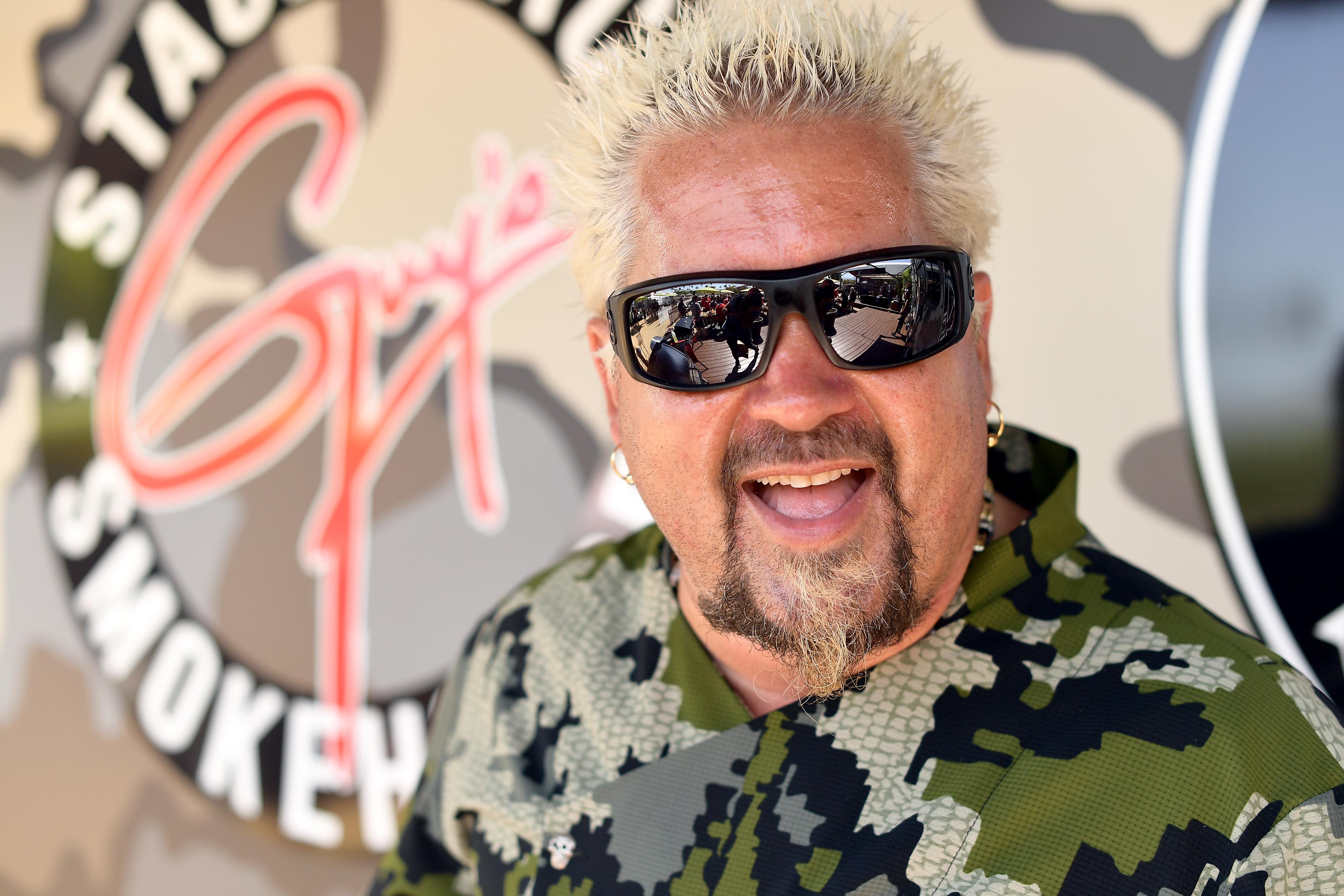 Guy Fieri, celebrity chef, Food Network star, and perennial flaming bowling shirt wearer, is undoubtedly a giant success in the food TV realm. But his existence tends to elicit strong reactions from people. He's been called one of the most hated celebrity chefs of all time, and people love to hate on his signature style, which is admittedly, quite bold.
But there's also a lot about Guy Fieri that you probably don't know. He's not just the Mayor of Flavortown. He's a whole person with nuances as varied as the height of the spikes in his gelled hair. So here are a bunch of fascinating facts about Guy Fieri that you might not know because they don't always come up when you're watching him shove burgers into his face on Diners, Drive-Ins, and Dives.
Article continues below advertisement
1. His real name isn't Guy Fieri.
He was born Guy Ramsay Ferry. But "Fieri" didn't come from nowhere. It was his grandfather's surname (not pictured here; that's Guy's dad). And although he's known as a California dude because that's where he grew up, he was actually born in Columbus, Ohio.
2. He got famous because he won a Food Network game show.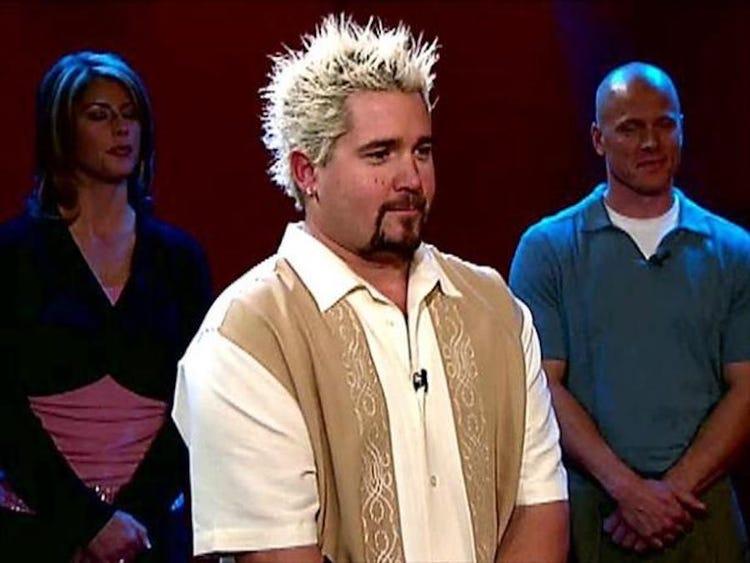 Guy Fieri was always interested in cooking and food, but he didn't get famous until he won the second season of The Next Food Network Star in 2006. That's right! He's a game show success story! Within a year of winning the show, he had two of his own on the Food Network: Guy's Big Bite, which aired until 2016, and Diners, Drive-Ins, and Dives, which is a veritable institution and still airing new episodes to this day.
Seriously, I love DDD. I can watch it for hours upon hours. It's mesmerizing.
Article continues below advertisement
3. He has a garden and loves growing and eating vegetables.
Guy's known as a meat man, but he's actually a skillful gardener (these are veggies from his garden!) and loves eating his veggies. He told Robert Irvine, "I love fresh vegetables. I'm a huge vegetable junkie. That's one of the things people don't even know about me. I'll make six different types of vegetables for dinner."
But there is one food he absolutely hates, and if you're a fan of DDD, you know what it is. Guy hates eggs. He'll peel them off of any dish he eats. Kind of strange for a famous chef, eh? But I guess everyone has their own quirks.
Article continues below advertisement
4. He spent a year in France when he was 16 years old.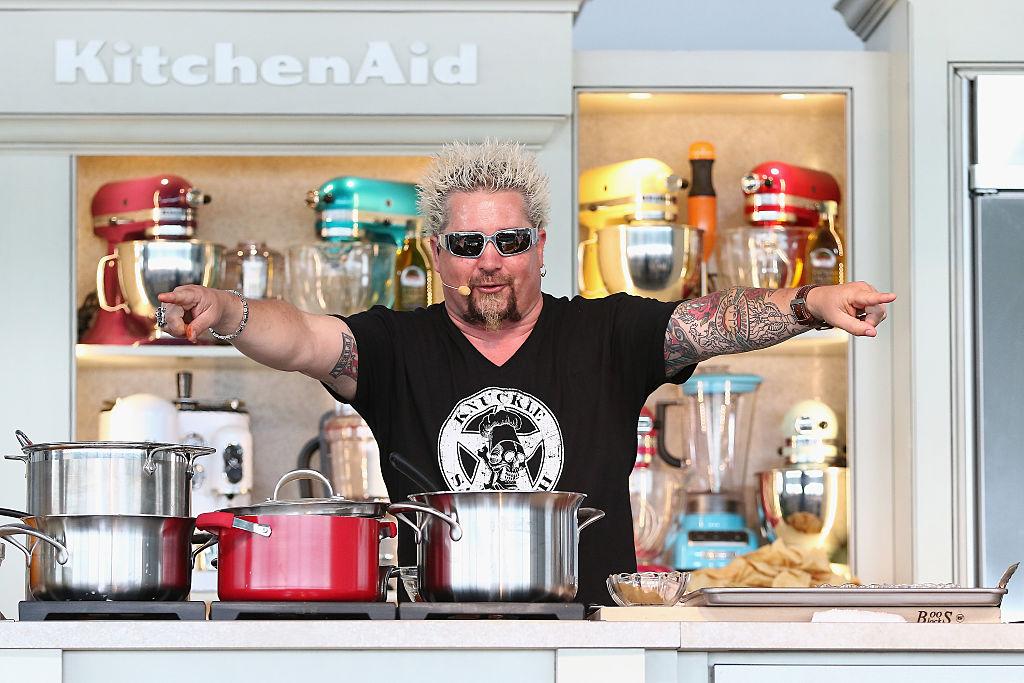 At the age of 16, Guy spent a year as an exchange student in Chantilly, France, where he continued to develop his interest in food and cooking, specifically French cuisine. According to Money Inc., he saved money to be able to afford the trip and was excited to go, but once he was there it was kind of a miserable experience. His room was super tiny and the restroom was down two flights of stairs. And every time he wanted to use the phone, he had to ask permission because it was locked up.
However, that experience wasn't enough to dampen his love for French cuisine, which he says is still his favorite.
Article continues below advertisement
5. His frosted tips were an accident.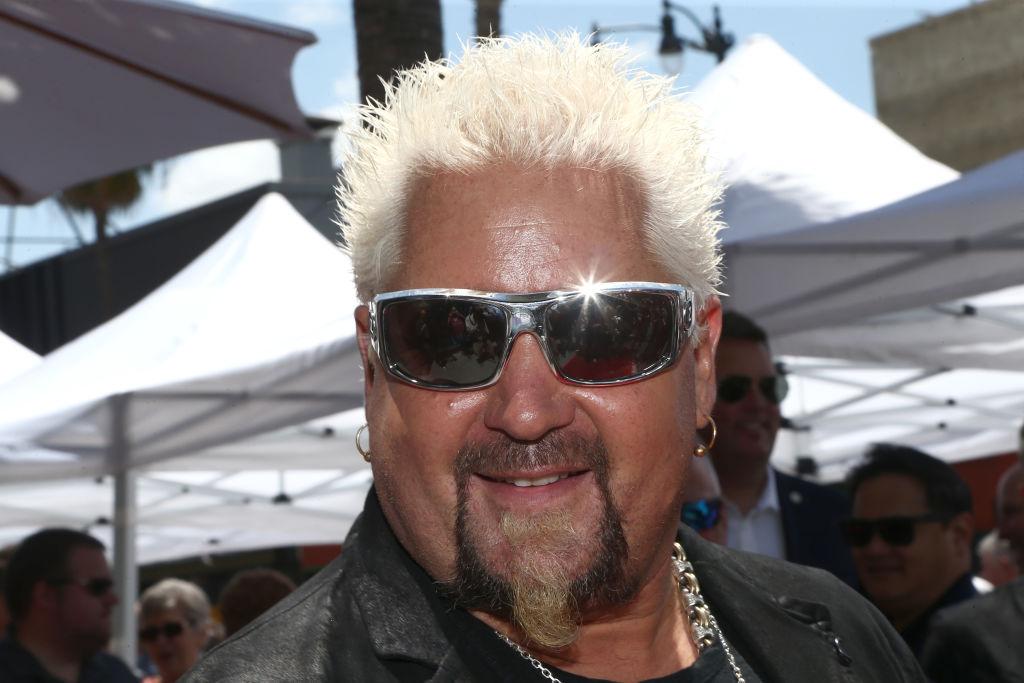 Guy Fieri has had spiky frosted tips since he got famous. He can never get rid of them now; nobody would recognize him without them. But apparently, he never really meant to get them in the first place. According to Delish, he used to have long hair, and his hairdresser always complained that he should get a more "contemporary" look. So he told her she could do whatever she wanted.
He said, "When we get done, I asked, 'When are you going to wash the shampoo out?' She said, 'What shampoo? That's your new hair color!' I am rarely speechless, but I was speechless then."
I think it's fair to say he's more than embraced the look since that fateful day.
Article continues below advertisement
6. He's been married to his wife Lori for 25 years.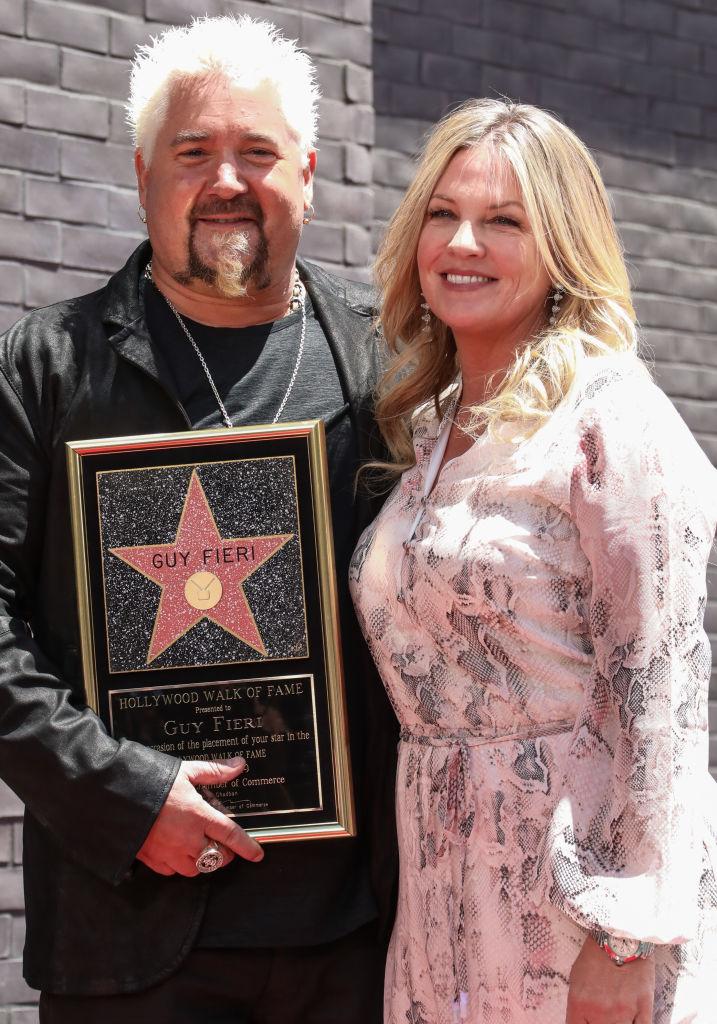 Guy often talks about his wife and two sons on his shows, but very few know just how solid his family life is. He's been married to his wife, Lori, since 1995, and they have two kids, Hunter and Ryder. Hunter, his older son, seems to be following in his dad's footsteps. He's been featured on Guy's shows left and right.
Article continues below advertisement
7. Guy and Lori met when he fired her friend from his restaurant.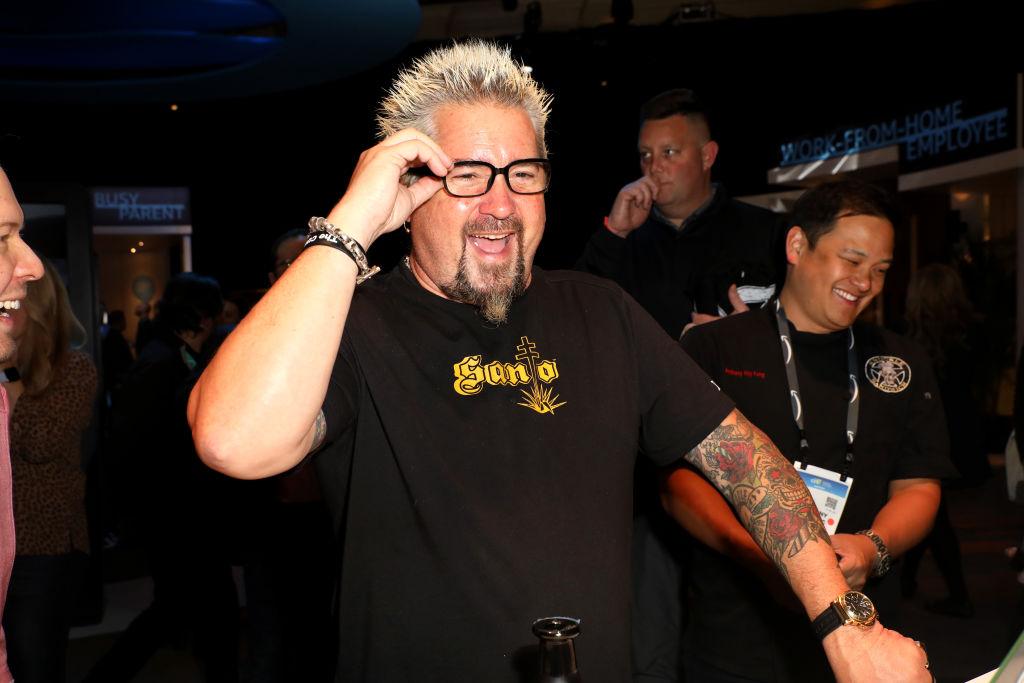 The story of how Guy and Lori met is actually really adorable. He was running a restaurant in Long Beach, California that her friend worked at. "Her friend had been let go from the restaurant, and they weren't supposed to be there," he explained. "I was talking to her friend, saying, 'Hey, listen, wait a few weeks before you come in,' and standing behind her is this blue-eyed, blonde girl giving me this mean mug.'"
She'd come to stand up for her friend, but she fell in love with the guy who ran the restaurant instead. He told them they could stay but that they should "keep a low profile." He and Lori got to chatting, and that was that.
Article continues below advertisement
8. He does loads of charity work to honor the memory of his sister Morgan.
Guy's younger sister Morgan was diagnosed with cancer when she was just 4 years old. Although she beat childhood cancer, she was diagnosed again at age 38 and died a year later. In her memory, Guy does everything he can to help others going through similarly harrowing experiences.
He invites Make-A-Wish Foundation families to all of his Food Network tapings. He says, "I know what the family is going through, to some degree. I know that heartache and I see that, and if there's anything I can do to help enlighten or empower those kids, I want to do it."
Article continues below advertisement
9. He also supports a charity for kids with developmental disabilities.
For years, Guy has consistently supported the efforts of Best Buddies, an organization that's dedicated to creating employment opportunities, fostering friendship, and sponsoring leadership development programs for people with intellectual and developmental disabilities.
Guy has a cousin, Dougie, who has an intellectual disability. Speaking about his experience seeing his cousin growing up, he told People, "When people don't understand something, especially in this country and this culture, they either embrace it, or neglect it, or have a prejudice about it. And so that always really bothered me."
Article continues below advertisement
10. In 2011, he was accused of being homophobic and anti-Semitic.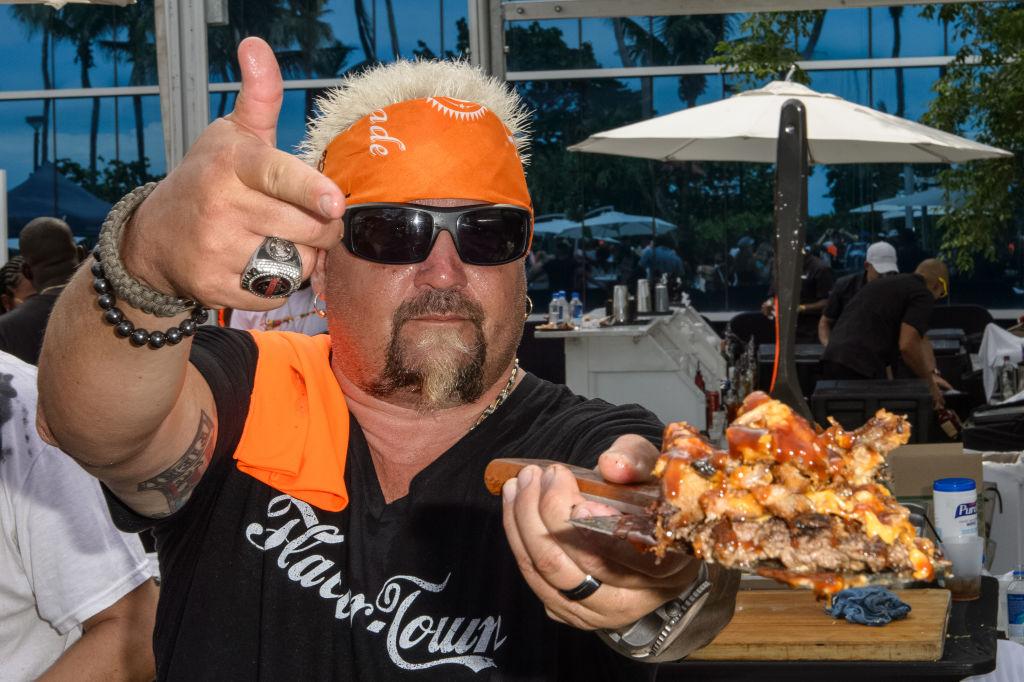 In 2011, DDD creator and producer David Page sued the Food Network for breach of contract because he said they tried to replace him on the show. The Food Network countersued, saying Page violated his contract and mistreated staff members.
Page shot back with allegations that Guy made homophobic and anti-Semitic remarks. And although they seem like revenge-fueled rumors, one producer did back up Page's claims that Guy made inappropriate comments, according to Reality Blurred. Page said Guy made sexist comments about women, spewed stereotypes about Jewish people, and said about one shoot, "Guy had decided that the two men running the restaurant were life partners. He said, 'You can't send me to talk to gay people without warning! Those people weird me out!'"
The Food Network called the accusations "outlandish" and mentioned that Guy's own sister had been gay.
Article continues below advertisement
11. Then in 2015, he officiated 101 same-sex weddings in one day in Miami.
In 2015, right after Florida lifted its band on same-sex marriages, Guy officiated a mass wedding for 101 same-sex couples in Miami. It was organized by celebrity chef Art Smith, there was a giant cake made my Duff Goldman, and Guy dedicated the service to his late sister, Morgan.
It's unclear whether Guy really said that hateful stuff in 2011, but it seems like, if he did, he's grown a bit over the years, wouldn't you say?
Article continues below advertisement
12. He helped feed firefighters and first responders during the California wildfires.
On several occasions, Guy Fieri has stepped up and help provide support and meals for firefighters and first responders who were battling wildfires as well as victims affected by the fires. In 2018, he helped provide Thanksgiving meals for victims of the Camp Fire in California.
And in 2019, he helped prepare meals for firefighters in Sonoma County who were battling the Kincade Fire.
Article continues below advertisement
13. He had no idea what a diner was when he started hosting 'Diners, Drive-Ins, and Dives.'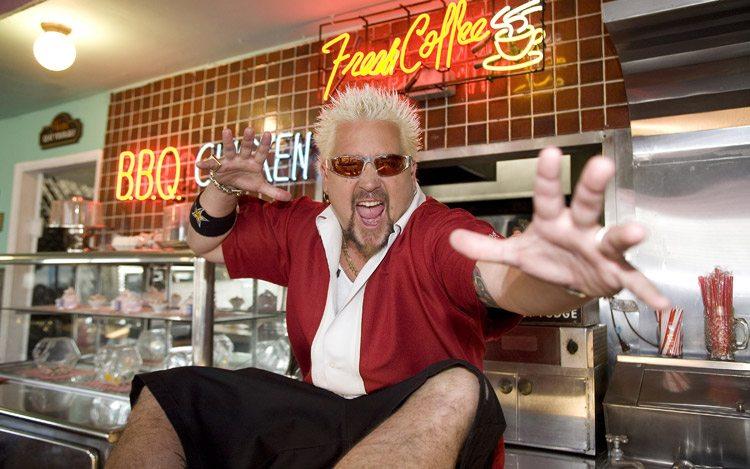 One of my biggest gripes with California is that there aren't diners here. Not real diners, like on the East Coast. And because Guy grew up in California, he had no idea what a real diner was like when he started hosting Diners, Drive-Ins, and Dives. He thought a diner was basically a burger stand. He didn't understand the glory of giant menus and rotating pie windows until he hosted the show.
Article continues below advertisement
14. Melissa McCarthy based her 'Bridesmaids' character on him.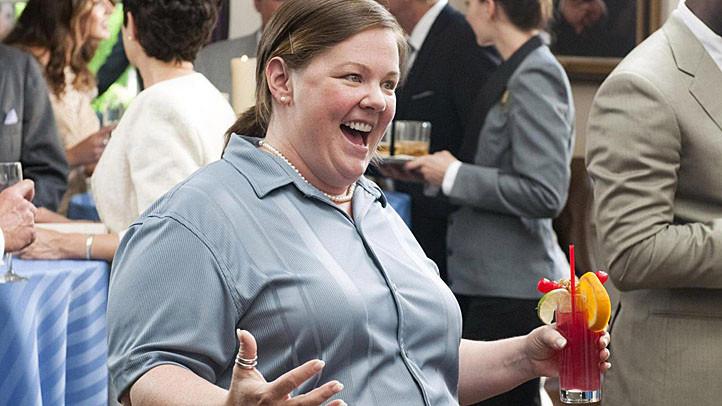 Melissa McCarthy told Conan O'Brien the first person she thought of when she read her part in Bridesmaids was Guy Fieri. "I kept trying to wear my glasses on the back of my head," she said. "I tried for a long time to get them to let me wear short, white, spiky hair. They're like, 'You can't actually be Guy Fieri!'"
Article continues below advertisement
15. He loves Enya.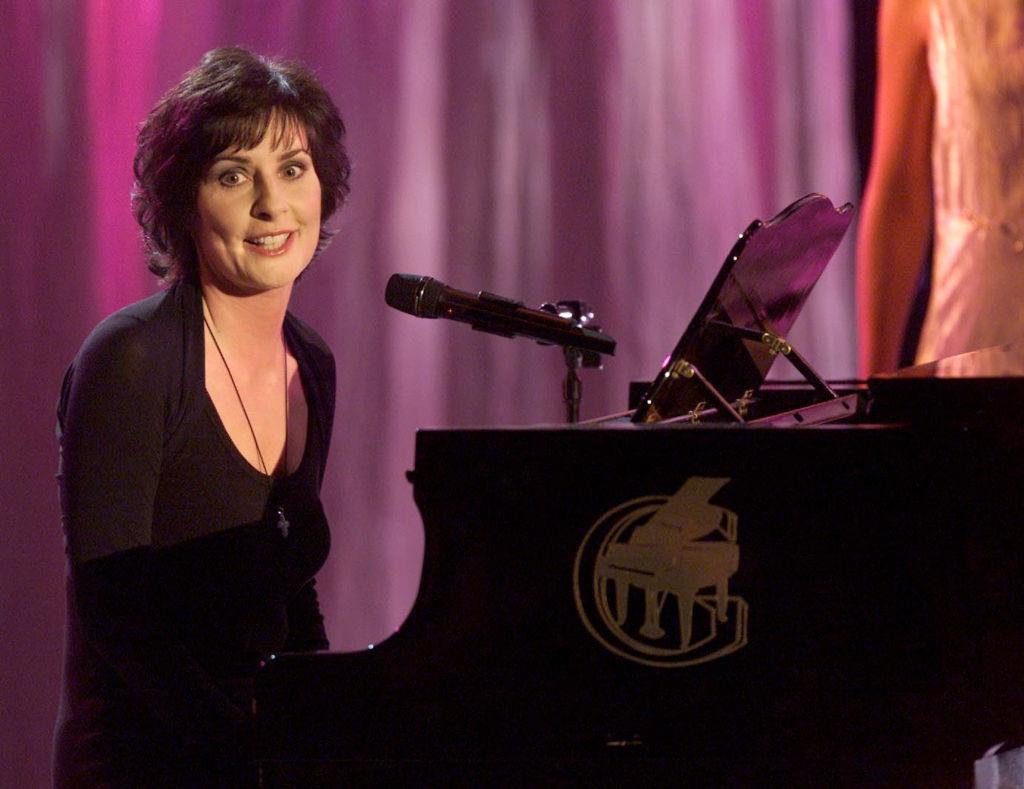 It's true. Guy's taste in music varies a lot, from '80s rock to reggae to old-school country, but he also can't get enough of Enya. "I love Enya," he says. "I can get down to some Enya, which surprises people, but I have an easygoing side and a high-energy side."