'MultiVersus' Is (Almost) Here, but What's With the Price Tags Attached to the Game?
The wait is nearly over for MultiVersus. The Super Smash Bros.–style brawler pits several Warner Bros. characters against each other in zany and epic fights to see who can come out on top. The cast includes cartoon characters like Bugs Bunny (Eric Bauza) as well as DC heroes and anti-heroes like Batman (Kevin Conroy) and Harley Quinn (Tara Strong). And just when you thought the cast couldn't get more ridiculous, Arya Stark (Maisie Williams) of Game of Thrones fame joins the fight too!
Article continues below advertisement
The game was originally announced as a free-to-play title, which means you don't have to pay anything to download the game and start the cartoon kerfuffle. But as the wide release of the open beta draws closer, people are noticing some unexpected price tags attached to the game. Why does MultiVersus cost money all of a sudden? We're here to clear up the confusion.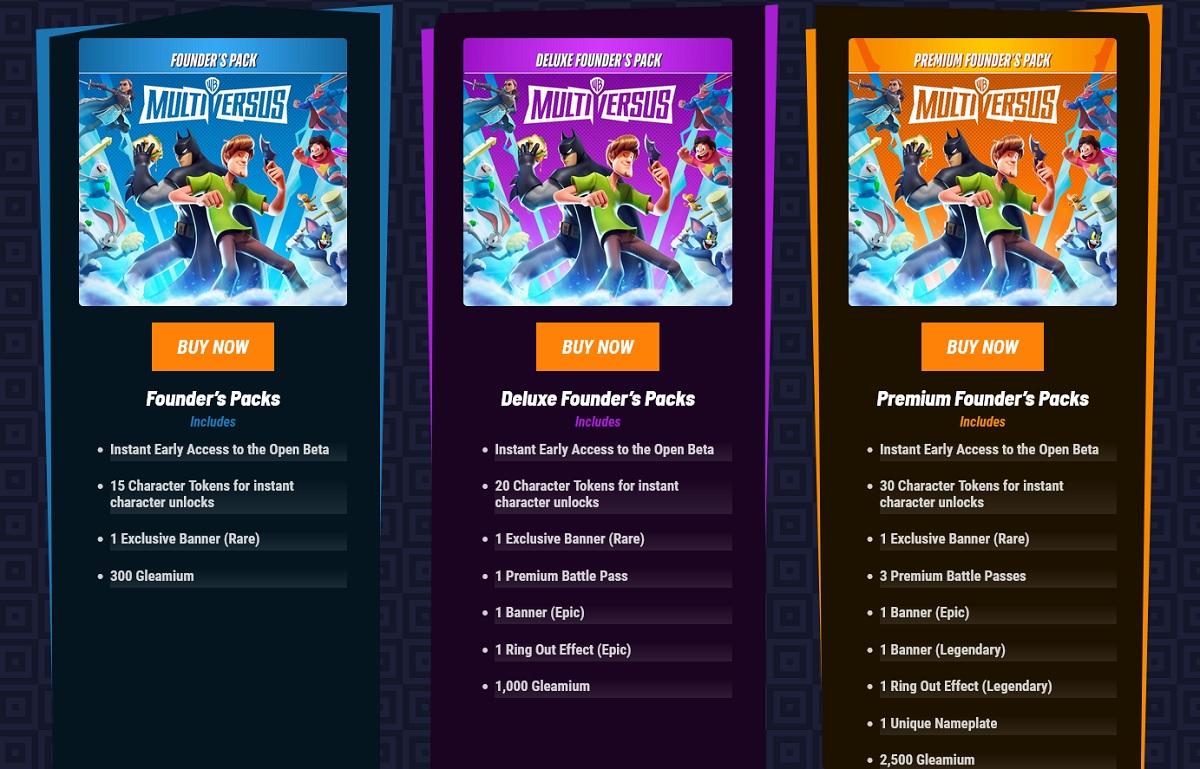 Article continues below advertisement
Why does 'MultiVersus' cost money now? The game has some expensive add-ons.
To start, let's clear the air right here and now. MultiVersus is still being released as a free-to-play title. As their name suggests, the dev team at Player First Games has assured fans and prospective players that they are committed to making the game "a player-first experience." They haven't suddenly overhauled their business model and gone full greedy CEO by promising a free game and pulling the rug out from under us. Once the game goes open beta, it will be available to download at no cost.
But if you look at shops like Steam or the PlayStation Store right now, you might already see MultiVersus listed with some not-so-cheap price tags. These prices are for the individual "Founder's Pack" editions of the game. These come with access to the game in addition to a bevy of additional currencies that you can use in the game to unlock extra content. There's the $39.99 Standard Edition Pack, the $59.99 Deluxe Edition, and the Premium Edition Founder's Pack for a whopping $99.99.
Article continues below advertisement
The game itself is free, but the prices are simply attached to the in-game content you can use to boost your Battle Pass progress or unlock characters and costumes that might take longer to obtain if you were to play normally.
These Founder's Packs also grant "instant early access" to the open beta, but if you wait a week or so, you can get it for free without all the fluff.
Article continues below advertisement
Microtransactions like these are common in many games these days, and no gamer is a fan of them. The same holds true for MultiVersus. While people are enjoying the game in its current form, they'd rather not have to spend so much on character-specific cosmetics.
"I do love and appreciate the lack of predatory stuff like loot boxes," one commenter wrote under a MultiVersus YouTube video. "But the prices for non-Battle Pass cosmetics are really rough. I hope you'll adjust them in the near future."
It isn't hard to be mad at Warner Bros. for these unfriendly microtransactions. They have a rather infamous history when it comes to post-launch spending in their popular games. But hey, this may be the only thing the studio has going for it with film franchises like the DCEU constantly languishing.
The open beta for MultiVersus will be available on July 26, 2022, on PlayStation, Xbox, and PC.