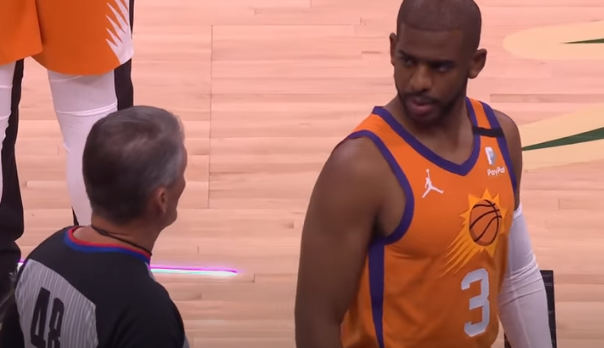 This NBA Ref Hates Chris Paul, but Is He Intentionally Trying to Make Him Lose?
"The fix is in." It's a quote uttered by sports fans all over the globe whenever a high-stakes game is down to the wire and a series of key, questionable calls by referees are made that determine the outcome of the game.
Article continues below advertisement
When you think of sports rivals you usually imagine that these rivalries are between wo players or teams who can't stand each other.
But for one of the NBA's most dominant players who has yet to win a championship, Chris Paul, it seems like his biggest foe is actually referee Scott Foster.
So why does Scott Foster hate Chris Paul?
Article continues below advertisement
Why does Scott Foster hate Chris Paul?
The Milwaukee Bucks were able to lock in their first NBA championship victory since 1971. And while the squad led by Giannis Antetokounmpo was in top form, many fans expressed that they may have had a little help from Foster, given his track record when officiating Chris Paul's games.
ESPN reports that Foster had officiated "11 straight postseason losses in games Paul played" for the 2020-2021 season, and in total, "CP3" was 2-15 whenever Foster was a referee.
Paul has made his ire for referee Scott Foster pretty clear on several occasions. He has a storied history of being on the receiving end of what many would deem "questionable" calls whenever Foster is on the court.
Article continues below advertisement
When the Phoenix Suns lost to the Los Angeles Lakers in the first round of the playoffs, Paul said, "If I was a betting man, 11 games in a row. Eleven games in a row."
When the Oklahoma City Thunder lost to the Houston Rockets in game 7 of the NBA playoffs for the 2019-2020 season, Paul also had some choice words about Foster's decision to hit him with a delay of game violation.
It was a decision that would go on to change the course of the contest, culminating in a victory for the Rockets.
Article continues below advertisement
For the Suns' 2020-2021 Championship attempt, scoreboards sometimes show a disproportionately large advantage for the opposing team whenever Foster is officiating. For example, when the Bucks defeated the Suns in Game 3 of the NBA Finals, they did so by 20 points. The Lakers, in round 1 of the playoffs, beat the Suns 109-95.
Article continues below advertisement
Suns coach Monty Williams even pointed out the huge disparity in free throw calls after their game 3 loss to the Bucks, noting that Giannis shot more times at the line than the entire Suns team combined: "I'm not going to get into the complaining publicly about fouls. Just not going to do that. But you can look. We had 16 free throws tonight. One person had 17."
There are other NBA stars who've expressed frustration with Scott Foster, like James Harden.
James Harden is one of the most unabashedly outspoken and skilled players in the NBA. Fans usually listen to what Harden has to say, especially because he marches to the beat of his own drum.
Article continues below advertisement
Folks started looking more into Foster's calls after Harden plainly said that he shouldn't be allowed to officiate Houston Rockets games, adding that he was "rude and arrogant." Oh, and this is when Chris Paul was playing with Harden when he was on the Rockets, too.
What's more is that according to SBNation, Paul's beef with Foster began as early as when he was playing with the Charlotte Hornets.
According to Chris Paul, Foster once walked up to him before a pivotal game and seemingly warned the player that he was going to be the head ref for the contest.
As to what Foster's beef with Chris is? No one knows the origin. Fans have just noticed a recurring trend. When Foster is officiating, Chris Paul loses.