Chrissy Teigen in Recovery After Pregnancy Health Scare
Chrissy Teigen has been on bed rest for several weeks because of a high-risk pregnancy, but is that why she's now in the hospital?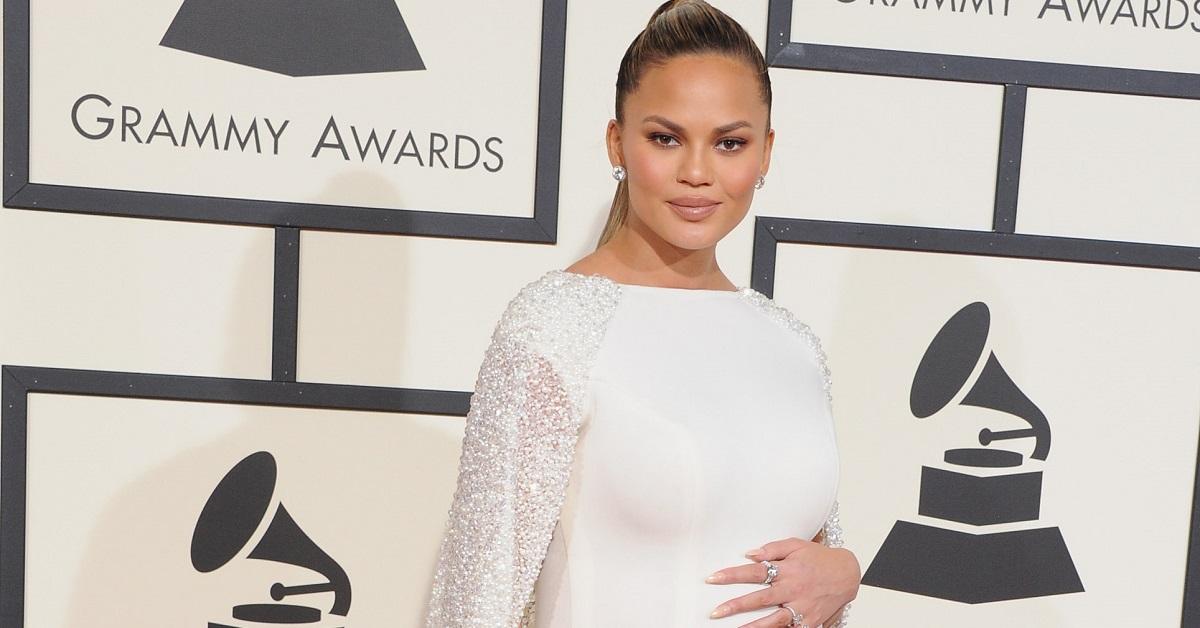 Model and Lip-Sync Battle host Chrissy Teigen is in recovery after being hospitalized in Los Angeles. Chrissy has been on bed rest for several weeks after doctors deemed her third pregnancy to be high risk. Now, that same pregnancy has landed her in the hospital. While she's recovering, Chrissy has offered new details about exactly what the issues with this pregnancy have been.
Article continues below advertisement
Why is Chrissy Teigen in the hospital?
Chrissy explained that she is roughly half-way through this pregnancy, and she has been bleeding consistently for roughly a month. "We all know I've been on bed rest for a few weeks and that's like super serious bed rest. I get up to quickly pee and that's it. I would take baths twice a week, no showering, just as little as possible," she wrote.
Article continues below advertisement
"But I was always, always bleeding. I'm about like halfway through pregnancy and the blood has been going on for like a month," she continued. "Maybe a little bit less than a month. We're talking about more than your period girls. It's definitely not spotting. A lot of people spot and it's usually fine. Mine was a lot." Chrissy said that she was admitted to the hospital after the bleeding worsened considerably.
She said that the bleeding was "like if you were to turn a faucet onto low and leave it there." Although Chrissy was willing to share the details of her symptoms with her followers, she encouraged them not to attempt to diagnose her online. Instead, she said that she would trust the doctors who knew the details of her case to diagnose her and offer her appropriate treatments.
Article continues below advertisement
Chrissy Teigen's baby is healthy.
Although Chrissy is facing health problems during the pregnancy, she assured her followers that they hadn't impacted the health of her child. She said that her placenta is weak, which is what has caused the excessive bleeding.
"So I feel really good, the baby's so healthy," she explained. "Growing stronger than Luna or Miles. He moves a lot, so much earlier than they ever did." She added that she's so excited to meet him.
Article continues below advertisement
Chrissy has always been candid with her followers about pregnancy and everything else.
One of the hallmarks of Chrissy's online persona is her willingness to be totally forthcoming with her followers about the intimate details of her life. In the past, she's been completely honest about her struggles to get pregnant. Her first two pregnancies were the result of in-vitro fertilization, and she's been honest about how IVF has colored her feelings about pregnancy and motherhood.
"It's also easy to grow resentful of how easy it is for some people, when you're literally mixing your own powders and chemicals to inject into your belly, shoving progesterone up there," she told The Cut. "It's almost like one of those things where there's a light at the end of the tunnel. It's like the physical pain of labor. Once your baby is actually born, you don't remember that pain at all."
"When you go through IVF, it does feel like, 'Oh it's not fair I have to do all this.' Still, it's a complete miracle when it works," Chrissy continued. "There are so many people that still struggle, even with access to IVF."