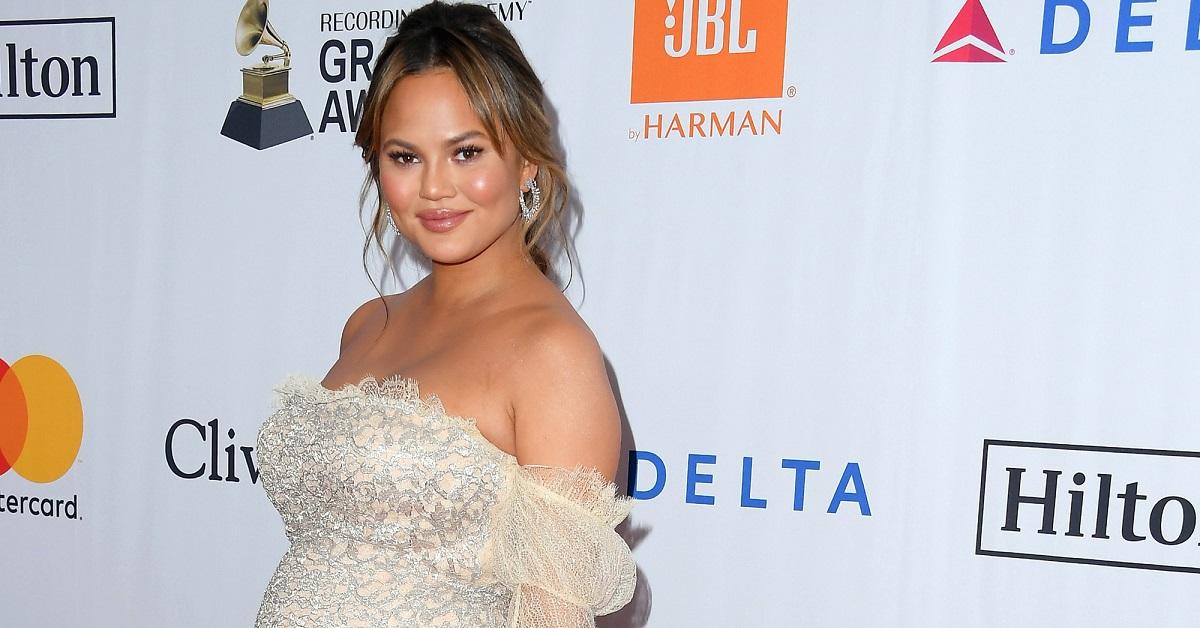 Chrissy Teigen Is in "Deep Pain" Over the Loss of Her Third Pregnancy
Update: Chrissy Teigen announced on her social media accounts on Sept. 30 that she had a miscarriage with her third pregnancy. The television personality posted several black-and-white photos from the hospital, and detailed what happened.
Article continues below advertisement
"We are shocked and in the kind of deep pain you only hear about, the kind of pain we've never felt before. We were never able to stop the bleeding and give our baby the fluids he needed, despite bags and bags of blood transfusions. It just wasn't enough. We never decide on our babies' names until the last possible moment after they're born, just before we leave the hospital," she continued. "But we, for some reason, had started to call this little guy in my belly Jack."
Article continues below advertisement
"So he will always be Jack to us. Jack worked so hard to be a part of our little family, and he will be, forever. To our Jack — I'm so sorry that the first few moments of your life were met with so many complications, that we couldn't give you the home you needed to survive. We will always love you."
The cookbook author went on to thank those who had been sending her and John "positive energy, thoughts, and prayers."
When is Chrissy Teigen due? Sadly, she announced a miscarriage on Sept. 30.
On Aug. 13, Chrissy Teigen debuted her baby bump in a new video from her husband John Legend. Later in the day, she also took to Twitter to confirm the news herself.
Article continues below advertisement
Although John and Chrissy were happy to announce the pregnancy, the two of them didn't offer much detail about exactly when the baby would be due. In the video for John's song "Wild," she was seen cradling her baby bump on the Mexican shoreline.
Article continues below advertisement
Vevo debuted the new video and promised fans that there would be a "beautiful surprise" in it. When the news of the pregnancy was confirmed, fans weren't at all disappointed by the news. In spite of their very public profiles, both John and Chrissy managed to keep the pregnancy a carefully orchestrated secret. There wasn't even much speculation online about the pregnancy before it was officially announced.
Chrissy and John already have two children together.
Both of the couple's children, Luna, 4, and Miles, 2, also make appearances in the "Wild" video. Chrissy and John actually met under very similar circumstances, so it makes sense that they would return to the world of the music video to announce the pregnancy.
Article continues below advertisement
How did Chrissy and John first meet?
Chrissy first met John on the set of his 2006 video "Stereo." Apparently, the two found that they had an instant connection after that. "We did the music video, we were together for like 12 hours," Chrissy said in an interview with Wendy Williams.
"We spent the entire day together, me in my underwear and him in a full suit, and I went to go say goodbye to him, to his hotel and we didn't ever say goodbye that night."
Article continues below advertisement
It's fitting, then, that "Wild" was directed by Nabil Elderkin, the man who directed the "Stereo" video 14 years ago. Nabil also directed the video for "All of Me," which was written for Chrissy. Chrissy and John got married the year "All of Me" was released in 2013. The two opted for a destination wedding, and decided to get married in Como, Italy.
They welcomed Luna in April of 2016, and Miles was born in May of 2018 after they underwent In Vitro Fertilization (IVF) treatments. Not so long ago, Chrissy suggested that Bea would make a great name for a kid in a tweet, although she also said she wasn't ready to have another daughter at the time.