Did Your Private Story Randomly Disappear on Snapchat? Don't Panic!
Snapchat users have noticed that their private stories have completely disappeared from the app. Here's why they're there gone and how to fix it.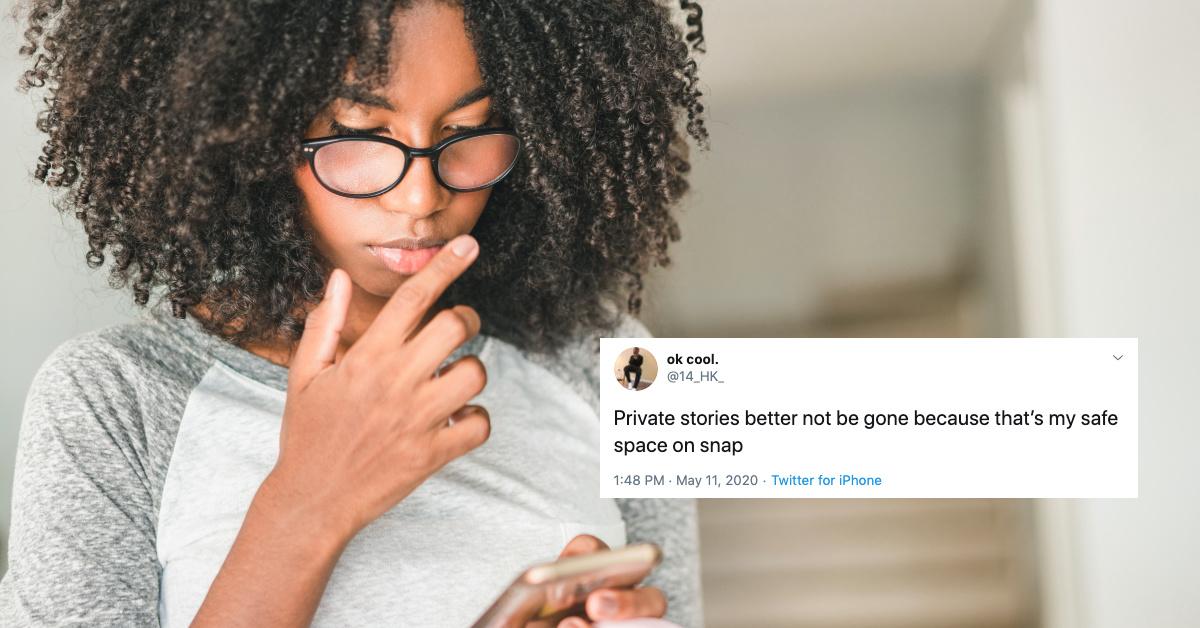 No one likes it when technology refuses to work. We've all become pretty accustomed to being able to turn on a device or open an app and have it do exactly what we want it to do without fail. Unfortunately, every now and again, technology fails us. It's frustrating, but it's a fact of life.
Article continues below advertisement
Recently, a bunch of people noticed an issue with the multimedia messaging app Snapchat. Namely, their private story was gone — disaster! If you noticed the same issue on your own Snapchat account, don't worry! Here's what we know.
Why is my private story gone on Snapchat?
For many Snapchat users, creating private stories is their main method of interacting with the app. Whereas regular stories are shared with anyone who follows you (much like an Instagram story), private stories are shared with a select audience that you get to control. That makes them the perfect way to interact with people and keep it private. Naturally, when people noticed that their private story was gone, they started to panic.
Article continues below advertisement
Some people started wondering whether Snapchat had decided to simply do away with the whole concept of a private story. After rumors that Snapchat would be shut down started going around earlier this year, it's easy to see why people may have been a little on edge. But rest assured: private stories are not going anywhere — not for the time being, anyway.
Article continues below advertisement
As frantic messages began to flood the Snapchat Support Twitter account, the account let people know they were aware of the issue. "We're aware some Snapchatters are having trouble using the app right now," they tweeted. "Hang tight, we're looking into it!" A few hours later, they tweeted again saying the issue had been resolved.
Article continues below advertisement
That indicates that Snapchat had undergone some sort of internal issue, but they were able to fix it and everything should be back to normal now. If your private story is still gone on Snapchat (or if you're experiencing any other issues with your account), Snapchat recommends either reaching out via Twitter or within the app itself. Make sure you have the most up-to-date version of the app, too!
If your private story disappears during a time when there isn't an app-wide issue, it may be due to the actual content of your story. For instance, someone may have flagged the content of your story as inappropriate, causing Snapchat to remove it. Or, your story might include a link that is an unsafe redirect (meaning it leads to a site that could be unsecured).
Article continues below advertisement
If you feel confident that the story was flagged or deleted in error (accidents happen!), you can try reposting it, but do be aware that being flagged several times could put you in danger of having your account suspended.
No one likes having to deal with broken technology, but in most cases, the people responsible for making that technology are doing their best! It's obviously not great for them when their stuff doesn't work, either. Have a little patience, maybe try a hard reset, and before long, you can get back to posting all your awesome content.