Here Are the Reasons Why Your Snapchat May Be Locked Forever
Is your Snapchat account permanently locked and you want to know why? In most cases, the "permanent" ban only lasts 24 hours.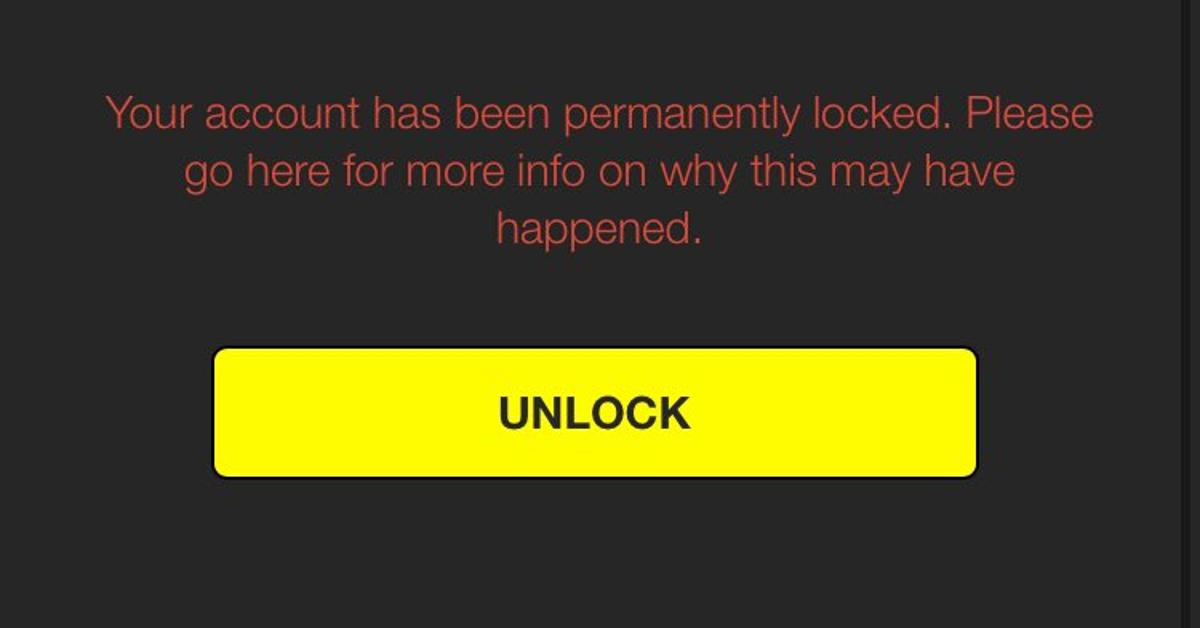 Navigating the world of social media can be tricky, especially if you're sharing opinions that aren't exactly popular. If you've ever been on the receiving end of schools of outrage fish on Twitter hitting the report button on you just because you said Beyoncé's latest album wasn't all that, then you know how account suspension based on "abuse" is a flawed system.
The same applies to Snapchat and a lot of banned users want to know why it is that their accounts are permanently locked.
Article continues below advertisement
Why is my Snapchat permanently locked?
There are a number of reasons why this could happen, the first being straight up abuse and spam. If you're using the platform to hit up people incessantly in attempts at selling some types of goods and services and links, then you're going to be blocked.
You can also get blocked for utilizing "bots" to take over your Snapchat account. Again, if you're doing that in order to try and sell items to people, that falls under spam / phishing.
But if you're using bots to just send your nudes to randos, then that'll fall under "abusive behavior." If you're also adding way too many friends without verifying your email address or telephone number, that could also lead to a ban, because the larger your friend group is, the more Snapchat wants to make sure that you're a legit human being and all. Makes sense, no?
Article continues below advertisement
The reasons for being "permanently locked" aren't all bad, though. If Snapchat detects an IP address or device has managed to log into your account, then they'll implement a "protective lock" on the account in order to ensure that no further damage / compromises occur on your behalf.
The account will be unlocked once they've sussed out the situation, and you can change your password and be free to Snap once more.
Article continues below advertisement
Another huge reason as to why your Snapchat account could be permanently locked is the constant use for third-party services and software that can access your Snapchat account.
The developers of the app want to make sure that you're using it on an iOS or Android device. So if you're installing something that allows you to implement a workaround and Snap from your computer, they're gonna find out.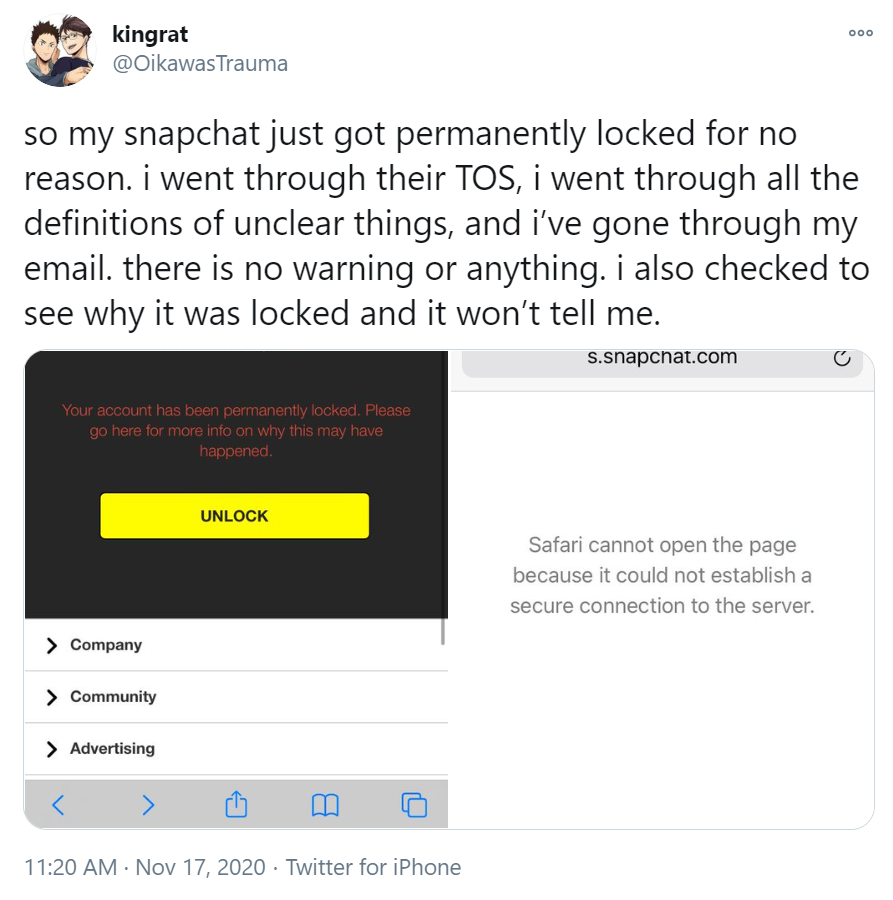 Article continues below advertisement
The other third party services and "tweaks" from Snapchat are also apps that basically let you save videos and photos on Snapchat without the sender knowing, which could become a big problem. The primary reason folks use Snapchat is because they know that the other person isn't about to save whatever it is they're sending them.
However if you discover that your pics and clips aren't exactly protected and there's no way for you to know if the recipient isn't downloading what you're putting out there, well, then it's understandable why Snapchat would want to suspend anyone caught using said tweaks on the app.
Article continues below advertisement
If your account was locked and you'd like to unlock it, your best bet is probably reaching out on social media, like Twitter to talk with a customer support rep. Or you could visit the customer service page here.