The WWE "Suspended" Brock Lesnar for Attacking WWE Official Adam Pearce
Brock Lesnar went in full violent attack mode against a bunch of WWE superstars and employees, but is that why he was suspended from the organization?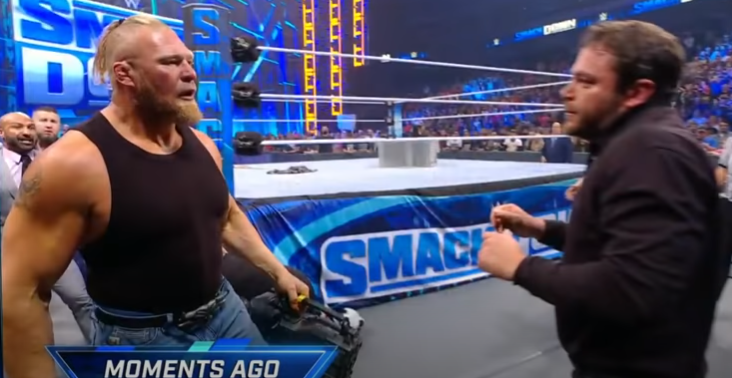 If you've been a longtime professional wrestling fan, then the archetype of the "unstoppable juggernaut" isn't exactly something you haven't seen before. Brock Lesnar first appeared in the WWE in 2002, and although he pursued other career opportunities in the NFL and UFC, Lesnar keeps coming back to professional wrestling. So why was he recently suspended?
Article continues below advertisement
Why was Brock Lesnar suspended from the WWE?
Lesnar hasn't been a full-time professional wrestler for some time, but he's always been a draw, and it seems that the high-ups and top creatives really enjoy writing for him. How else could someone who swoops in for shows here and there end up headlining so many pay-per-views and be crowned champion so many times?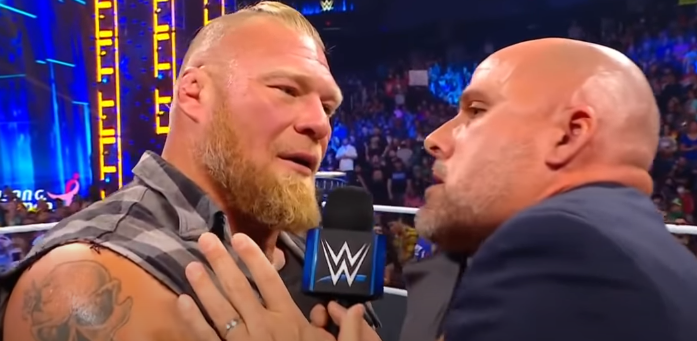 Article continues below advertisement
In fact, Lesnar actually holds the record for the longest consecutive WWE Universal Champion title reign at 504 days, and he was the only man to ever defeat Undertaker at Wrestlemania.
A lot of the mythos surrounding Lesnar have to do with his "unfettered" behavior, and all of his ring monikers are in line with that theme.
He's been called The Conqueror and The Beast Incarnate, and the WWE writing staff is certainly having him live up to that name with a November 2021 SmackDown outburst that left a ton of wrestlers and even WWE employees licking their wounds.
But to understand that rampage, we'll have to head back to the Crown Jewel pay-per-view in Saudi Arabia.
Article continues below advertisement
Lesnar battled the current Universal Champion, Roman Reigns, in a headlining bout. However, interference from The Usos resulted in a loss for the UFC titleholder, and he still hasn't forgotten that slight. He let everyone at SmackDown know he wasn't happy with taking the L.
Article continues below advertisement
After Lesnar was getting progressively angrier and violent, a bunch of Superstars came out to the ring in an attempt to talk him down, but he wasn't hearing it. He kept beating everyone up, even grabbing a camera from a staff member and proceeding to unleash the fury.
Article continues below advertisement
The one-man-wrecking crew brawl that Lesnar incited got him in serious trouble with WWE official Adam Pearce, who suspended Lesnar for his actions.
However, Brock wasn't too happy about that and after exiting the ring, he decided to let Adam Pearce know what he thought about his suspension.
Article continues below advertisement
So he decided to beat the ever-loving poop out of him and landed his finishing move on the official: the F5. Brock's actions led to him being fined for $1 million kayfabe dollars, and his hiatus from wrasslin' is, according to Pearce, an indefinite one.
Brock Lesnar's suspension was ultimately lifted, though.
Paul Heyman indicated as much, but the WWE officially tweeted that the suspension was lifted on social media, and the WWE's already advertising him for future events.
Article continues below advertisement
It seems that the WWE's really amping up the narrative between Reigns and Lesnar. There are murmurs that the former is gunning for the longest-running consecutive Universal Title reign in the WWE. Will Lesnar be the man to stop that?