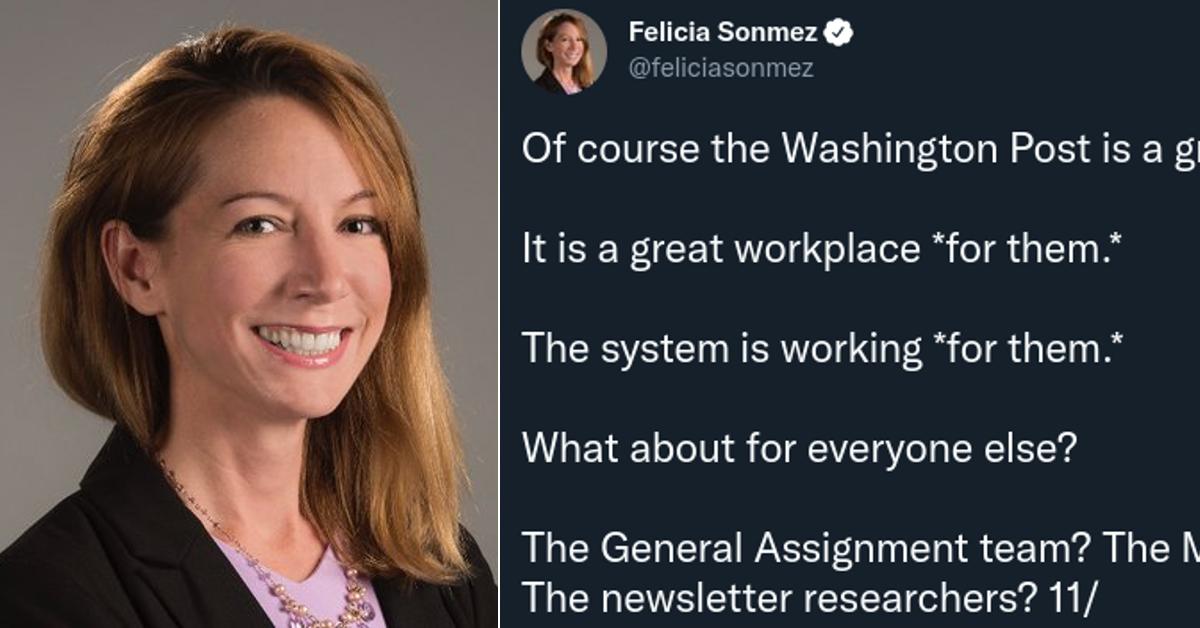 Felica Sonmez Was Fired From 'The Washington Post' for Public Beef With Co-Workers
Engaging in a public beef with one's co-workers on social media is definitely not a good look, especially if you're working for a globally recognized publication that relies on applications like Twitter to break news stories. The publication you work for would probably want you to reserve your online correspondence for the stories you and your colleagues are working on and not turn attention to workplace disagreements. This is why many people believe Felicia Sonmez was fired from The Washington Post.
Article continues below advertisement
Why was Felicia Sonmez fired from 'The Washington Post?'
Many label the outlet as having a "Moderate Left" leaning bias, with a focus on stories that touch on discrimination and identity issues. Sonmez aired several gripes within WP's workplace that pertain to discrimination, including a lawsuit she levied against her employer in 2021 citing this same exact issue, according to CNN.
Although Sonmez's legal action was ultimately dismissed, she reportedly plans to appeal the decision. She also took issue with a sexist joke that was retweeted by journalist David Weigel. The original tweet, put out by a YouTube host named Cam Harless, read: "Every girl is bi. You just have to figure out if it's polar or sexual."
Weigel was suspended from the publication for a month without pay for his retweets.
Article continues below advertisement
While Sonmez did voice her displeasure with this joke, the journalist published a series of tweets that states that her displeasure with WaPo extends beyond a singular tweet and is instead "about a company where internal pleas for change have gone unheeded for a long, long time." As part of her Twitter thread, Sonmez suggested that WaPo was "only a good workplace for those who are white and highly paid."
Many have supported Sonmez's decision to essentially air the publication's dirty laundry as it's "a reporter's job."
Article continues below advertisement
Sonmez also criticized Executive Editor of The Washington Post, Sally Buzbee, for releasing an internal memo about addressing co-workers' tweets in a public forum.
In the memo, Buzbee wrote, "When issues arise, please raise them with leadership or human resources and we will address them promptly and firmly."
However, Sonmez wrote that the note only "provides fodder for *more* harassment." She also publicly disagreed with Jose A. Del Real, a reporter and features writer for the outlet.
Article continues below advertisement
Del Real said that Sonmez's issue with Weigel's retweeted joke was an "attempt to make a specific critique of your regular public bullying into a sweeping opera about principles." He also pointed out that as being the "only Mexican American reporter on the national desk, [that he] know[s] the sting of discriminatory systems firsthand," but that he believes empathy, especially with fellow co-workers, goes a long way.
Article continues below advertisement
Following the events with Weigel, Sonmez was fired from the publication but continues to talk about the number of circumstances that led up to her exit, highlighting the "systemic issues that run far deeper" than a single retweet one from man.
In a tweet published on June 9, 2022, she wrote that — despite the journalists being told to "take a break" or "seek help" while covering particularly horrible stories such as the school shooting in Uvalde — she was "punished after [she] told [her] editors [she] needed to take a walk around the block after reading a difficult story."
She added that "other colleagues have been punished for their trauma far more recently, but their stories aren't [hers] to tell."
While some have criticized Sonmez for how she publicly handled these issues, with someone saying she "overreacted," others are calling blatant misogyny. Rolling Stone writer EJ Dickson tweeted, "This backlash against Felicia Sonmez smacks of annoyance that a woman would have the gall to speak up about systemic cultural issues."
Article continues below advertisement
Others supported Sonmez, saying that none of this would have had to happen if WaPo took previous complaints and calls for change seriously.
"Calling out your own organization for failing to meet its own standards is hard," wrote journalist Dan Nguyen. "Had the WaPo been more diligent, it wouldn't have had to be so seemingly reactionary toward Weigel, and more importantly, Sonmez wouldn't have to shoulder this public burden and abuse yet again."
Following ongoing harassment for calling attention to the issues within WaPo that led to her firing, Sonmez tweeted, "To those bizarrely attacking me for speaking out, or snidely saying things like 'Day 7' — of course I'm still speaking out. This is about systemic issues that run far deeper than a single tweet by any employee. Pushing for change takes far longer than 7 days."