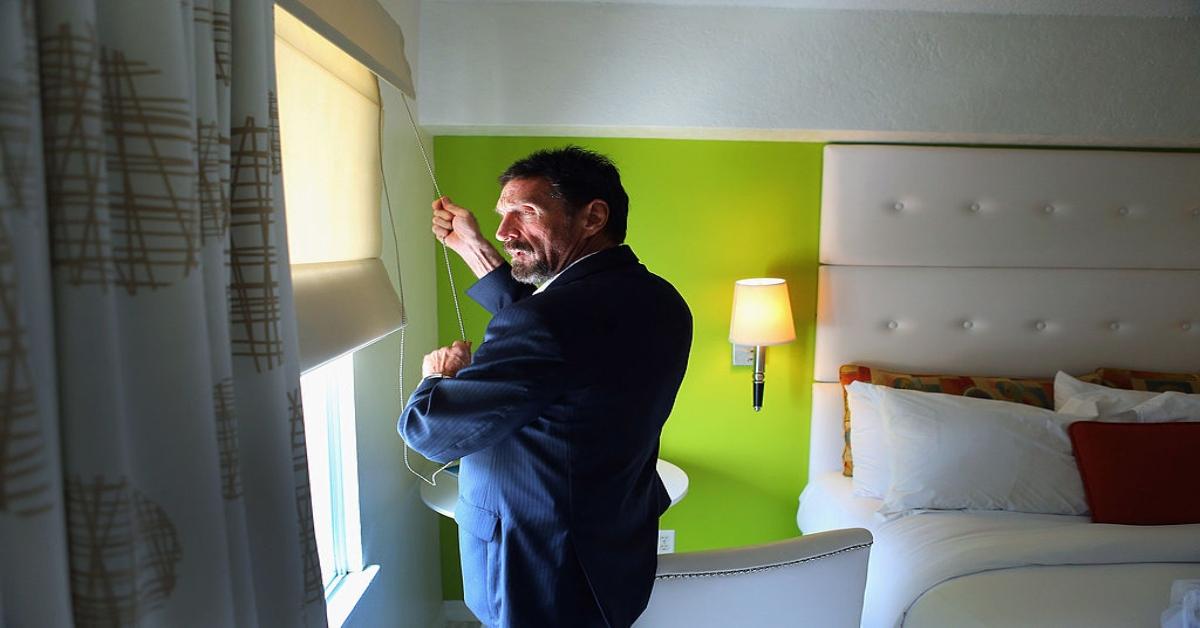 Why Was John McAfee on the Run for More Than a Decade?
Multi-millionaire genius or a paranoid, drug-addled madman — The answer to who John McAfee is depends on who you ask. McAfee describes his own personality as "James Bond meets Scarface with a little Indiana Jones."
Article continues below advertisement
While some facts are as hazy as the smoke from one of his blunts, one thing is clear — McAfee spent more than a decade on the run. But why?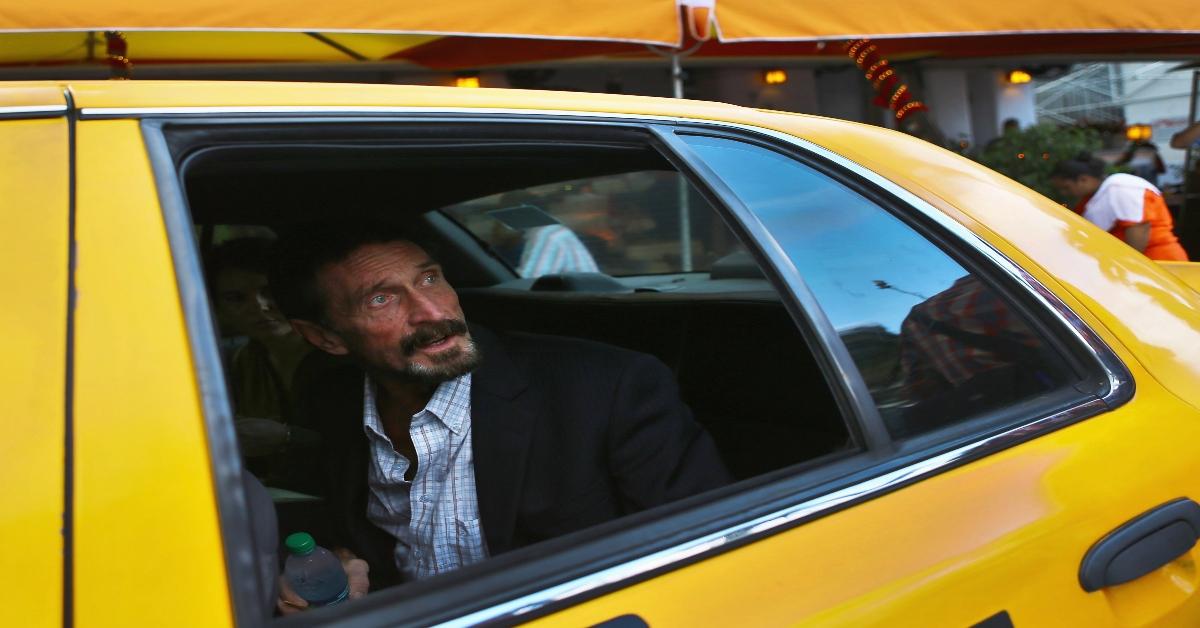 Article continues below advertisement
Was John McAfee really on the run to escape a murder charge?
As a ground-breaking entrepreneur, prone to alcoholism and drug addiction, the sale of McAfee's company and the pioneering (and eponymously named) McAfee antivirus software made him a multi-millionaire.
As Distractify previously reported he was once worth $100 million. In 2008 he left the United States for the white sand beaches of Ambergris Caye in Belize where he reportedly lived with a number of girlfriends and a half-dozen dogs.
Just 200 paces down the shore from his $5 million beachfront compound on the Belize Barrier Reef coast, was the house of Gregory Faull – and the two men did not get along. Locals reported that Faull had complained about the aggressive behavior of McAfee's dogs and in 2012, the day after McAfee suspected Faull of poisoning several of his dogs — Faull was found dead in his home from a gunshot wound to the head.
Article continues below advertisement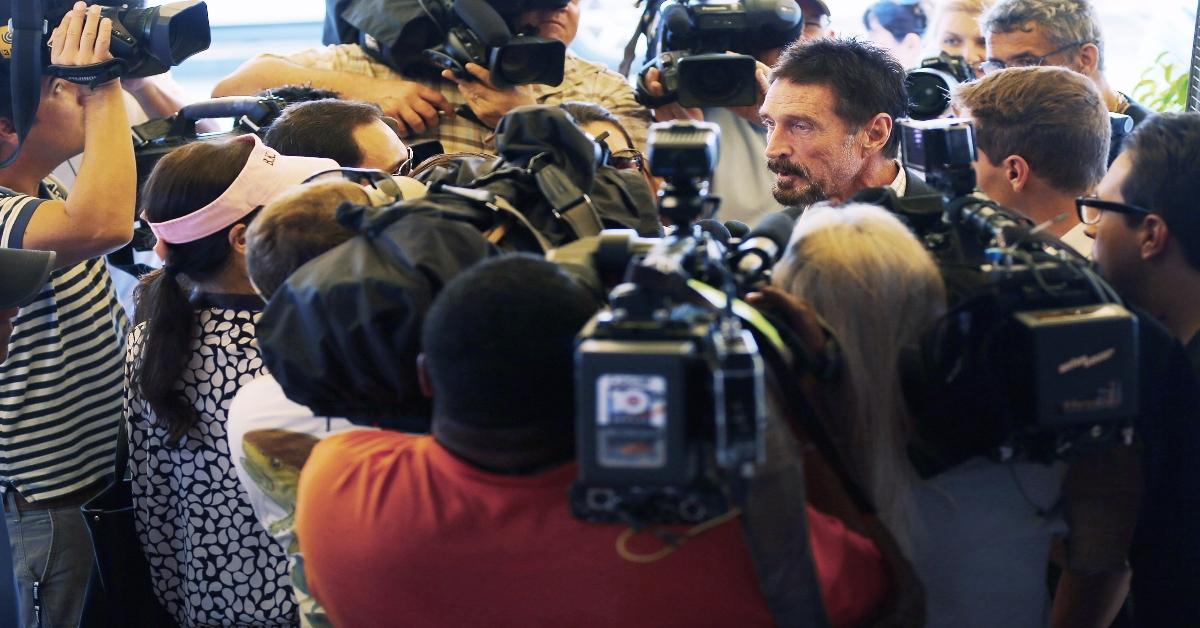 McAfee —who officials wanted to question — was gone.
According to the Netflix documentary Running With the Devil: The Wild World of John McAfee, he and his 18-year-old girlfriend Samantha Herrera fled to Guatemala where he was arrested on immigration charges.
However, after feigning a heart attack, he managed to escape back to the United States, leaving Samantha at the border.
Article continues below advertisement
John McAfee was never charged for Gregory Faull's death.
In the States, he enjoyed some celebrity. He got married and even announced his presidential candidacy. But before long, he was back on the run.
While Belize authorities named him a "person of interest" in the death of Faull, McAfee was never charged. Instead, this time he was fleeing a series of criminal and civil charges brought against him by U.S. authorities related to tax evasion.
Article continues below advertisement
In the documentary, he told ghostwriter Alex Cody Foster, that "some powerful entities were trying to set him up, not for murder, but for the information he possessed" because at the same time he created his anti-virus software – he says he also created a different program that enabled him to spy on anyone in the world.
His journey ended in Spain where he was arrested in October 2020.
On June 23, 2021, the same day Spain agreed to extradite him back to the U.S., authorities announced he had died by suicide – something McAfee fervently denied he would ever do.
Article continues below advertisement
A year later, his wife, Janice McAfee says his body has not been released and remains in a Spanish morgue, sparking some debate over whether he died by suicide or if he's actually dead at all.
His former girlfriend Samantha recently claimed on the Netflix doc that McAfee called her from Texas, stating he "paid people to pretend" he had died.
McAfee once said, "A computer virus is a program with a goal — and the goal is survival" – much like McAfee himself.
The homicide of Gregory Faull remains unsolved.