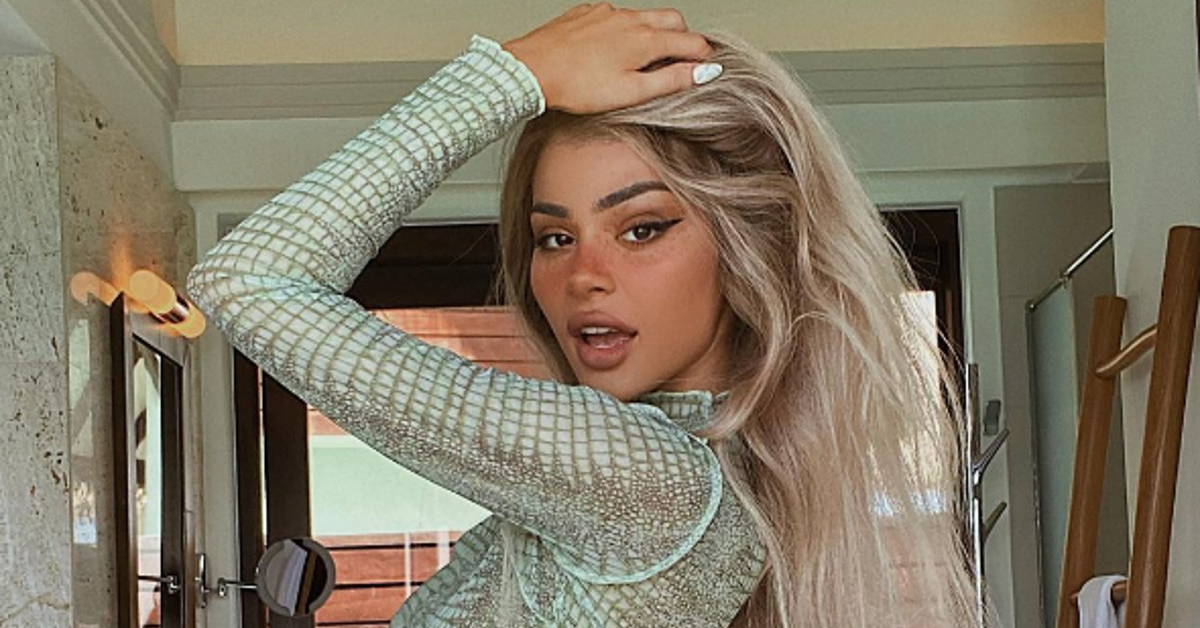 TikToker Kristen Hancher Banned From TikTok for Promoting Her OnlyFans Account
By Mustafa Gatollari

Jan. 13 2021, Published 5:55 p.m. ET
If you're planning on monetizing a large social media following into a prospective career, then you'd be wise to check said platform's community guidelines on a daily basis and triple check your posts before they're uploaded online. Ending up on the receiving end of the banhammer can quite quickly put a stop to an "easy" source of online influencer income, which is something Kristen Hancher, a popular TikToker, recently experienced. But why was she banned?
Article continues below advertisement
Why was Kristen Hancher banned from TikTok? For promoting her OnlyFans account in a post.
If you aren't familiar with the Canadian online personality, she made a name for herself on social media after posting lip-syncing videos, along with fitness, hair, and makeup clips as well. After amassing a sizable number of followers, high-end brands began paying her to promote their products and she happily obliged, earning herself a decent-sized living in the process.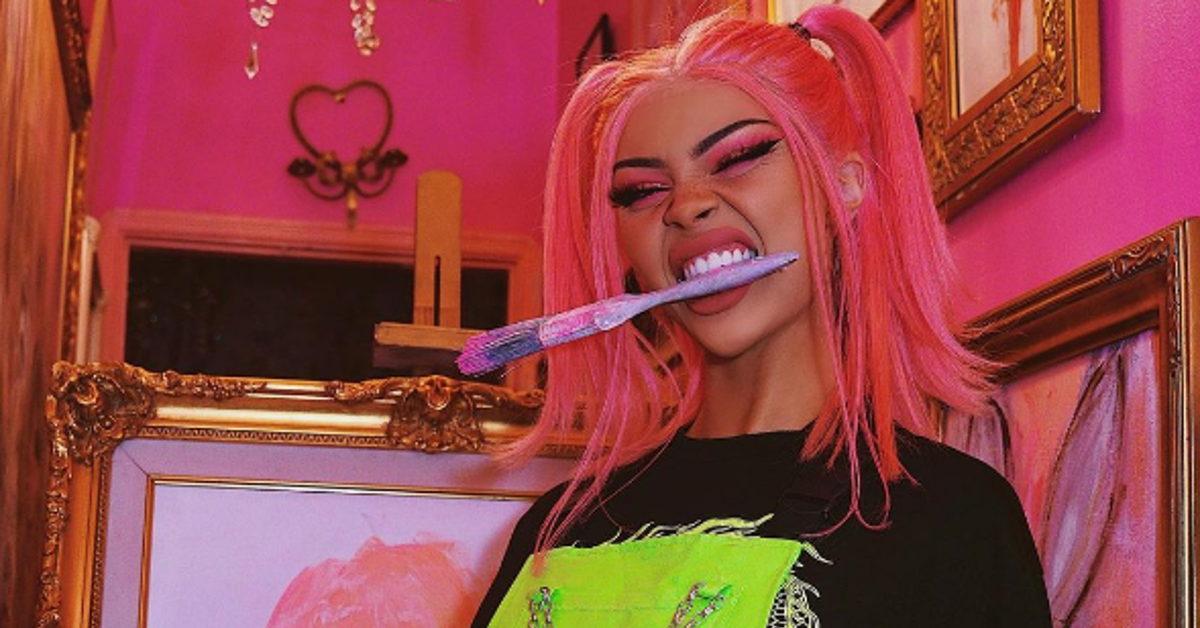 Article continues below advertisement
However, TikTok isn't currently contributing to Kristen Hancher's $400,000 reported net worth as of now.
The "e-girl" had some choice words about her TikTok account being banned after referencing her OnlyFans page in a caption on the platform. She wrote, "Tiktok got back to me saying that they permanently banned me because I captioned one of my tiktoks 'subscribe to my OF lol' with a video that was completely PG. my whole account banned because a caption. Funny how they like to keep the sexual predators and the 13 year olds wearing bikinis. Crazy."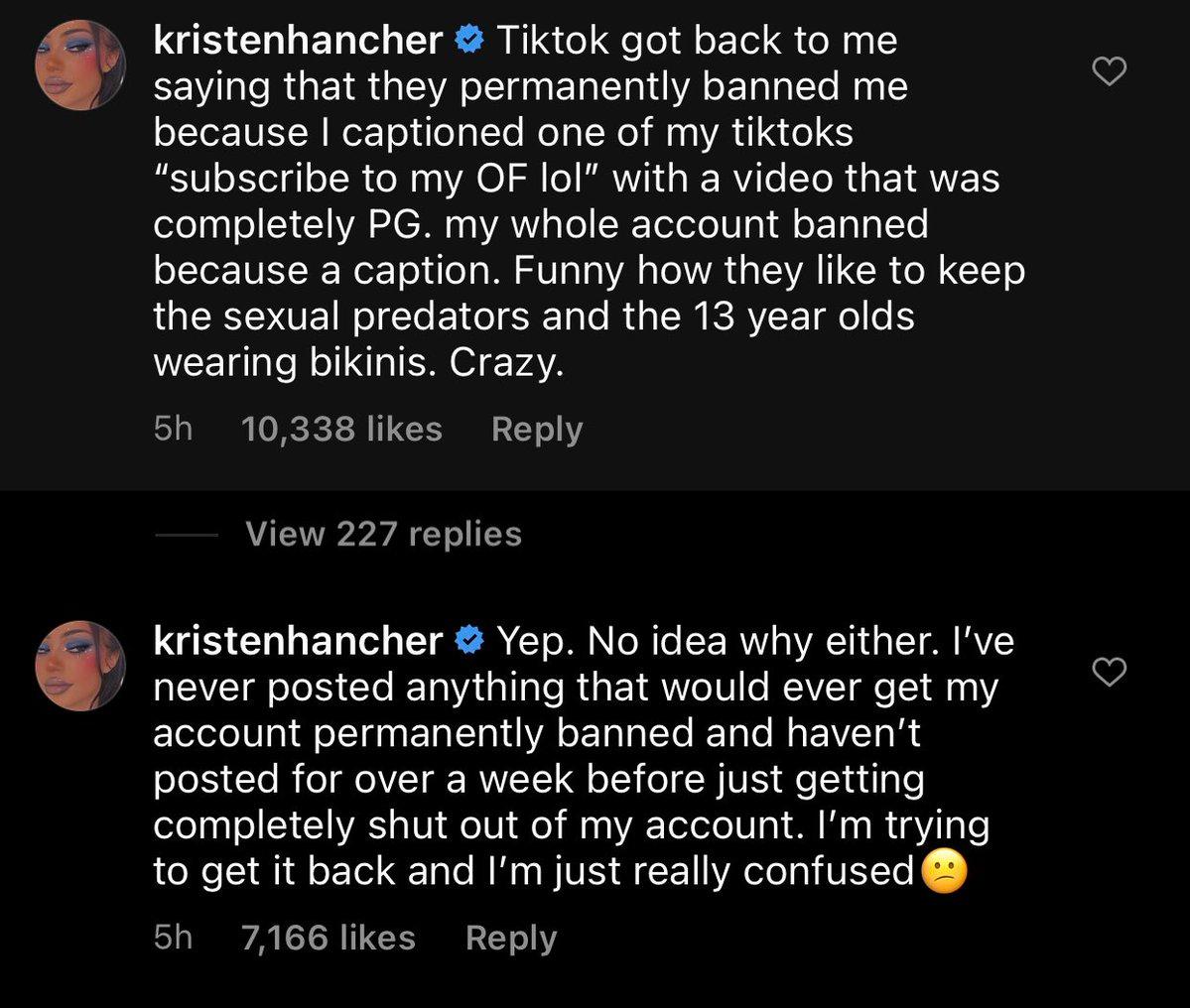 Article continues below advertisement
It seems like Kristen's harsh words for the platform aren't helping any efforts for her to restore her account, but hearing that she was permanently banned, even after climbing to a massive 24.7 million follower count, may have played a part in her speaking about the accusations surrounding the platform for quite some time: that it's a "pedophile magnet."
remember when tiktok was musicly and they had to shut down bc it was full of pedophiles then they just picked a new name and did nothing about the pedophiles

— harry (@hrryjcksn) January 6, 2021
Article continues below advertisement
Some are also speculating that TikTok, like Twitch, could be aggressively banning its top stars in an effort to keep the platform "fresh" and allowing more room for growth of other accounts. Invariably, whenever there's a high-profile persona that captures the spotlight, it creates a sense of futility for other users who are trying to reach for equitable levels of internet clout.
Article continues below advertisement
Kristen Hancher's OnlyFans isn't the only thing that got her name in headlines recently.
While notable social media stars profiting off of adult entertainment isn't anything new, Kristen also found herself in hot water when uploaded videos of her reportedly flouting COVID-19 protocols began circulating the internet.
Folks particularly took issue with the fact that she had traveled to Maldives, a "Level 3 COVID danger" zone, and that she had reportedly attended a pro-COVID spreading party in Los Angeles.
*COVID TRAVEL ALERT* Kristen Hancher lashes out at fans calling her out for traveling to Maldives during pandemic. CDC recommends against nonessential and essential travel to Maldives as it's Level 3 COVID danger. Kristen has attended pro-COVID spreading party in LA in past. pic.twitter.com/tykQOJazZK

— Def Noodles (@defnoodles) September 28, 2020
Article continues below advertisement
Kristen Hancher GOES TO HOUSE PARTY. Kristen shared this video on her Instagram story and quickly deleted it. It is unclear where the house party too place. Kristen has 24M TikTok followers.

Senior COVID Correspondent COVID says "🦠🎊😃"

What are your thoughts? pic.twitter.com/FA5Lfp1w1T

— Def Noodles (@defnoodles) September 19, 2020
So it could be that the OnlyFans mention on her TikTok was the final straw for the platform and they wanted to distance themselves from any potential further drama and backlash from users. What do you think? Was TikTok in the wrong for banning Kristen? Or do you think that they can never be too careful, seeing as the platform seems to attract a predominantly young user base?