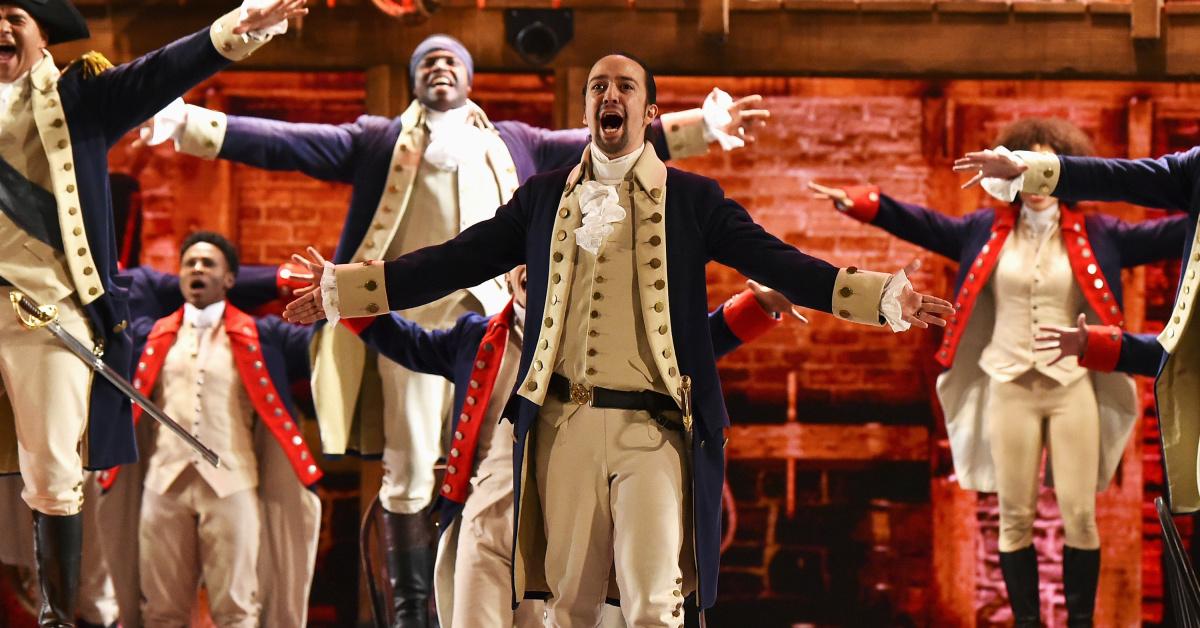 The 'Hamilton' Movie Is Coming to Disney Plus, but for How Long?
After watching the 'Hamilton' movie trailer, Disney Plus users were concerned it'd only be available to stream for one day. Don't worry!
If you've listened to the Hamilton soundtrack (or have been lucky enough to see it in person!), then you know it's an incredible musical that pretty much everyone should have the chance to enjoy at some point in their lives. Luckily, Hamilton is coming to Disney Plus so more people than ever before will get their chance to be in the "room where it happened." Kind of.
Article continues below advertisement
However, if you've been a Disney Plus subscriber for a few months, you may have noticed that not every film in the Disney Plus lineup remains on the streaming service forever. Sometimes, Disney removes films from the Disney Plus lineup, either due to license agreements with other streaming services or for other reasons. Is that going to happen to Hamilton? How long will Hamilton stay on Disney Plus? Here's what we know.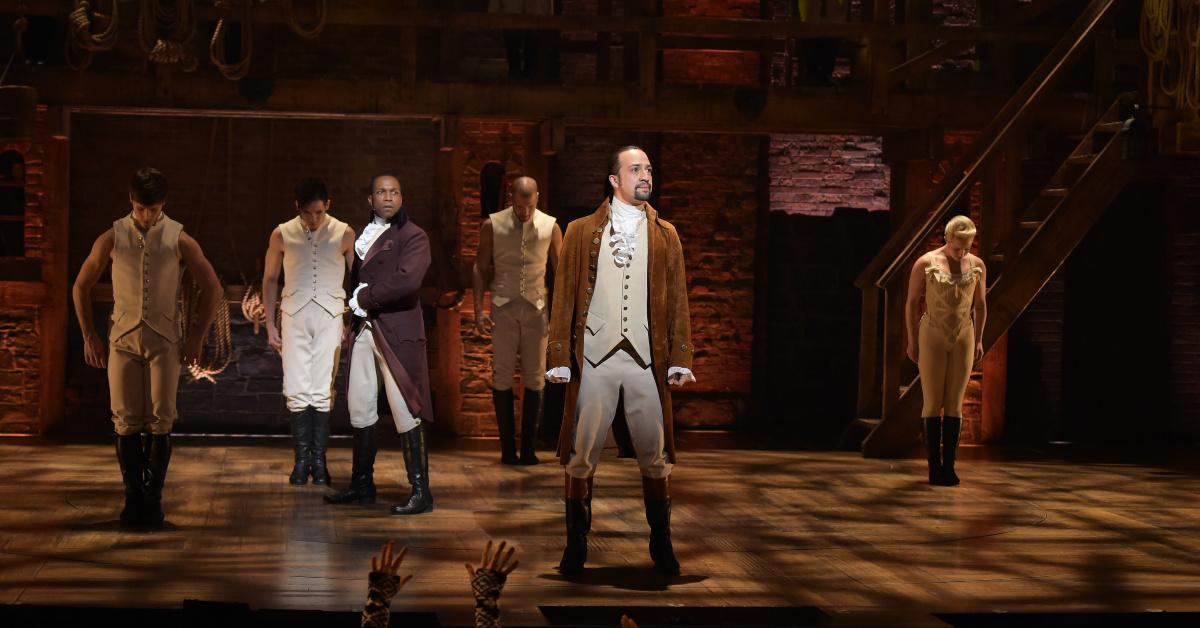 Article continues below advertisement
How long will 'Hamilton' stay on Disney Plus?
First, the good news: Hamilton will officially be available to stream on Disney Plus starting Friday, July 3, 2020 (quite a fitting release date considering the subject matter, no?). It will be available starting at 12 a.m. PST, so plan accordingly! Maybe that means staying up super late on Thursday to watch it as soon as it's available, maybe it means waking up super early on Friday, or maybe it means just having it play on a constant loop all Fourth of July weekend.
As for how long the Hamilton movie will be available, well, we don't know for sure. But we do know that it will be for longer than just one day. There were some rumors that the movie would be available for one day only. The Hamilton film trailer ends with text saying, "Streaming exclusively July 3," which made some people think it was only streaming on July 3, but it actually means it's streaming exclusively on Disney Plus starting on July 3. Lin-Manuel Miranda even confirmed that in a tweet. Whew!
Article continues below advertisement
We're guessing that the Hamilton movie will actually be available to stream on Disney Plus for quite a long time, so don't freak out if you can't watch it right away. In February of 2020, Deadline reported that Disney had paid $75 million for exclusive, worldwide rights to the recording of the show (which was filmed over the course of three nights). It wouldn't make sense for Disney to pull the film from the Disney Plus lineup after spending such a huge sum for it.
Article continues below advertisement
Will the 'Hamilton' film be edited on Disney Plus?
The Hamilton film will contain every single scene and song from the original Broadway show — with two very small exceptions. According to Lin-Manuel Miranda, they had to make two small edits to song lyrics in order to maintain a PG-13 rating in the Disney Plus version of the show. There are three uses of the word "f--k" in the original musical, so two of them had to go.
In "Yorktown," the F-word is muted in "I get the f--k back up again," and in "Washington on Your Side," you'll hear "Southern *record scratch*kin' Democratic Republicans" instead of the original lyrics. The F-bomb that made the cut isn't even a true F-bomb at all — it happens in "Say No to This" when James Reynolds says, "You see, that was my wife who you decided to fuuu–."
Article continues below advertisement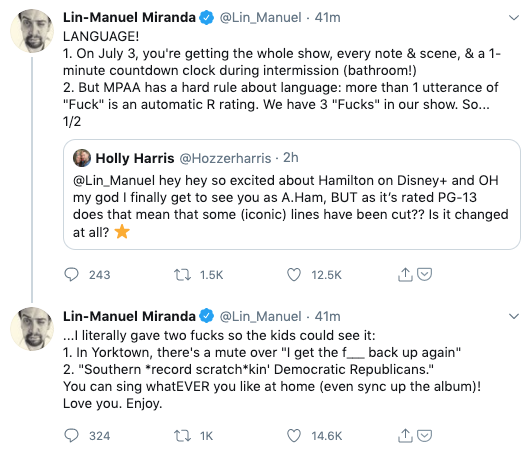 Other than those pretty minute changes, Disney Plus audiences will get to see Hamilton in all of its glory, and they'll certainly be able to watch it more than once when it's finally available to watch starting July 3. We can't wait!