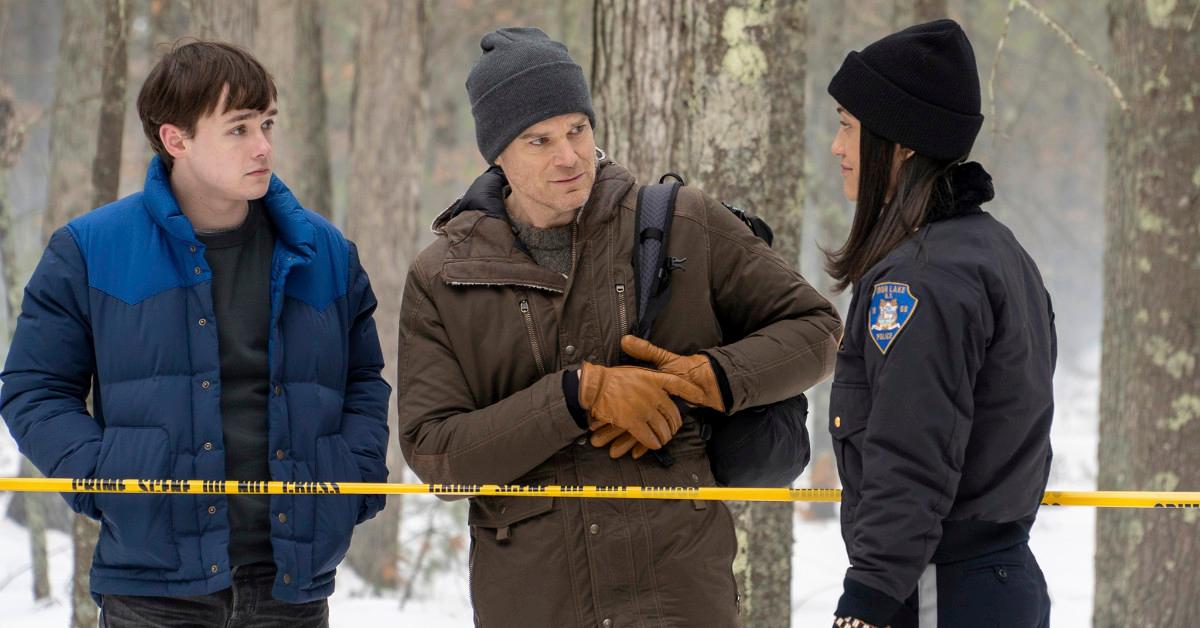 Showtime Execs Talk 'Dexter: New Blood' and the Potential for Season 2
Everyone's favorite vigilante serial killer is back on our TV screens, but for how long? Will there be a Season 2 of Dexter: New Blood?
It must be a tempting prospect for Showtime, since the Nov. 7 New Blood premiere drew an estimated 2.2 million viewers across linear and streaming platforms, marking the most-watched scripted drama premiere on cable channel of the year thus far, according to Deadline.
Article continues below advertisement
So far, producers and network brass are staying tight-lipped, but Showtime Networks CEO told Deadline earlier this month that he can't swear this will be the end of the Dexter franchise.
"I don't swear at all," he said. "I don't swear off anything. You've been asking me for years what's the story with Dexter? I went from 'I don't know, nothing's happening' to 'Never say never' to 'Stay tuned' to 'I got something I like…'"
Here's what we know about the future of the series…
Will there be a second season of 'Dexter: New Blood'?
Dexter: New Blood a "special event series" that Showtime Networks entertainment president Gary Levine called "a proper finale for a brilliant series," per The Hollywood Reporter.
But Gary also didn't rule out the possibility of more Dexter down the line. "The expectation is so high for it and the series is so special to the network and me … the future will take care of itself," he told reporters.
Article continues below advertisement
Lead star Michael C. Hall also punted the question. "For me to answer that question definitively would maybe give away or potentially imply info we don't want to imply," he said. "I'll refrain from answering too definitively. I do hope that watching the show is a satisfying experience for people who watched it originally and are curious about what happened to him."
How many episodes of 'Dexter: New Blood' will there be?
This season of Dexter: New Blood — which may or may not be the first season of the reboot — will have 10 episodes.
Spoilers for previous New Blood episodes ahead!
Article continues below advertisement
As we've seen on the show so far, Dexter is living in the small town of Iron Lake, N.Y., under the alias Jim Lindsay. But his quiet existence is uprooted with the returns of his so-called Dark Passenger — as his murderous streak gets the better of him — and his long-lost son, Harrison(Jack Alcott). Meanwhile, he's being haunted by his dead sister, Deb (Jennifer Carpenter), who personifies his guilty conscience. And his sheriff girlfriend, Angela (Julia Jones), may uncover his secret any day now.
Article continues below advertisement
"We're moving forward to an ending that will be, as Chekhov said, surprising but inevitable," Dexter: New Blood showrunner Clyde Phillips revealed to TV Insider a year ago.
And this July, Clyde told Comic-Con@Home viewers to expect a helluva finale, which promises to make up for the original series' underwhelming ending. "The ending of this one will be stunning, shocking, surprising, unexpected," the producer said. "Without jinxing anything, I will say that the ending of this new season will blow up the internet."