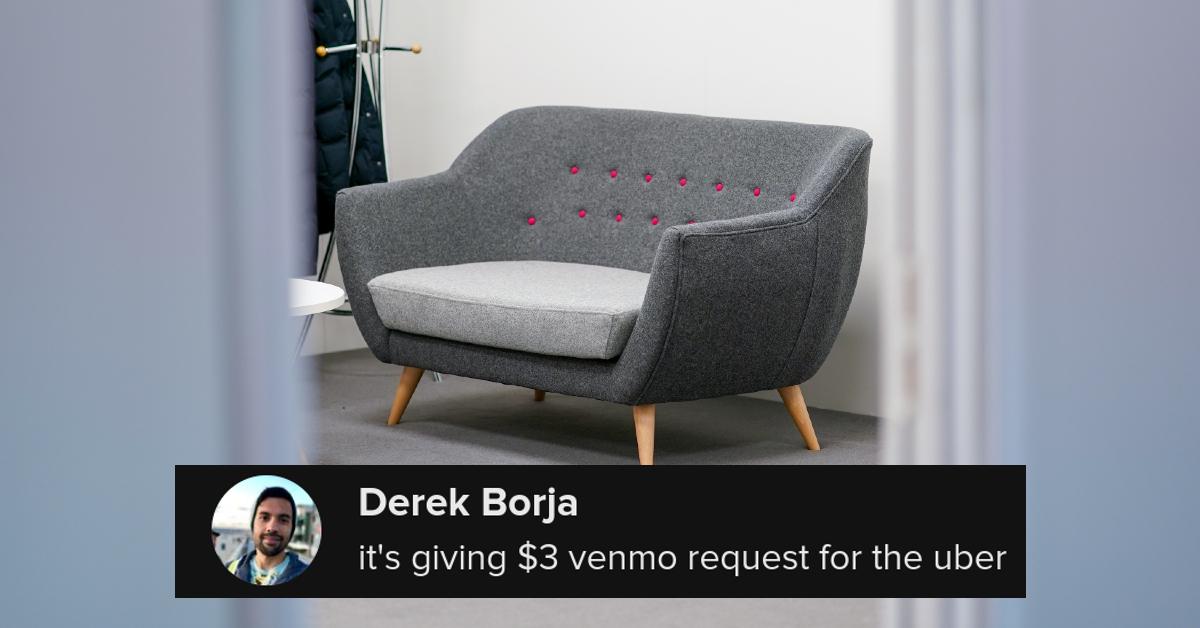 Woman Buys New Couch and Tries Billing Roommates for Time Spent Sitting on It
There are times to save money and there are times when it's all right to spend what you've got. For instance, if you're trying to break into a specific industry or are going after your dream job, then that's an area where you probably shouldn't be cheap. Want to be an actor and you ask a casting director out for lunch to pick their brain? You should probably offer to pick up the tab.
Article continues below advertisement
Or maybe you're a spot-welder looking to become the best in the business and want to be counted on to provide reliable, consistently good work? It's probably a good idea to do your research and invest in good tools. Own a limousine company? Service your vehicles to make sure that they're running properly and that they have adequate insurance.
Of course, there are instances where being cheap or stingy is probably a good idea, like if you're just spending a bunch of money to try and impress friends. Or if you're using your love for travel as a means of skirting your responsibilities and pushing off those dreams you've had for a long time because you simply HAVE to see the world.
With all that said, it's probably not good to be cheap with your roommates. Expecting them to share the cost of a couch you decided to purchase is probably not going to end in anything other than conflict.
Article continues below advertisement
It's not that the roommate TikToker Jyn (@jynwayne) lived with even asked them beforehand if they wanted to split the cost of a sofa with them, it's the annoyingly meticulous knowledge that they implemented in coming up with the figure for the sofa they purchased.
Article continues below advertisement

But it makes sense, considering that their roommate was an accountant and probably got off on juggling numbers around. Jyn writes in a text overlay over a video of them walking through the subway: "remembering the time my accountant roommate tried billing me for the apartment by dividing the total cost of the couch by its expected lifespan multiplied by the number of days I'm expected to be home"
Article continues below advertisement

To make matters even nerdier, Jyn added in a caption for the post that they even presented a visual breakdown of what the cost analysis of the couch-sharing venture would look like: "and shared the spreadsheet with me in .xlsx file format".
Article continues below advertisement

She also added in the comments section of the post that while her roommate's behavior definitely seems strange, in a roundabout way she was attempting to be fair about the cost of the couch "in her defense she was trynna be nice and not make me pay for half since she's taking the couch. just a bizarre equation if you ask me"
Article continues below advertisement

When it comes to qualities in an individual that folks consider unattractive, cheapness is at the top of that list. And while there are plenty of blogs and think pieces on the internet that discuss cheapness in the romantic partner sense, living with a stingy roommate really can't be all that better.
Article continues below advertisement

In fact, there are folks who've had such bad experiences with roommates that they've sworn off the idea altogether, like this Redditor who went on a rant asking why in the world the US just doesn't make smaller apartments/condos for people so they don't have to feel the need to get roommates in the first place, as most folks could live in a small room without a problem.
Article continues below advertisement

Some TikTokers who responded to Jyn's post thought that the spreadsheet solution was ultimately a good one, as it meant that her roommate was not only applying what she learned on the job, but that it also saved Jyn money in the process: "This is crazy but also if it means you pay less and she's applying what she learned then slay"
Article continues below advertisement

Someone else agreed with this assessment: "is it extra? yes. is it extra because she was doing her damnedest to make sure it was fair down to the cent? also yes."
But there were others who didn't see it as such a positive: "I just bought an espresso machine and told my roommate to feel free to use it and take care of it. Ya know, like a normal person."
Article continues below advertisement

What do you think? Was it extra, in a bad way, for the roommate to go through such great lengths to do that? Or were they totally in the right?