Money Heist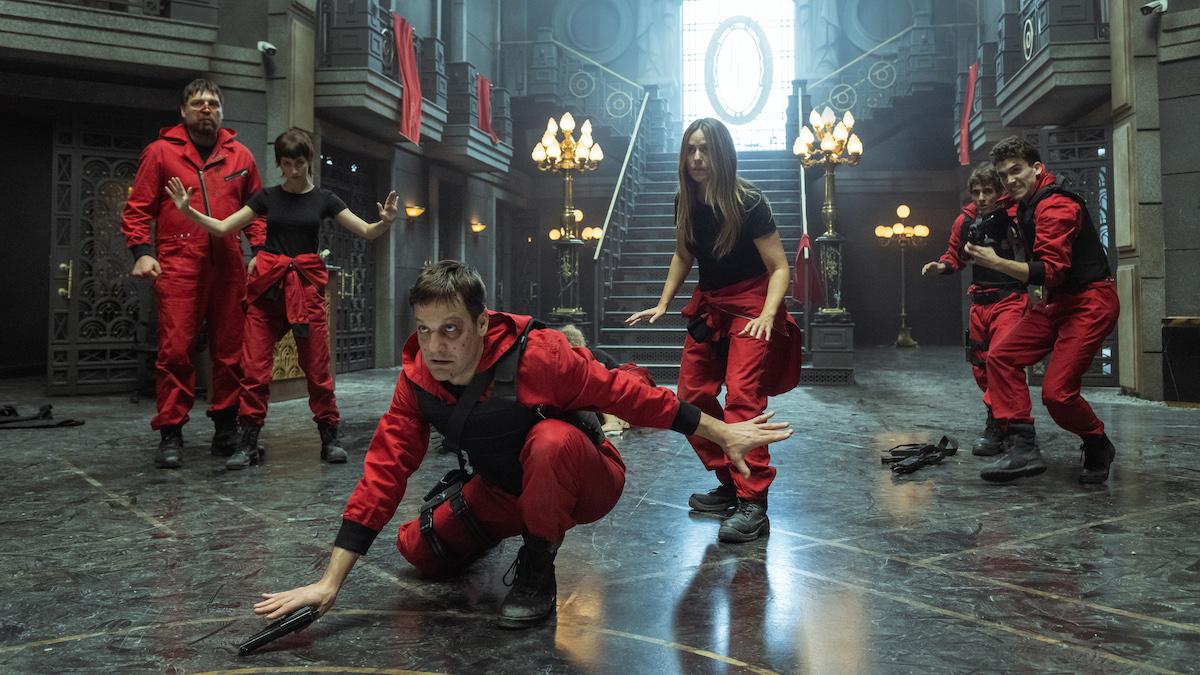 The Spanish television series Money Heist (La Casa de Papel) premiered in 2017 and follows The Professor, who puts together a team of misfits to rob first the Royal Mint of Spain and then the Bank of Spain.
Told from the perspective of one of the robbers Tokyo, the heist team includes eight people, who have chosen cities as their nicknames: Tokyo, Berlin, Moscow, Nairobi, Rio, Denver, Oslo, and Helsinki. The original heist aimed for the group to take over the Royal Mint for 11 days so they can print money and plan their escape.
Forced out of hiding after Rio is captured, the group plans a second heist at the Bank of Spain and is joined by newcomers Lisbon (former Inspector Raquel Murillo), Bogotá, Stockholm, Marseille, and Palermo.
This time they are being pursued by Alicia Sierra, inspector of the National Police Corps, and Colonel Luis Tamayo. Will they be able to escape once again?
The fifth and final part of Money Heist premiered in September 2021.
Network: Netflix
First Episode Date: May 2, 2017
Cast:
Úrsula Corberó (Silene Oliveira / Tokyo)
Álvaro Morte (Sergio Marquina / The Professor)
Itziar Ituño (Raquel Murillo / Lisbon)
Pedro Alonso (Andrés de Fonollosa / Berlin)
Paco Tous (Agustin Ramos / Moscow)
Alba Flores (Ágata Jiménez / Nairobi)
Miguel Herrán (Aníbal Cortés / Rio)
Jaime Lorente (Daniel Ramos / Denver)
Esther Acebo (Monica Gaztambide / Stockholm)
Darko Perić (Mirko Dragic / Helsinki)
Hovik Keuchkerian (Bogotá)
Rodrigo de la Serna (Martín Berrote / Palermo)
Najwa Nimri (Alicia Sierra)
Luka Peroš (Marseille)
Belén Cuesta (Julia / Manila)
Fernando Cayo (Colonel Luis Tamayo)
Roberto García Ruiz (Dimitri Mostovói / Oslo)
Fernando Soto (Ángel Rubio)
Where to Watch: Netflix
Latest Money Heist News and Updates