Woman's Cheating Boyfriend Gets Outed by His Fitbit, Inspiring Others to Share How Their Exes Got Caught
NFL reporter Jane Slater told the story of discovering her boyfriend was cheating because she noticed his heart rate levels spike on his FitBit in the middle of the night.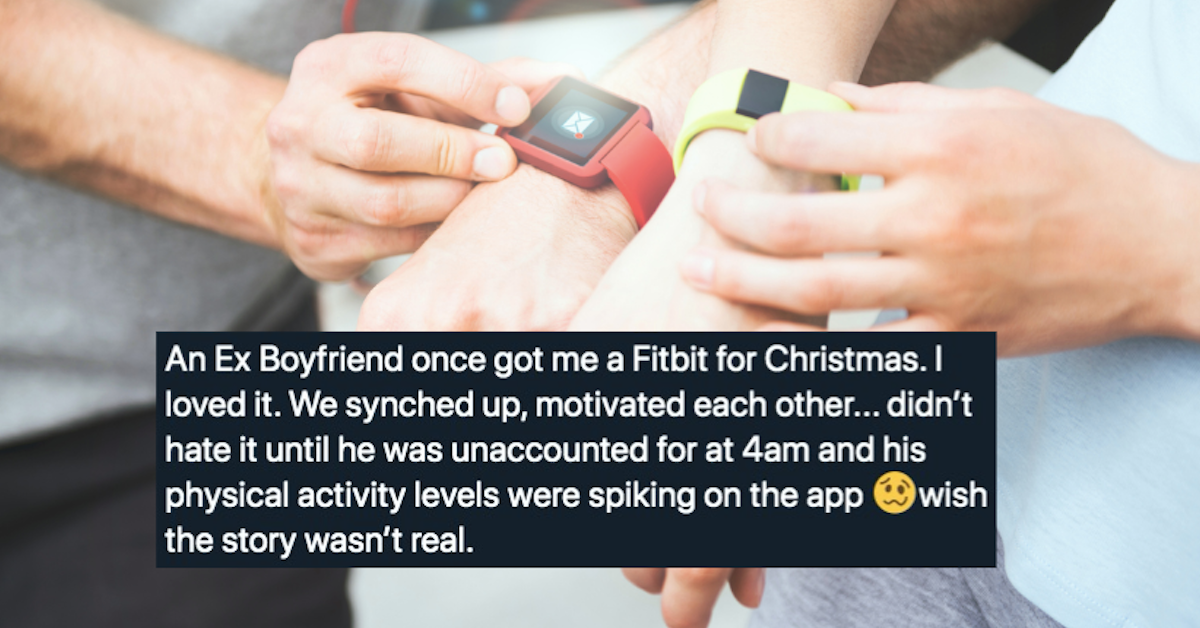 There are tons of horrible ways to find out your partner is cheating on you but finding out because their FitBit heart rate levels spiked in the middle of the night might actually take the cake. Unfortunately, this isn't the plot of a prestige dramedy on HBO starring Kathryn Hahn and a bunch of other white people about a woman rediscovering herself after a bad breakup. This is real life.
Article continues below advertisement
NFL Network reporter Jane Slater shared (one of) her worst breakup story on Twitter recently, and it went, let's just say, extremely viral. It's heartbreaking, ironic, and motivation for many to get their partners Fitbits in order to keep tabs on them.
Article continues below advertisement
It doesn't get much rougher than this. Can you believe he was caught cheating after he gifted her the Fitbit? I didn't actually know it was a regular thing for people to sync up their Fitbits with each other and track each other's movement and progress, but I guess it is because as horrifying as Jane's story is, when her tweet went viral she realized she wasn't exactly alone.
Hundreds of thousands of likes and tens of thousands of retweets led others to share their own stories of discovering cheating partners thanks to technology. A few of them were also casualties of the synced exercise smartwatches.
Article continues below advertisement
Do you think her mom bought her husband the training watch because she suspected something? Mothers tend to know things like that. And I simply cannot get over, "It was the under-one-minute heart rate spike that confirmed things for me!" How savage! But also, if she knew that her husband didn't, um, take long, what other activity would make his heart rate spike for that short a period of time?
Article continues below advertisement
The lesson here seems to be don't sync your heart rate monitors with your loved ones unless you are prepared to learn potentially terrible information about them. One poor, poor Twitter user named Nikki wrote, "I synced with my mom and also noticed her late night / early morning spikes. Scarred." Well, that's horrifying. But it gets even crazier.
Article continues below advertisement
I looked this up, and it's totally true. Richard Dabate claimed that a masked intruder broke into their home, tied him up and tortured him, and then shot and killed his wife when she came home. But after obtaining a search warrant for his wife's Fitbit, police determined that she had been home the whole time and had taken an unusual number of steps in a short period. Richard was charged with murder.
In another case, Anthony Aiello was charged with the murder of his stepdaughter Karen Navarra, after her Fitbit showed that her heart rate spiked and then rapidly slowed during a short visit with her stepfather. Fitbit data has been used in cases of sexual assault and missing persons. And now, it's being used to track down cheaters, too.
Article continues below advertisement
There are myriad ways technology has outed cheaters, and people on Twitter were not shy in sharing them in response to Jane's initial tweet. A twitter user named Anna Kate wrote, "called my ex repeatedly one night without any answer which was v bizarre ESPECIALLY bc it was my bday... Continued calling throughout the night until he accidentally picked up on his Apple Watch, mid f**k with another girl from his hometown L O L good times." Could you even imagine??
Article continues below advertisement
Finding out your husband is cheating because you read a restaurant review is so awful. That's an insane string of events that had to happen for that woman to end up seeing that photo. It's almost like the universe really helped her out on that one.
Article continues below advertisement
I'm not even sure if I was that woman that I would understand what was going on if my husband's phone automatically connected to a random hotel's Wifi. What a tragic way for her to find out that her husband was cheating on her.
This horrifying story sounds like something out of a sitcom or something. Technology has highlighted just how dumb we are when it comes to keeping secrets. And I like it that way! Many lament the privacy we've given up in the age of ubiquitous technology, but what we've gained in the ability to out cheaters and catch murderers is arguably more important.