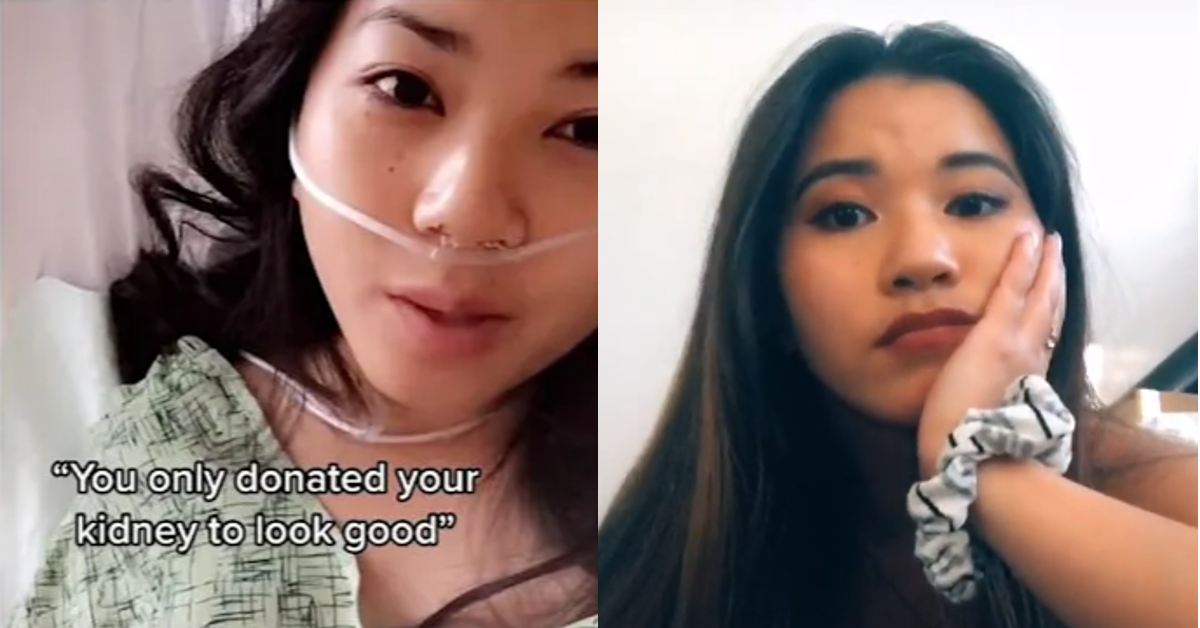 Woman Donates Kidney to Boyfriend, Gets Cheated on and Then Dumped
A woman shared her story of donating one of her kidney's to save her boyfriend's life, only to get cheated on and dumped.
People do some pretty crazy things for love...or obsession masquerading as love. Like when NASA Astronaut Lisa Nowak drove 900 miles while wearing diapers to avoid bathroom breaks just so she could attack her ex's girlfriend.
Spencer Tracy and Katherine Hepburn were reportedly madly in love with one another but couldn't bring themselves to leave their partners and they carried on a lifelong affair.
Article continues below advertisement
And then there are those stories of ultimate sacrifice, of people literally giving you a piece of themselves when you're ill to ensure that you'll stay alive because they can't bear the thought of going on without you. It's like the Harry Styles teeth transplant meme, but, you know actually romantic and not downright hysterical.
Colleen Le is one of those on-the-record-ride-or-die romantics. When she learned that her ex-boyfriend was diagnosed with chronic kidney disease, relegating him to the use of a dialysis machine to stay alive, she made a huge sacrifice: she gave him one of her kidneys.
Article continues below advertisement
Some seven months after she had donated one of her organs, Le's ex told her that he was going to a Bachelor party in Las Vegas with a bunch of his Christian friends. After the party was over, he showed up at her house to confess that he had cheated on her, seriously breaching the Vegas code, and asked her to forgive him for his wicked ways.
Article continues below advertisement
Colleen did, but then some three months later, he invoked The Lord in his break-up monologue, saying "If we are meant for each other, God will bring us back together in the end." What a profound way of destroying someone emotionally, so poignant.
Article continues below advertisement
Her ex would go on to block her on all of his social media accounts and not reply to her phone calls and text messages and Colleen said that during their break-up he mitigated her kidney sacrifice saying that she only donated it "to look good."
She posted the story to TikTok where it quickly went viral (men are trash, etc.).
Article continues below advertisement
Other users on the platform were shocked at the story and offered words of support and encouragement to Colleen. Some joked that she should ask for it back. User @riflein wrote, "Don't worry girl he literally cannot live without you and he has to deal with that for the rest of his life."
Article continues below advertisement
Another user, @saxapacas_NC wrote, "I was a kidney transplant coordinator. Sadly this happens more often than you think… So sorry you were treated this way."
Plenty of others told Colleen not to worry and that "karma" would get her ex.
Article continues below advertisement
After Colleen's TikToks went viral (one is currently sitting at 11 million+ views) she said that one of her ex's friends scolded her for revealing the man's actions after he received the vital organ, "A homie of your ex - and word of advice. Not everyone needs to know that you gave him your fckin kidney n y'all broke up. Gratz on graduating with a disability."
Article continues below advertisement

Even though the experience was understandably traumatic for Colleen, she seems to be handling the entire thing in stride and she's extremely appreciative of all the support she's receiving from her followers.