"You Ate Some of My Food Before" — Woman Says DoorDasher Took a Slice of Her Pizza
A woman and her DoorDasher are at odds after she accused him of previously stealing her food. Keep scrolling for both sides of the story!
Although convenient, apps like DoorDash and other food delivery services still give some people reservations about entrusting a stranger with their meals, and rightfully so.
Since the growth of delivery apps, there has been a slew of cases regarding a delivery driver stealing a customer's food for several reasons, with a popular one being to make up for the fact that the drivers may not earn enough from delivering to buy food for themselves.
Article continues below advertisement
While some delivery drivers are daring enough to eat a customer's food, they typically ghost the hangry person to avoid feeling their wrath.
But in October 2023, one TikTok user came face-to-face with her culprit and confronted him after noticing he had eaten some of the food from her delivery bag, which he — unsurprisingly — denies.
Keep reading for the full "he said, she said" tale!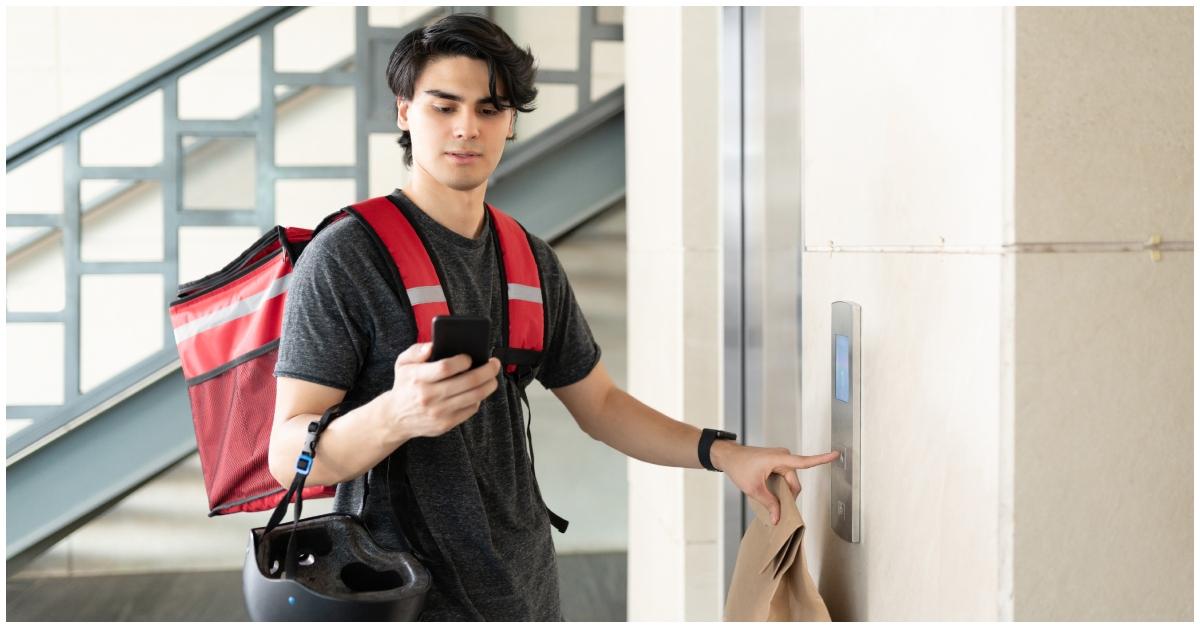 Article continues below advertisement
A woman yelled at her DoorDash driver for stealing her food and lying.
Some folks have incredible empathy for people who do them wrong. These are the kind of unique humans who can understand that someone may steal from others because they have no other way to care for themselves or their families.
Then there are people like Vee, who goes by @VeeButterfly8. I don't know Vee, but based on her TikTok showdown with a DoorDasher named Ryan, Vee has no empathy regarding thieves, especially when the thief steals her food and lies about it right before her. No, sir!
In Vee's TikTok, the woman's security footage showed her confronting her delivery driver outside her home. Like many of us, Vee is a frequent flyer in the delivery app world and has ordered breakfast, lunch, dinner, and possibly Linner (who doesn't love a good Linner??) So, with time, many delivery drivers begin to look familiar. However, the ones who eat your order instantly become the most memorable ones.
Article continues below advertisement
Poor Ryan clearly didn't know he had been to Vee's house before. When he approached his customer's home, he began the exchange with a pleasant, "Hey, how are you?" Annoyed, Vee said she was "OK" but had a bone to pick with him. As Ryan looks puzzled, Vee inspects her food, reminding him he "delivered to me before, and you ate some of my food before."
Article continues below advertisement
Ryan became aghast and immediately denied eating Vee's pizza. As he clarified that the customer recalled him being her driver that day, she confirmed he delivered her pizza. When she took the pizza from Ryan, Vee said a slice was missing from the box, presumably Ryan's road trip snack.
Although Ryan previously denied stealing Vee's pizza, he apologized for a slice being missing from the pie. Understandably, Vee took the driver's apology with a grain of salt and also accused him of stealing from her current order, noting, "This isn't even all of my food," to which Ryan instantly became defensive, stating, "What do you mean it's not?"
Article continues below advertisement
Then, Ryan gave Vee his word that he didn't steal from her (again?), which Vee didn't believe. She proceeded to take pictures of the driver, though he asked her not to because, in her words, "you're a f------ thief."
Article continues below advertisement
Ryan, the DoorDash delivery driver, has shared his side on TikTok.
Ryan eventually left the premises as Vee recorded him getting into his car. However, the drama was far from over, as the footage from his -50-star delivery made its rounds on TikTok.
Vee deleted the video from her TikTok account and set it to private, but not before internet sleuths like @signedthebest found it and reposted it on another user, @brooklynhuana's page.
After the video surfaced, Ryan took to his TikTok, @ryanlanders221, to share his story. In multiple TikToks, one user noted he posted nearly every hour. Ryan denied stealing from Vee, although he admittedly wished he had handled the situation differently.
Article continues below advertisement
Underneath one of his videos, in which he apologized for calling Vee a b----, Vee commented that she and Ryan "could have avoided this if you stayed and had the conversation." She was "done" with the situation. Unfortunately, those following the story still had plenty to say to both parties.
Article continues below advertisement
"Honey, you were in the right to feel the way you felt at the time," one commenter said to Ryan. "Don't apologize for anything. The real ones that know you know you're not a thief."
Article continues below advertisement
"I was on your side, but now it just seems like you wanted a free order," another said to Vee. "Girl, bye, find a hobby and get your money up. It's giving broke and WEAKKKK."
In my humble opinion, Vee and Ryan could've handled the entire situation offline. However, if Ryan did steal from the customer, she was within her right to confront him the next time she saw him, apparently at the time of the video. If he didn't steal from her, however, someone at the pizza shop Vee ordered from may soon be out of a job!