Woman Calls Her Dad in a Panic After Eating Raw Salmon for a Whole Week
A woman ate raw salmon for a week straight, and after her roommate told her it wasn't safe for everyone, she called up her dad for help.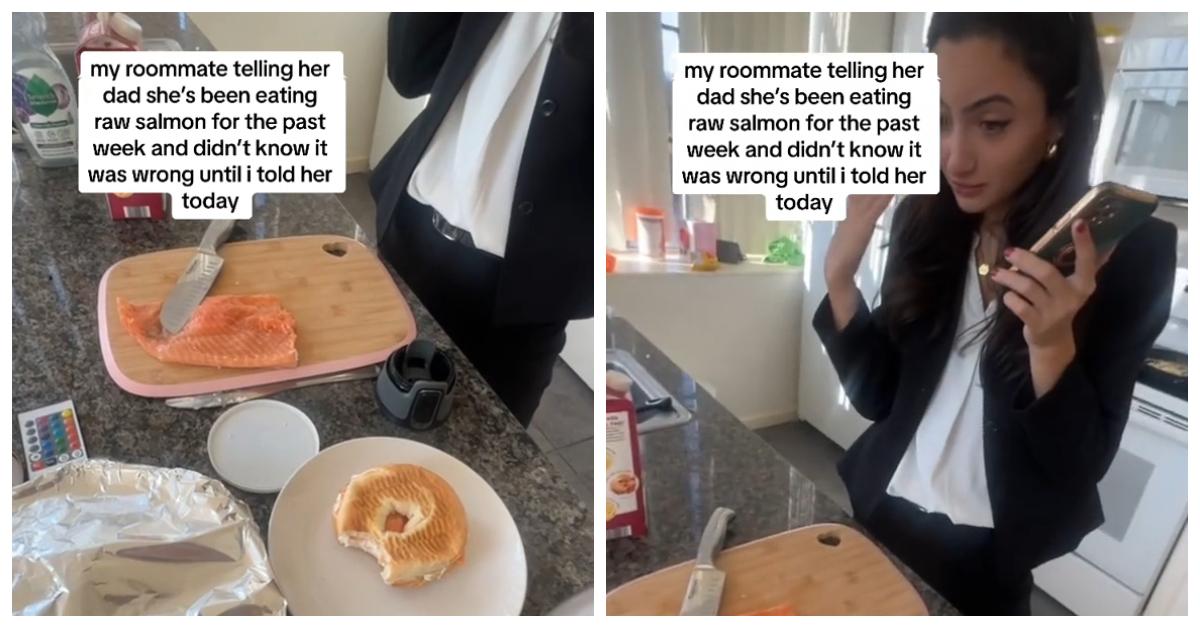 Article continues below advertisement
OK, that's quite an exaggeration, but it's what Sandra of the TikTok duo, Sandra and Twitt (@twittandsandra), did after her roommate, Twitt, told her that eating raw salmon wasn't the best idea.
Check out the full story below! Plus, stick around to hear what social media advised Sandra to do.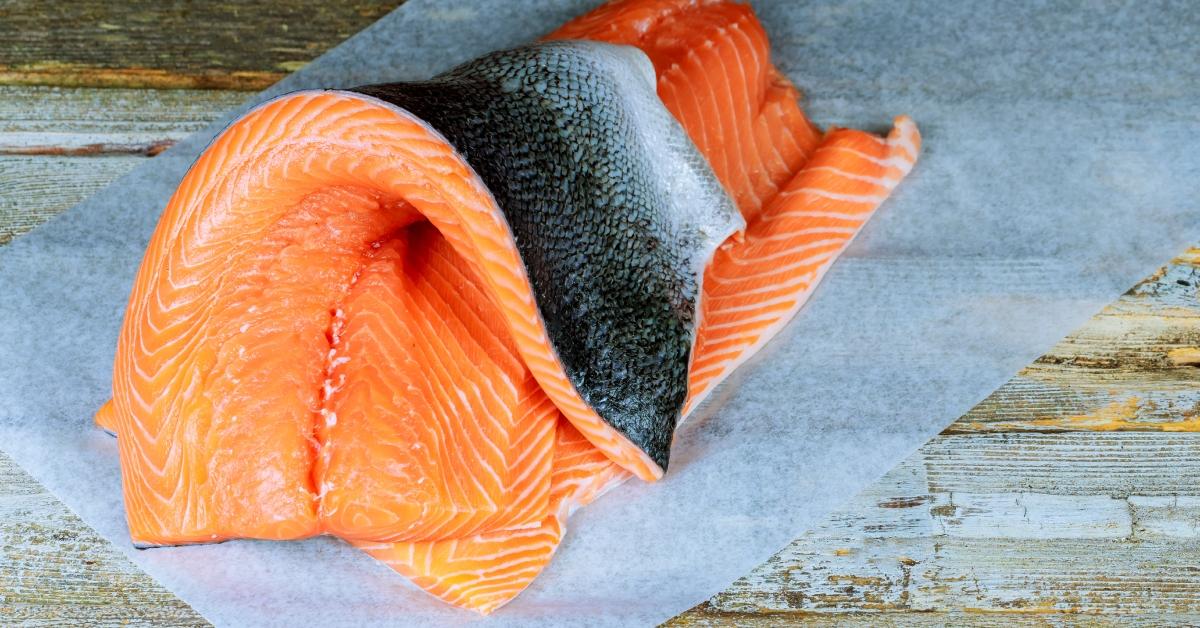 Article continues below advertisement
A woman called her dad in a panic after eating raw salmon for a week straight.
"My roommate [is] telling her dad she's been eating raw salmon for the past week and didn't know it was wrong until I told her today," Twitt wrote in a text overlay of the now-viral video before sharing the chaotic story.
While on the phone with her dad, Sandra told him she had been "cutting off a slab of fish for the past week" and, well, eating it on a bagel with cream cheese. Sandra then recalled someone, presumably Twitt, asking her if she was eating sushi-grade salmon, to which she responded, "What's that?" At that point, we all knew it wasn't sushi-grade fish.
Article continues below advertisement
Twitt couldn't control her laughter, but she quickly pulled herself together long enough to explain the situation to her and Sandra's followers. As she continued giggling, Twitt told the viewers that Sandra had been eating raw fish for a week straight, and she was starting to panic
Article continues below advertisement
Twitt flipped the camera around to show a stressed AF Sandra, who was on the verge of tears while talking to her dad on the phone. As the video came to an end, Twitt reassured Sandra, telling her, "You're OK, You're fine, you don't [have to cry]." Ugh, what a sweet friend!
TikTok users urged Twitt to take Sandra to the hospital ASAP.
The viral video has been viewed more than 6 million times and counting as of this writing; it also received over 4,800 comments from fellow TikTokers who also couldn't help but laugh at Sandra's mistake.
"The fanning the tears away is sending me," one user hilariously commented, while a second person pointed out, "On the wooden cutting board, too." She wanted to keep it classy, obviously!
Article continues below advertisement

"She was prob like, 'Why is everyone complaining it's expensive? I can buy one piece and eat it all week,'" a third user joked, and to be honest, we probably would've thought the same thing as Sandra.
Someone else added, "Thinking she's eating lox and bagels." However, another TikToker responded, "Even lox packages say, 'Discard three days after opening.' IDK how she's not sick after it being open a WEEK?"
Article continues below advertisement
A few others (including us) loved that Sandra's dad could be heard laughing on the phone; it's honestly such a typical parent reaction! Luckily, many fellow TikTokers let Sandra know she wasn't alone because they have made similar, or worse, mistakes when it comes to food.
"It's okay. In college, I was cooking bird food, thinking it was a blend of wild rice and quinoa," one user revealed.
A second TikToker disclosed, "It's okay, we really do so much in college we're all struggling. I bought food topper for my dog, and I accidentally seasoned my meat with it."
Article continues below advertisement

On the other hand, most viewers advised Twitt to get Sandra some medical attention ASAP.
"I would go to the ER immediately," a TikTok user shared, while another person penned, "I'd be at the ER immediately for parasite pills." Yeah, that was probably the best thing to do at that point.