Talk About Jump Scares — This Woman Leapt out of a Disney Ride Vehicle
Why did this woman jump out of a Disney ride vehicle? Perhaps she was cursed by an evil witch and was forced to do it. Here's what we know.
Anyone who has been to Epcot at Walt Disney World in Florida probably refers to the structure that stands in the middle as the giant golf ball. It's actually the park's Spaceship Earth attraction, but we still wouldn't let an enormous Rory McIlroy anywhere near it. Epcot, which stands for Experimental Prototype Community of Tomorrow, was originally a planned community conceived of by Walt Disney. That never came to fruition so it was redesigned as another amusement park, and opened in 1982.
Article continues below advertisement
There are a lot of classics still running in the park but it's not above an update every now and again. In May 2022, Guardians of the Galaxy: Cosmic Rewind opened up in the Wonders of Xandar Pavilion. And in June 2023, a woman was caught on video jumping out of that ride. That's like a ride within a ride. Was Thanos after her? Here's what we know.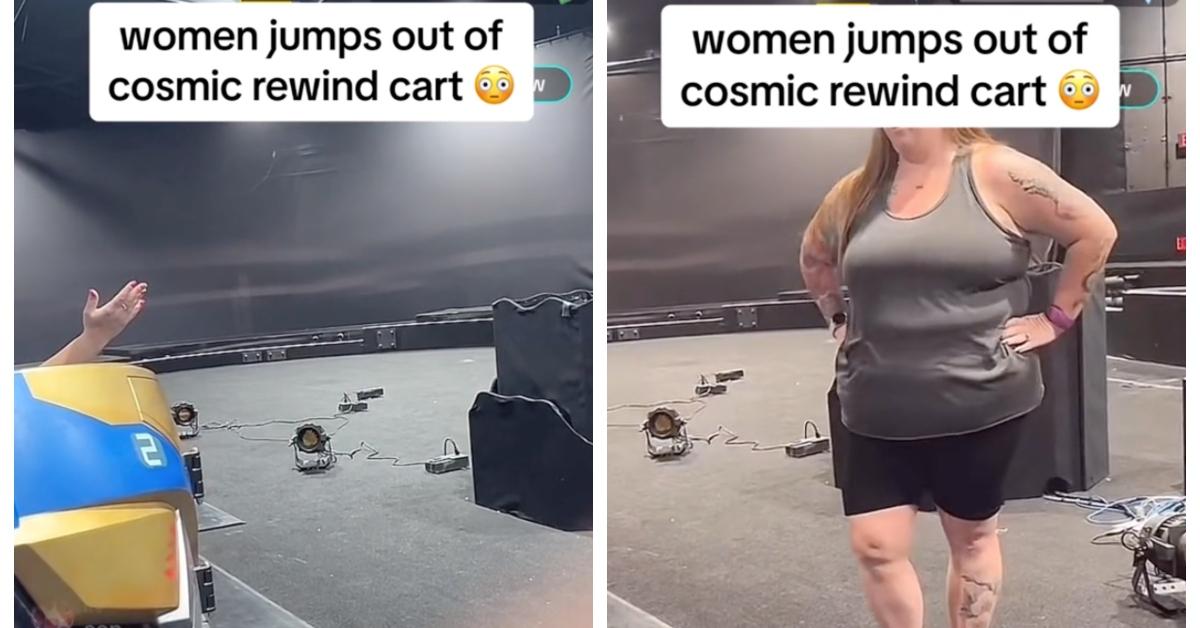 Article continues below advertisement
OK, we'll bite: What in the heck is a Cosmic Rewind? And why did a woman jump out of it?
According to Disney itself, Guardians of the Galaxy: Cosmic Rewind is one of the "largest, full-enclosed coasters in the world," and rotates 360 degrees so you can catch every second of the experience. The nearly four minute coaster reaches speeds of up to 60 mph, which isn't bad for an indoor ride.
The Disney Tourist Blog lists the wait time for Cosmic Rewind as anywhere between 20 and 40 minutes provided that nothing goes wrong. This particular blogger once waited two hours because the ride broke down. It's not a bad wait but Florida in June is unforgiving. Heck, Florida anytime is no walk in the park.
Article continues below advertisement
Ya gotta know when to hold 'em, and know when to fold 'em.
When Bailey Page, who goes by @__baileypage__ on TikTok, snagged this video from @Diswithchris, it's possible the woman who escaped the ride was under duress. In it, all the lights are on which is eerie because it relies heavily on green screen technology. While the ride is already not moving, someone is heard saying, "Now we're gonna get stopped," as she climbs out.
Article continues below advertisement
She walks off camera as an announcer urges the woman to return to the vehicle. "You have to go get her!" someone shouts. Then, as if specifics were needed, the announcer asks the woman in the tank top to come back. We're pretty sure she shouts, "Let me out!" to no avail.
The person sitting next to the escapee is gesturing with one hand and it's clear they are frustrated. Eventually she does return and seems quite resigned to her situation. Unfortunately she can't get back into the ride because the belt is locked. "At this time, we will be escorting you from your Star Jumper to the exit of our attraction," says an automated announcement. A pre-recording of that must mean it happens often enough to warrant it. She grabs her bag and once again walks away.
Article continues below advertisement
We think we know what happened.
Despite not actually filming this video, Baily drops a followup TikTok with more information. Where she got it, we cannot say, so take it with a grain of salt.
Article continues below advertisement
Context matters and is often ignored on social media so Bailey very kindly gave a bit of insight (again, who knows where this came from) as to why the woman was pretty much done with Cosmic Rewind. "So, they were stopped on Cosmic Rewind for about 20 minutes before she shimmied out of her lap bar and got out of the cart," reports Bailey.
Bailey also takes note of the fact that while the announcer is telling the woman to return to the ride, other cast members (Disney employees) are saying, "Just do an evac! Just do an evac!" Essentially evacuating everyone would be a huge hassle. The preferred move is to fix the ride and keep on keeping on.
Article continues below advertisement
Evidently this woman had to go to the bathroom, which explains her desperation. Imagine sitting in a broken cart for 20 minutes with no end in sight, after waiting in a hideous line under the glaring Florida sun. That's a big no thanks from us! We probably would have pulled the rip-cord too. In a display of kindness, Bailey reminds folks that no one had any idea what was really happening. Maybe she had a medical emergency. Hopefully it all worked out in the end.