Woman Crafts Genius Contraption to Remove Keys That Were Locked In U-Haul Truck
A woman recorded the "genius" contraption her friend crafted in order to get a pair of keys that were locked inside of a U-Haul truck.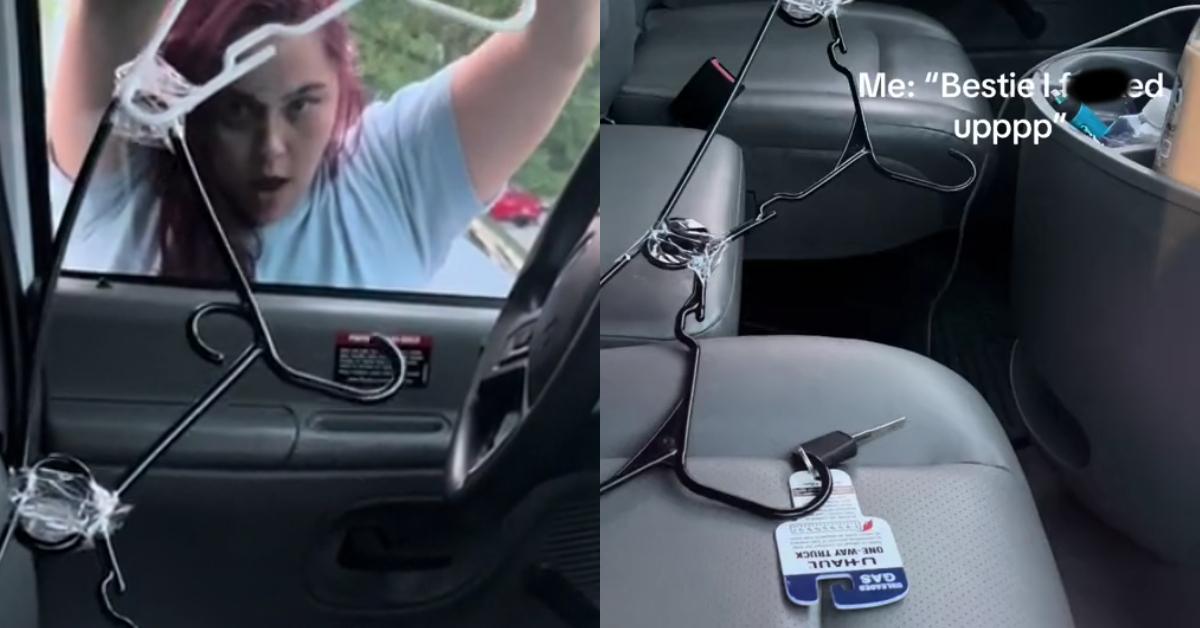 There are a lot of newer vehicles that have fancy smartphone-enabled keys, and fobs, that make it virtually impossible to lock one's keys in their vehicle and prevent them from entering their whip.
Article continues below advertisement
However, not every single car is outfitted with this technology and there are still tons of people who are rolling around in cars that can have their keys locked up in them. In fact, AAA reports that a whopping 4 million Americans are locked out of their cars each and every year.
And while there is never really a "convenient" time to lock your keys in your car, it's infinitely worse when it happens in a car that doesn't belong to you, which is apparently what happened to a woman named Kaitie (TikTok handle: @thatgirl.kaitie) while she was in the process of moving.
Article continues below advertisement
As is par the course for a lot of folks who are transporting large items from one location to another, Kaitie appears to have rented a U-Haul truck, but locked the keys inside.
That's when her best friend came in.
Article continues below advertisement
In a viral TikTok that's accrued over 21,000 likes on the popular social media platform. Kaitie shows how her pal pieced together multiple clothing hangers with what appears to be tape.
It would appear that thankfully, the window for the truck was slightly cracked open before Kaitie forget the car keys inside and locked it, giving her roommate enough room to snake the hooked concoction into the whip and pull off a delicate balancing act of latching the tip of the last hanger around the keyring.
Article continues below advertisement
It takes her a while, however, she's ultimately able to get the hook in, and slowly pull it closer to the car window. She rocks a complete look of total concentration, as dropping the keys this close to the door could result in utter mission failure, and could necessitate a call to the locksmith, or the U-Haul center from which they rented the vehicle.

Article continues below advertisement
The brand does offer special protection plans that cover lost keys as well: "If the Covered Customer has lost the keys to the U-Haul truck, U-Haul Roadside Assistance will arrange for a replacement key to be provided, either a spare if available or a Service Provider will be dispatched to cut a new key, free of charge."
Article continues below advertisement
Again, however, who wants to deal with all of that hullabaloo while you're in the process of moving, so it's a good thing that the hanger idea worked.

Article continues below advertisement
Other TikTokers who saw the post seemed impressed by Kaitie's friend's ingenuity: "You have been chosen to be casted for Season 103 of SURVIVOR," one person wrote.
Another said, "I have never rooted for something so much in my life"
"Hade me on the edge of my seat im thinking 'ur so clooose plz dont drop them'" someone else penned.
Article continues below advertisement

According to Locksmith Plus, there are about 16,000 people who lock themselves out of their home or car each and every single day.
Money penned a piece locksmith prices, mentioning that there are even professionals in the business who state that due to the very nature of their work, the locksmith game can be "ripe" for folks to be ripped off.
Article continues below advertisement

The price of locksmith services also depends on the time of day you're calling in: expect to pay more at night or during the weekend. And to be a certified locksmith, it takes about two years of apprenticeship training (in the state of NJ) and according to a rep from Hoernel Lock and Key, who was quoted in the aforementioned Money article, it can take about three years for someone to be considered a fully trained locksmith.