"I Could Never" — Woman Wants Old Job Back, Told to "Reapply" for It in Awkward Text Convo
A woman shared her embarrassment in asking for her old job back, and other TikTokers could relate.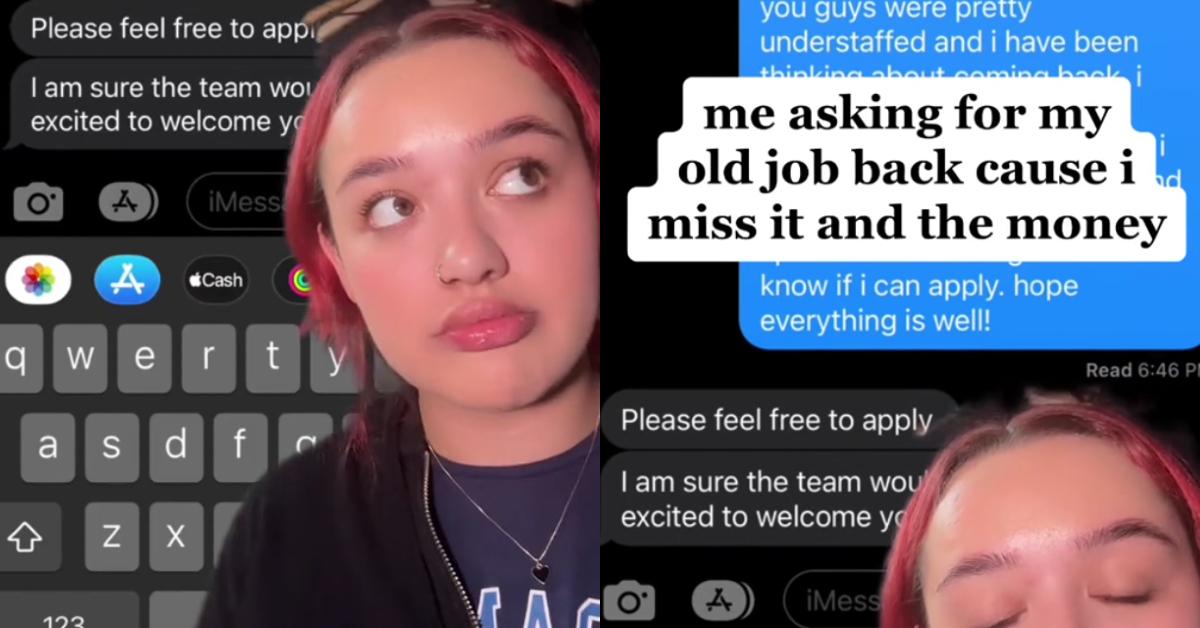 "Once a quitter, always a quitter." It's a controversial saying that takes a strong stance on a touchy subject that delves deep into human psychology, and it can be argued that human beings will often refuse to quit things that are ultimately bad for them: like toxic or numbingly comfortable relationships, but when it comes to going after any part of our dream lives, we tend to shy away from the things that should matter to us, because they're usually so much more difficult to attain.
Article continues below advertisement
And while the majority of folks probably aren't in their dream jobs, or have ever put themselves in a situation to go after the careers they really want, that doesn't mean they wouldn't want to go back to a gig they got fed up with and eventually quit, because, at the end of the day, bills need to be paid.
A TikToker named Cei (@vitamincei) uploaded a viral clip touching on this relatable phenomenon in a video that's garnered over 124,000 likes on the popular social media platform.
Article continues below advertisement
In her video, Cei looks directly into the camera as if to emote that she isn't necessarily proud of having to ask her former employer for her old job back.
Article continues below advertisement
A video of her face is superimposed over a screenshot text message conversation between her and her employer. Much of the message is blocked out from her face, but what can be read is "know if I can apply. hope everything is well!"
Two response bubbles in the message reads: "Please feel free to apply I am sure the team would be excited to welcome you b[ack]"
Article continues below advertisement

In typical TikTok fashion, Cei lip syncs a sound bite to encapsulate how she feels. Her selection seems to be something ripped from a reality TV program, which states: "It was tough walking back into the studio but I did it"
Article continues below advertisement
Her caption for the clip is riddled with crying emojis, and it seemed that there were other commenters who saw her clip who seemed to share in her embarrassment: "me if i ever get the chance to message them i'll just be too embarrassed if they say no," one person wrote.
However, it also seemed like this was a common occurrence among employees, as multiple fellow TikTokers remarked that they too have re-applied to old jobs in the past: "i went back to my first job 3 times before i decided it was time to stop HAHAHA," one person wrote.
Article continues below advertisement

Another said that they've experienced some drawbacks to going back to their old place of work and it seemed that whoever was in charge of scheduling seemed to hold their previous decision to quit against the worker: "i did too now they don't schedule me LFKEIEH"
Article continues below advertisement
Another TikTok user took seeing Cei's post as a sign that they should probably throw their name in the re-application hat in an attempt to get their old job back: "OK but I was just thinking of doing this it's a sign"
But there were other folks who said that re-applying to their old jobs ultimately didn't work out for them: "i tried to reapply to dairy queen and they denied me twice"
Article continues below advertisement

And then there were those who said that they burned bridges with their previous employer so badly that going back is definitely not an option: "I'm so tempted to do this but the way i left i just know they'll reject me"
Article continues below advertisement
The news piece cited a quote from The Muse CEO Kathryn Minshew, who said that "many employers would be delighted to re-engage a candidate that they have been previously speaking to, if they have not already filled the role."
Article continues below advertisement

Meaning that even if you do feel sheepish about hitting up your former employer for work, you may be overthinking it, as "The Great Resignation" has led to the rise of "boomerang" workers, i.e. employees who end up landing right back at where they started upon scoping out greener pastures and realizing, that the grass just seemed greener.
What do you think? Would you ever consider going back to an employer that you quit? If you're in charge of hiring, would you accept a "boomerang" employee to land themselves right back at your company? Or do you think that it's best to just forge ahead, no matter the consequences on principle alone?