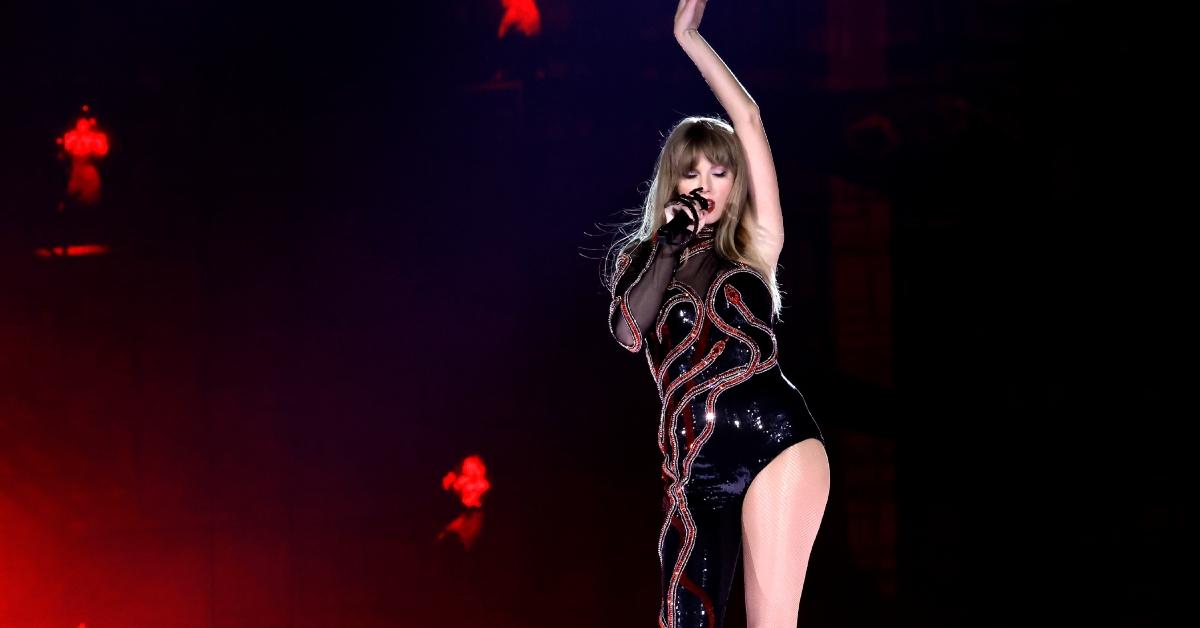 Woman Says She Plans to Skip Family Funeral for a Taylor Swift Concert, and Reddit Erupts
In a Reddit "AITA" post, one user says she will be skipping her brother-in-law's funeral because she has tickets to a Taylor Swift concert that night.
One of Reddit's most entertaining communities is hands down the "AITA" subreddit. For those not in the loop, "AITA" is an acronym for the question: "Am I the a--hole?"
It is here where folks from all corners of the internet come to learn their true fate. Are they the ones being unreasonable, or is everyone else in their life just wrong?
Article continues below advertisement
But more often than not, it seems that those who have shared their stories on the subreddit come out with a changed mindset, much like the lyrics of Taylor Swift's "Anti-Hero": "It's me. Hi. I'm the problem. It's me."
Speaking of Taylor Swift, the music legend is actually associated with one user's since-removed "AITA" post. You see, one Swiftie couldn't decide whether or not she should skip the Taylor Swift concert she had tickets for to attend a family member's funeral. We break down the details below.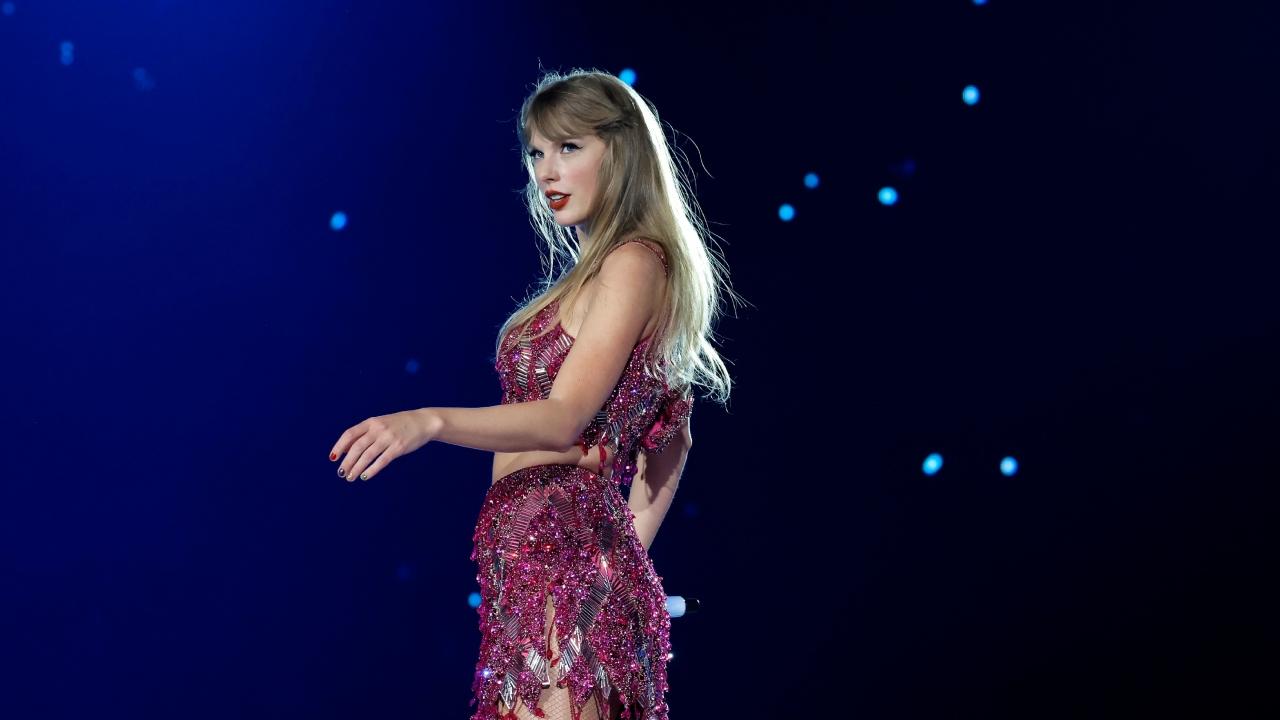 Article continues below advertisement
A woman got dragged for asking if she should skip her brother-in-law's funeral for a Taylor Swift concert.
In a Reddit post that has since been removed as the user was either shadowbanned or suspended, one user asked if they were wrong for planning to go to Taylor's concert instead of their brother-in-law's funeral. The post, prior to its removal, was re-shared in the "Two Hot Takes" subreddit and was discussed in a TikTok from the comedy collective Smosh.
Article continues below advertisement
As the user wrote in the post, her sister's husband passed away unexpectedly. "This is a shock and absolutely devastating for us. The funeral is coming up soon," she wrote.
As she continued to a new paragraph, her tone suddenly appeared to change: "I'm sure all of you know that Taylor Swift is on tour, and tickets for that were notoriously hard to get."
The user, a lifelong fan of Taylor's, had tickets to see her. The only problem was that the concert was on the same day as the funeral.
Article continues below advertisement
But here is where things get interesting. The user explained that she wanted to get to the stadium by 5 p.m. at the latest, noting it would take approximately 40 to 50 minutes to get there. And of course, she had a "specific outfit/costume" to wear to the show, which would require even more prep time.
She continued: "The funeral is in the afternoon and the timing is very close, I wouldn't be able to make it to the stadium in time. I told my sister gently I'm sorry, but I can't make it to the funeral. She didn't take this well at all and completely went off on me, calling me selfish and a bunch of other things."
Article continues below advertisement
She claimed that her sister was grieving so she probably said things to her without thinking. "But even our parents are calling me unsupportive and selfish for not coming," the user wrote at the end of the post.
Article continues below advertisement
So is the user right for prioritizing the concert over the funeral?
Well, almost every comment left before the post was removed read "YTA," which stands for "you're the a--hole." The only comment that didn't read YTA said "Oh, come on, this has to be fake."
As one user wrote, "Taylor would be disappointed in you." Another user said: "C'mon man, your sister's husband has died! I personally would never forgive my sister if she ditched my husband's funeral for a concert."
Article continues below advertisement
And one comment pretty much summed everyone's thoughts up: "Your sister just lost the love of her life and you can't be bothered to be there for her because you need to go play dress up and go to a concert?! That's a big Yikes, OP. Here's a little tip, abandoning your sister in a time of grief is not a cute look. and if you care so much for Taylor Swift, I'm sure she would tell you to go be there for your sister too. You can always see Taylor live another time, but the same cannot be said for being there for your sister during probably the hardest moment of her life."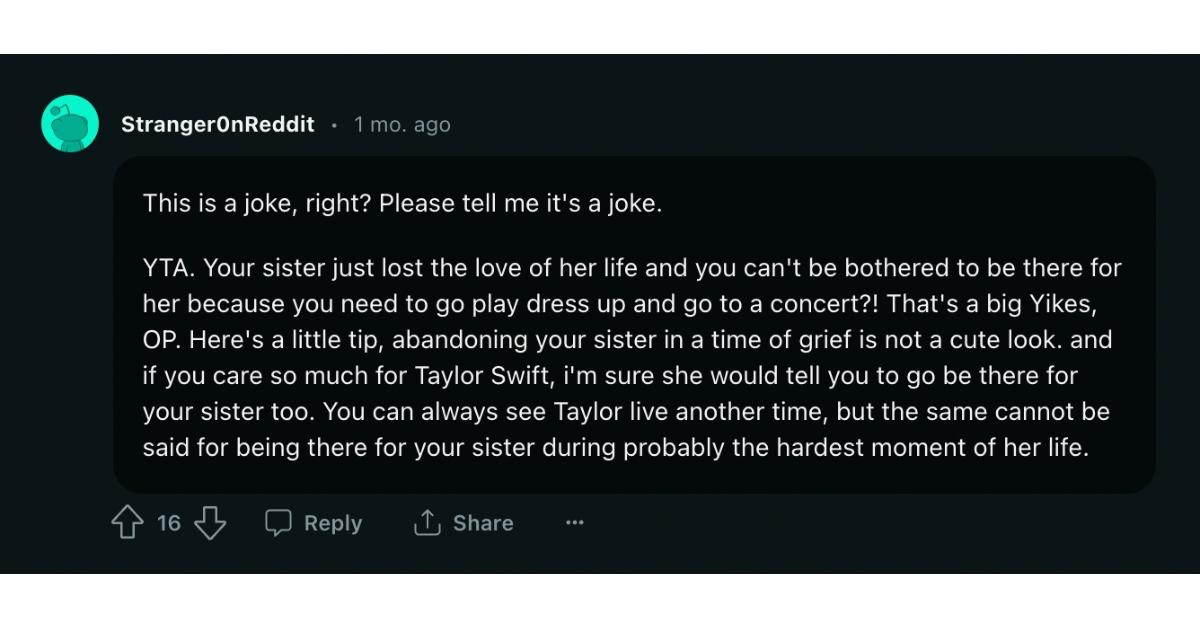 So, did the user end up going to the funeral? It's unclear and her account is no longer active, so we'll just have to imagine. But props to Reddit for always saying the truth, no matter how brutal it may be.