"I Switched to Homemade as Much as Possible" — Woman Flabbergasted by Prices for Just Two Ingredients
A woman highlights just how obscenely high supermarket inflation has gotten by showing off what it costs to purchase just two items from the store.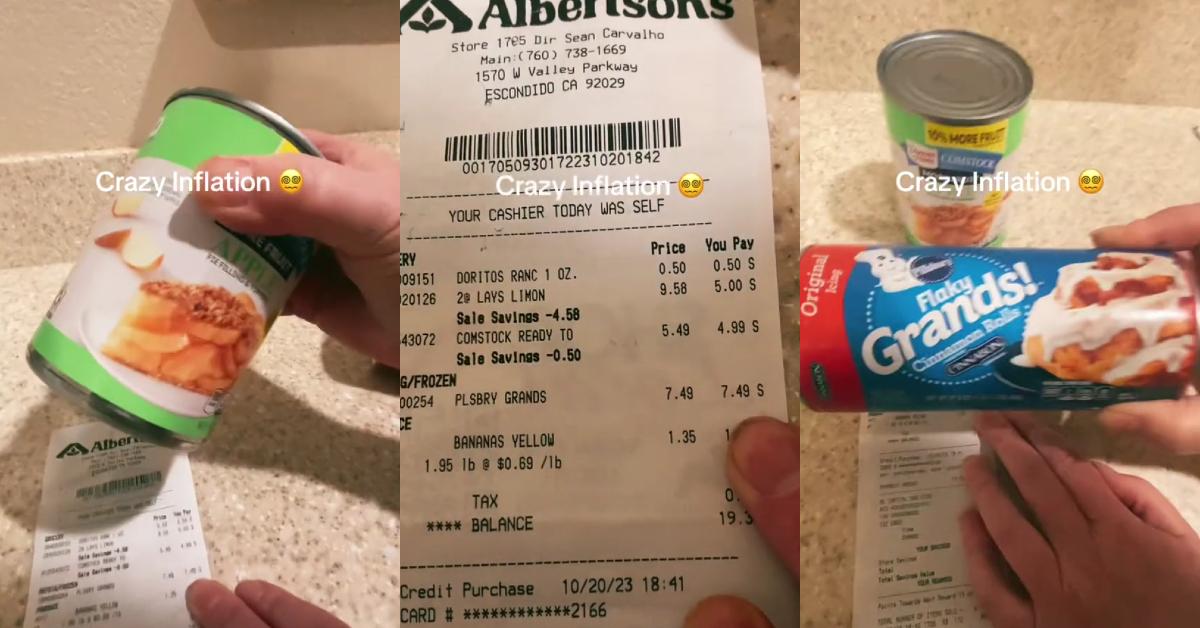 Americans have been on the receiving end of a lot of sticker shock in recent years, especially when it comes to the cost of groceries.
While it's one thing for electronics or clothing to go up in price: squeezing another year out of a cell phone or a winter coat is one thing, eating is kinda mandatory for us, as human beings to survive. Not like you can really stop doing that.
Article continues below advertisement
There are numerous folks on social media who have highlighted how prohibitively expensive the cost of groceries has become, and it's examples like the one provided by the TikToker @brittanyjadesmama__ show how what was once considered a quick and cheap supermarket run containing just two items, could cost a pretty penny.
The woman, who we'll call Brittany for short, writes in a text overlay of the video that reads: "Crazy inflation," which is capped off with a dizzy eye emoji; really driving home just how nuts she believes the increase in product prices have been getting as of late.
She holds a canister of Pilsbury Grands! cinnamon rolls on a counter top, which rests next to a can of what appears to be apple pie filling.
Article continues below advertisement
The TikToker then says in the video, "Okay, so Violet and I were going to, she wants to make these, cinnamon apple fritter things. So anyway, calls for a thing of the Pilsbury Grands and apple stuff. But I couldn't believe it when I went and picked this up."
Article continues below advertisement
Brittany was genuinely taken aback at the cost of the items: "Just shocking me. Can you believe, this can, costs $7.49?!" she then zooms in on a paper receipt clearly showing that she was indeed charged that much for the canister of pre-made cinnamon rolls.
"$7.49?! Unbelievable!" Brittany then takes the can of apple pie filling in her hand, "5 dollars for a can of this, this is crazy! This is crazy inflation. Anyway, everybody have a good morning," she says with a laugh before the video ultimately cuts out.
Article continues below advertisement

Many of the viewers who saw Brittany's video seemed to feel her pain. One individual wrote: "This is part of the reason I switched to homemade as much as possible."
Article continues below advertisement
Someone else couldn't believe the prices of something as common as a bag of tangerines: "I got a small bag of cuties (oranges) there at Albertsons and it was 8.99$ like what the heck"
However, it would seem that inflation has hit different parts of the country differently, as one user remarked that the cost of the same items Brittany highlighted in her video were significantly cheaper: "wow. my area was definitely not hit that bad. our stuff is 2$ less than this at least"
Article continues below advertisement

Another said that they would've liked to compare the cost of the same items just four years ago: "Wish we could see a receipt from 2019ish to compare. Anyway, they say inflation is like 3. Whatever %, it's more like 200+% on some items. $18 Big Mac"
Article continues below advertisement
There was one TikToker, however, who said that the high prices were compounded by the fact she was shopping at Albertsons: "lol it's the store you are shopping at. they have always been overpriced"
Article continues below advertisement

And Brittany isn't the only person who's worried about the cost of food: according to The Motley Fool, 94% of Americans have expressed concerns about inflation and whether or not they're going to be able to afford their next grocery store haul.
Article continues below advertisement