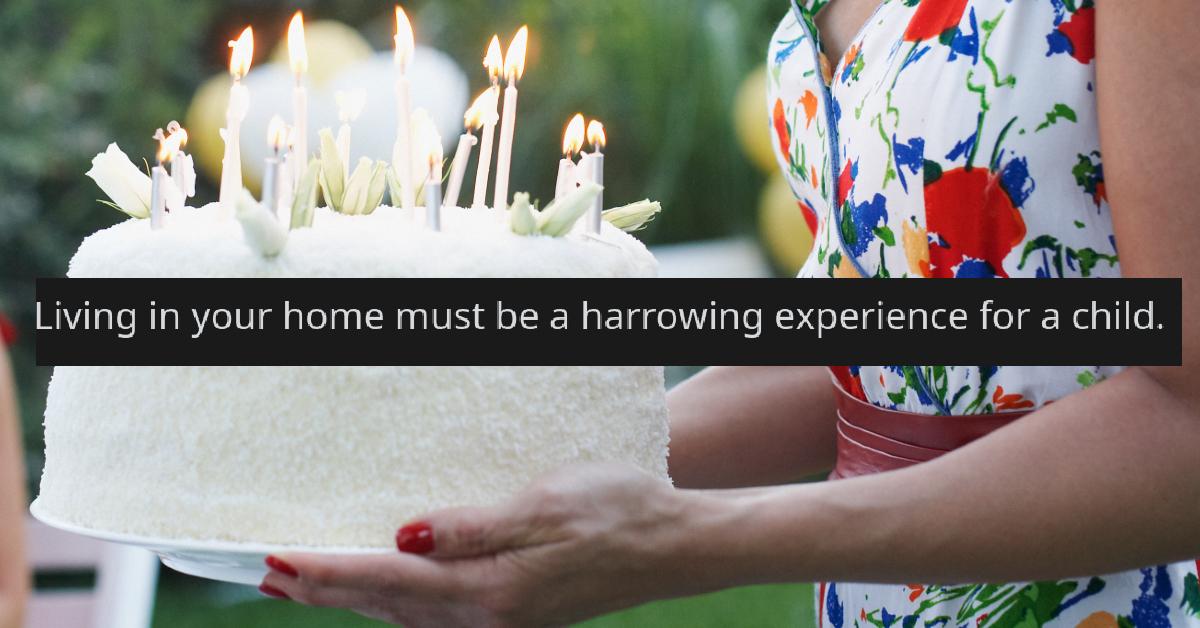 Internet Blasts Woman Who Didn't Give "Overweight" 6-Year-Old Girl Cake on Her Birthday
When you're a kid there are fewer things more magical than a birthday party. Maybe your parents are able to afford that special present you've had your eye on for months and you get to unwrap it with all of your loved ones surrounding you, witnessing your joy.
Maybe your parents make your favorite food or happen to design the exact cake that you wanted to celebrate your birthday with.
Article continues below advertisement
And while everyone's situation is different, to a kid, getting the opportunity to blow out your candles, whether it's on a cupcake or a fondant monstrosity of your favorite cartoon character, there's something undeniably magical about that moment. With everyone singing Happy Birthday, with you making a private wish to yourself; it's beautiful.
Of course, eating the cake is a great part of the experience as well, especially since research shows that kids are "hardwired" to crave sugar more than adults do.
So, depriving a kid of having cake on their birthday, unless they have serious health issues that prevent them from consuming it, is going to be generally viewed as a pretty whack thing to do.
Which could be why this Redditor is getting so much hate.
Article continues below advertisement

@Economy_Insurance 434 uploaded a post to Reddit's AITA ("Am I the a**hole) sub asking if she was in the wrong for suggesting that her husband's 6-year-old daughter, who for the sake of the story she calls "Gwen" have a less-decadent treat for her birthday over a traditional cake.
Article continues below advertisement

OP says that she and her husband maintain a "healthful household" but that Gwen's mother's "blood type is probably ketchup." She adds that since his daughter only spends around two weekends a month at their home and her mother is feeding her processed stuff all the time, she is "about 20lb heavier than a 5-year-old girl is supposed to be."
Article continues below advertisement

OP prides herself on teaching her children how to make healthier food choices and says that she's even seen an improvement in Gwen's eating habits: the little girl has been asking for fruit. Since Gwen was going to be spending time at OP's house for her birthday, the Redditor thought it would be a good idea to ask her if she wanted a low-fat ice cream brand that she likes instead of a cake.
Article continues below advertisement

OP said that "she was happy" with the ice cream, however, when she went back to live with her mom, she ended up crying about not wanting to "make a bad choice," which is why she didn't have a birthday cake.
Article continues below advertisement

Gwen's mother was "furious" and accused OP of "fat-shaming her and her daughter and that [OP] owe[d] her a cake and a big apology."
OP concluded her post by saying: "I'm just looking out for the health of a child in my care, but I never said Gwen couldn't have cake and she could have had one if she said she wanted one. I suggested sticking to ice cream because I care."
Article continues below advertisement

She asked Reddit if she was in the wrong for suggesting to the child that they have low-fat ice cream instead, which, prompted a litany of criticisms from other Redditors who said that she was way out of line for doing so.
Article continues below advertisement

"She's 5. Give the child goddamn cake on her birthday and then go for a family walk after. Also FYI, the good choice/ bad choice talk is just going to give her body image issues for the rest of her life," one user on the platform said.
Article continues below advertisement

Another wrote, "She's six. It was her birthday. You should've made her a cake. And furthermore, you're setting her up for a restrictive eating disorder by policing all her food choices," before remarking that the submission felt like a "troll post" because "it's hard to believe someone could be so heartless to a little girl."
What do you think?