"I Have to Wake Up 3 Hours Earlier" — Remote Worker Complains About Return to Office In Viral TikTok
A remote worker posted a viral video where they expressed their dread in returning to the office, stating that they need to now wake up 3 hours earlier.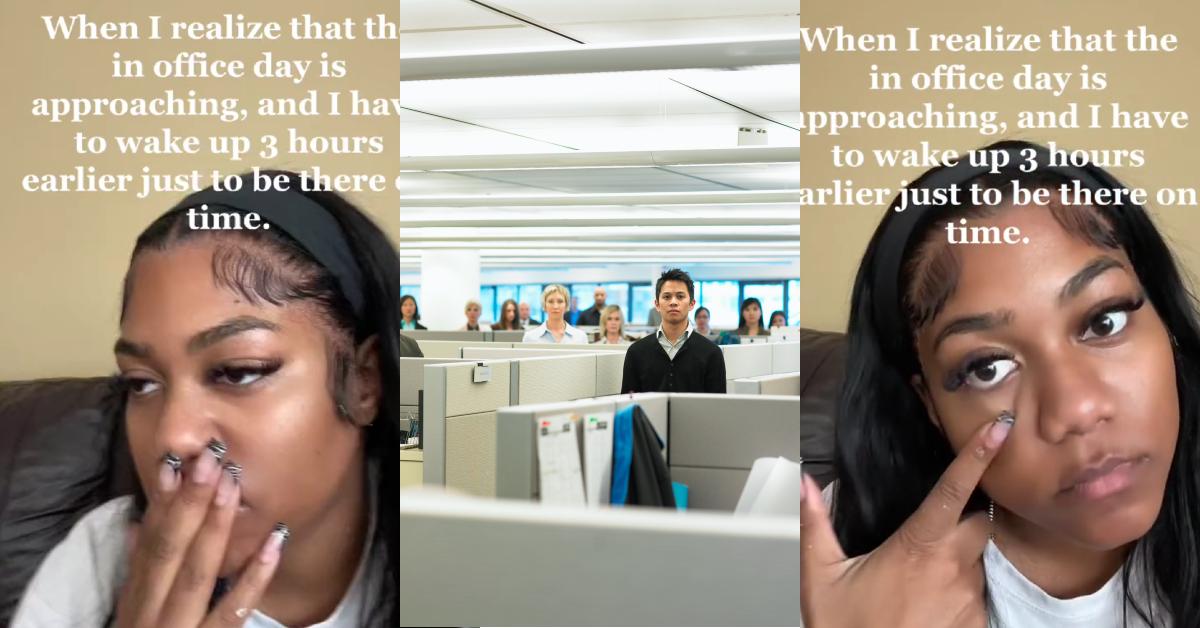 Article continues below advertisement
Heck, even if you own a vehicle, not having to commute to work every single day will greatly reduce your maintenance fees, and if the amount of mileage you drive yearly goes down, you could pay for cheaper insurance premiums since your whip isn't on the road as much. Not to mention the added cost of fuel/charging you'll likely incur as a result of putting wheels on pavement way less frequently.
One of the biggest benefits, however, is the fact that if you're a remote worker, all you really need is a reliable internet connection in order to do your job. Plus, you could literally roll out of bed, login to your computer, and get to work a minute or two after waking up.
Article continues below advertisement
This results in more sleep and more time to complete errands, get that workout in, or have free time with your family and friends you otherwise wouldn't be afforded as a result of making a lengthy commute.
So it's understandable why so many folks are dreading their company's implementations of return-to-office policies.
Which is a struggle embodied in a viral TikTok posted by a user name Cameesha Adams (@cameeshaadams2) on the popular social media platform.
Article continues below advertisement
In a 5-second clip that's garnered over 51,000 likes, she looks despondently on camera beneath a text overlay that reads: "When I realize that the in office day is approaching, and I have to wake up 3 hours earlier just to be there on time."
Article continues below advertisement
She adds in a caption for the post: "No, but like seriously it takes a lot out of me," along with #corporatelife and #corporatehumor hashtags.
It appears that there are a number of viewers who saw her post who couldn't help but agree with the sentiment she expressed, writing: "WHEN WE COULD BE DOING THE SAME THING AT HOME"
Article continues below advertisement

Someone else highlighted that employees are often performing the same tasks from their homes as they are in office, adding that the nature of how they go about their work doesn't change whatsoever, as they're utilizing the same communications mediums they do while working remotely, just in an office they are forced to commute to now: ""all for my meetings to still be on teams," they penned.
Article continues below advertisement
Another user on the platform highlighted how frustrating it is to have to then commute just to get home and relax after their work is done, instead of simply walking to their couch and plopping down: "I think the worst is actually having to commute after logging off instead of just laying on the couch"
There was one TikToker who said that working from home was an eye-opening experience for them as they were more productive as a remote employee: "After working from home you realize how unproductive being in office is"
Article continues below advertisement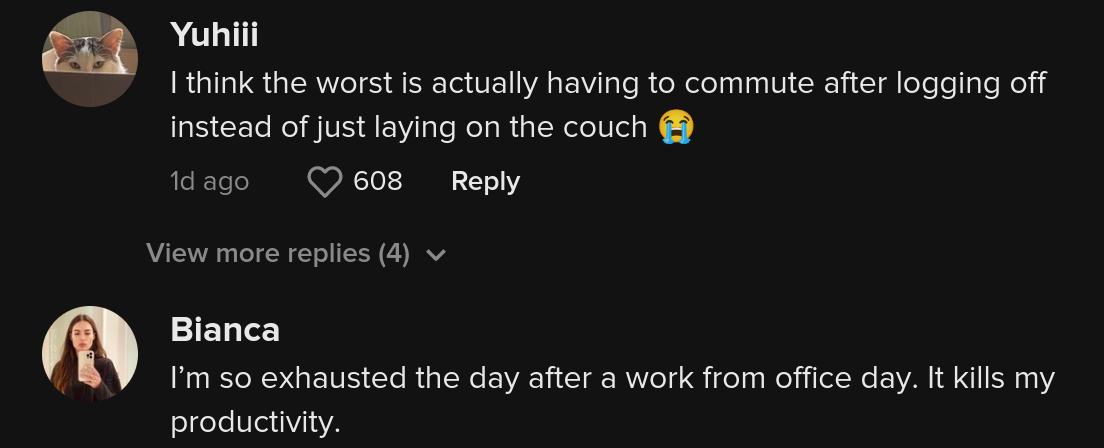 It would appear that there is truth to what they said too, with data to back it up. Apollo Technical writes that "77% of those who work remotely at least a few times per month show increased productivity"
Article continues below advertisement
Business News Daily also reported statistics that suggest remote workers end up getting more done because they inevitably work longer hours than their in-office counterparts.
There are other boons for businesses who engage in remote work programs for employees as well: way less overhead. There's no need for a larger office space, or any office space at all if the majority of its workforce is conducted of work-from-home employees.
Article continues below advertisement

Way fewer resources are consumed as well: there's no staggering utilities bill and having to provide payrolls for technical/IT advisors to manage equipment is also unnecessary for remote workers.
What do you think? Do you believe that there are benefits to returning to the office? Or do you think that a large number of roles can simply be done from anywhere, as long as the employee has reliable access to the internet and completes all of their tasks for the day?