Lululemon Fires Employees Who Chased Shoplifters Out of Store, Company Blasted for Its Response
Two Lululemon employees claim that management terminated their positions with the company after calling the cops of store thieves.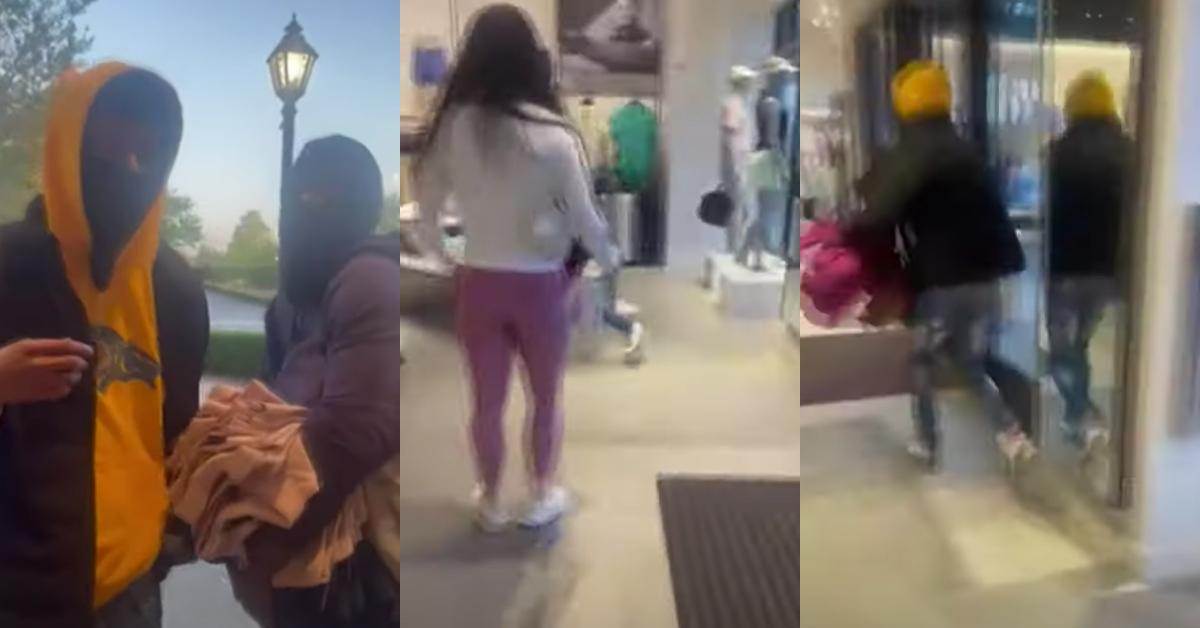 Imagine going above and beyond for the business that you work for, doing your best to curtail thieves trying to rob the company of its assets. You yell at them to leave, and then call the police after they've looted your business.
Article continues below advertisement
What's more is that you believe you know these perpetrators, as they've previously looted the store before. And for all of your efforts, you end up losing your job — fired for trying to stop thieving.
That's what allegedly happened with Jennifer Ferguson and Rachel Rogers, two former Lululemon employees, Fox News reports. The women recorded the three thieves, who were wearing face masks as they grabbed items from inside the store as they were accosted by the pair.
Article continues below advertisement
The woman can be heard repeatedly telling them "no" in the clip as the men stand by the door, before one of them darts back in to rip an item off of a display before ultimately darting back out of the Atlanta, Georgia Lululemon location.
Article continues below advertisement
"Get out," one of the employees can be heard sternly telling the man who grabs even more items again before jetting towards a vehicle. The store worker walk outside in what appears to be an attempt to clock the license plate and make and model of the vehicle they hopped into.
Upon the criminals' escape, the workers then phoned the Gwinnett Police Department to let them know what happened, a decision that Ferguson and Rogers said ultimately cost them their jobs.
Article continues below advertisement
Fox reported that Ferguson said neither her nor Rogers were provided "specific reasoning" for why they were ultimately fired from their jobs, adding that they were first "questioned by a regional manager" for their decision to follow the crooks outside and calling the police.
They added the clothing franchise stated that it has a "no-tolerance" policy for their reaction to the robbery: "We are not supposed to get in the way. You kind of clear path for whatever they're going to do, And then, after it's over, you scan a QR code. And that's that. We've been told not to put it in any notes, because that might scare other people. We're not supposed to call the police, not really supposed to talk about it."
Article continues below advertisement
The outlet also provided a statement from Lululemon, which said that it has specific policies set in place in order to protect those inside of the store. The chain also added that it will continue to work with local law enforcement.
Article continues below advertisement
"The safety and security of our employees and guests is always lululemon's top priority, and we have policies and protocols in place to uphold a safe environment. We take thefts and vandalism very seriously and our focus right now is supporting our educators, as well as continuing to collaborate with local partners and law enforcement."
Article continues below advertisement
Some folks have expressed ire towards the allegations against Lululemon for purportedly firing the employees for reporting the in-store crime, but there were others who said that non-accosting policies have been put in place in order to preserve the safety of workers.
Twitter user Greg C wrote that crimes would be reduced law enforcement personnel and legal prosecutors do their jobs properly: "As soon as police and prosecutors do their part, these thefts wil reduce. Those policies are in place because of known tactics gangs use and can result in the death of an employee leaving the store in pursuit. The retailers feel the employees safety is more important than the items stolen.
Article continues below advertisement
However, there was another Twitter user who argued that not being able to call the police in the event of a crime would make them feel considerably less safe as a retail employee: "Are they not responsible for the safety of their employees . Not being allowed to call the police would certainly make me feel at risk. Not saying they should, but I wonder if it's grounds to sue."
Article continues below advertisement
"We live in bizarro world. Why is the majority of the country just taking it? To get things to change each one of us must stand up and DEMAND it. When will this happen? When will we have enough?" they penned.