"$70.00 Worth of Groceries in 2023" – Mom's Walmart Cart Shows Reality of Inflation for Families
A woman's sad, $70.00 Walmart grocery haul has sparked a viral debate on the state of the US economy.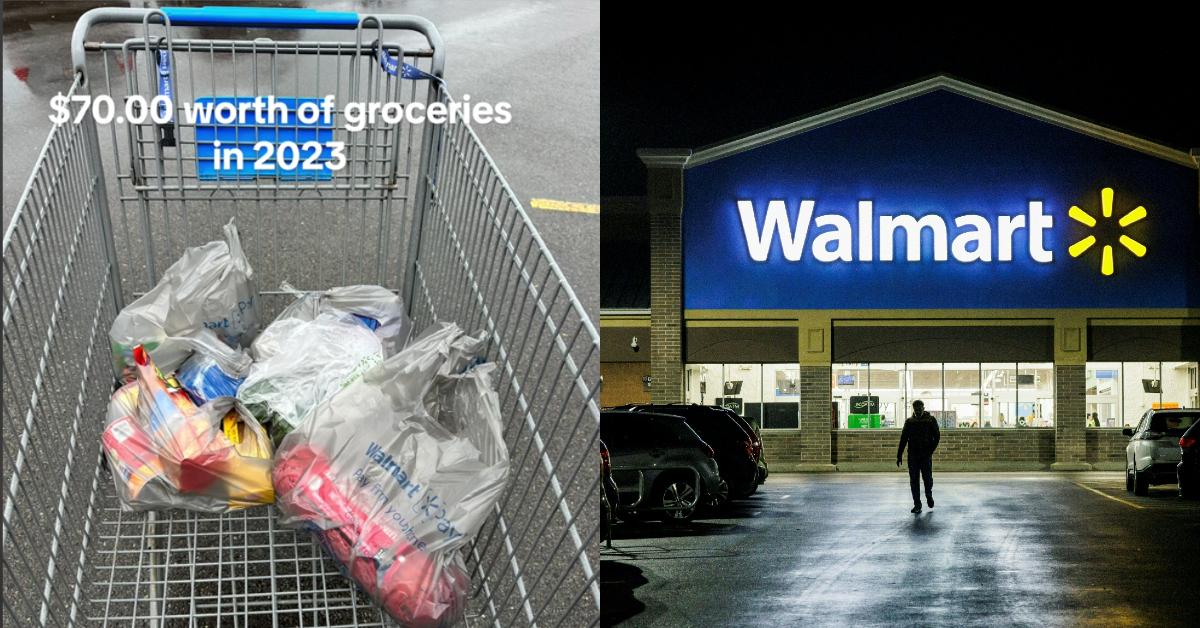 Article continues below advertisement
To highlight just how prohibitively expensive some supermarket offerings have become, TikTok user and Mom @neverblue1978 snapped of a photo the inside of their their shopping cart to demonstrate what $70 worth of groceries looks like in 2023.
Article continues below advertisement
In the short TikTok video, she shows off four bags, one of which appears to contain a package of ground beef, set to Buffalo Springfield's "For What It's Worth."
Article continues below advertisement
There were a lot of folks who, like, the TikToker, were shocked that even Walmart has gotten so pricey: "And that's at Walmart," one person wrote.
Another simply penned: "Yep so sad"
While someone else replied: "Elections have consequences!" and another TikTok urged Americans to take action: "We don't have to put up with this! Protest like in the '60s and '70s!"
There was one user, however, who said that folks can still afford groceries for less money, they just needed to be willing to put in a bit of leg work and frequent services/stores that are outside the realm of traditional retail experiences by utilizing a service called "barn2door" which connects consumers directly to local farmers.
Article continues below advertisement

"www.barn2door.com and your local farmers. there are cheaper better ways," they penned.
According to the Barn2door website, folks will be able to "access real-time farm inventory" with the service, meaning that they're only going to be getting offered fresh meat and produce which are dictated by seasonal availability.
Article continues below advertisement
But how do its prices compare? Well, let's juxtapose the cost of an entire fresh cut of cow's brisket from Apple Ridge Farm in NJ, as compared to a whole brisket from a Walmart's meat department in NJ. Apple Ridge sells the cut for $41.52, whereas Walmart sells it for $55.44.
However, a dozen eggs at Apple Ridge are $8, whereas Walmart sells 36 for $4.32 online. There are other factors to consider when using a service like Barn2Door that connects you with local farmers, and it may be in a shopper's best interest to directly communicate with these farms to see if they can work out deals with you for direct purchases of their goods.
Article continues below advertisement

But there are also plenty of local farmer's markets that folks can often visit in order to buy larger quantities of food for less money. Sure, they don't offer some of the same amenities as popular retail chains, and the items patrons will be able to select may ultimately be limited to whatever is available at the time.
Article continues below advertisement
The Penny Hoarder writes that grocery shoppers can save big if they decide to buy produce/goods when they're at the "peak" of their respective seasons. One of the top ways that the outlet suggests people end up saving money, however, is to never go to the farmer's market with the expectation of getting a specific thing.
Basically, folks are going to have to get what they get and not get upset and base their meals around whatever is available at the moment for a good price.
Article continues below advertisement

But there's another reason why shoppers are experiencing so much grief at the grocery store checkout counter, and many people believe it has to do with policies implemented by the current Presidential administration.
Article continues below advertisement
The Hill has reported a positive correlation between the increase in grocery item costs along the surge in SNAP funding, which means that those who receive "food stamp" benefits aren't getting more bang for their buck, and shoppers who aren't on subsidized assistance are spending more for their goods than ever before.
Regardless of the factors at play, it looks like it'll be a tough year for many around the globe as governments try to cool off inflation and avoid pushing further into a global recession.