This Person Breaks Down an Eye-Opening Difference in Conversation Styles Between Women and Men
This TikToker breaks down a distinction in conversation styles between men and women. Take a look at the difference and what others say about it.
As much as we should try not to ascribe anyone to heteronormative gender roles and the aggressive gender binary, there still exists some rather pervasive differences between women and men in our society. If the Barbie movie has taught us anything, it's that gendered stereotypes continue to have a major impact on how people are able to function, whether it's in real life or in the fictional Barbieland. According to this TikToker, this is especially true even in casual conversations.
Article continues below advertisement
Peeweee on TikTok (@pinkpantheresslover) is used to sharing regular life updates and some super relatable content about trying to function on a day-to-day basis. In a video posted on July 26, however, she took the time to talk about how much her conversation style changes with men versus how she speaks with women. As of this writing, her observations have over 2.4 million views on TikTok and counting, and folks have plenty to say about her thoughts. Let's break it all down.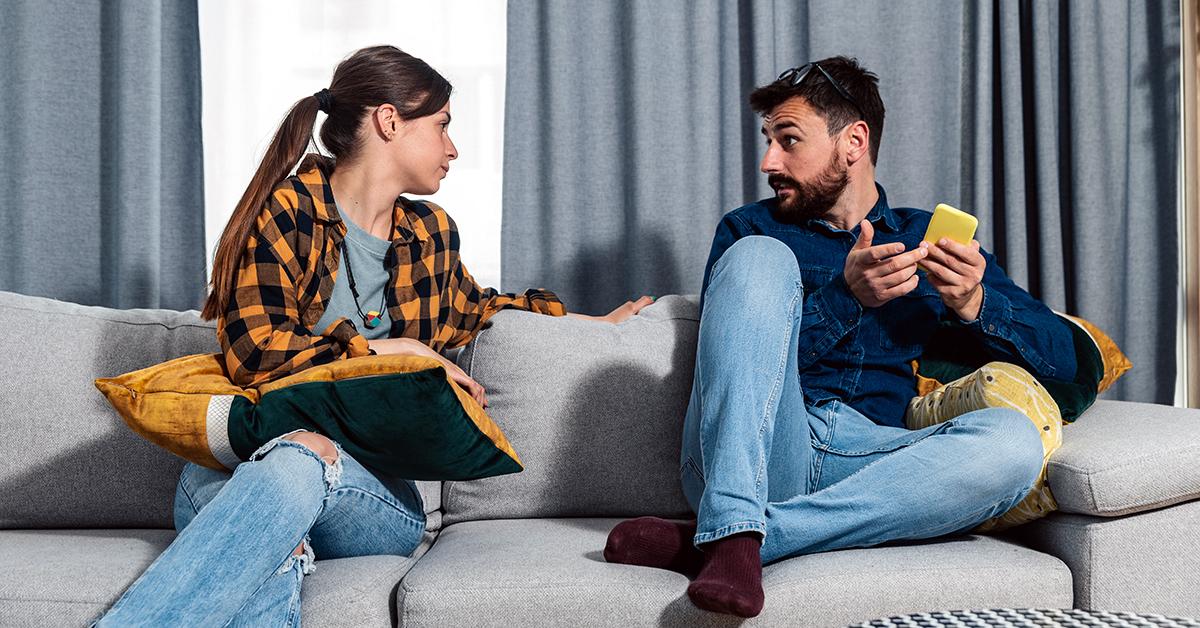 Article continues below advertisement
This person breaks down the difference in conversation styles between women and men.
In her quick TikTok, OP discusses at length the biggest difference she noticed between talking to men and talking to women.
"I don't know if anyone else feels this way, but I do," she wrote in the description.
OP began by admitting that as a woman, it's "really hard to have conversations with men." She then brought up the idea of interjecting and how it is perceived by women and and men individually.
Article continues below advertisement
For her, interjection can be a sign that she's actively listening to the other person and wanting to hear more of what they have to say. The biggest difference she noticed is that men feel as if interjection is a sign of not listening.
Article continues below advertisement
She even brought up an interesting example of how she might interject in an effort to learn more from the other person.
"Sometimes, women ask questions that may sound stupid in conversation, but it's genuinely just to open the other person up a little more," she said.
She revealed that when she talks to people, she tends to ask questions that seem like they don't need to be asked so that the other person feels like they have the space to talk.
In one example she provided, she might hear from someone that they went to California, and she would ask, "oh, you went to California?"
According to her, women tend to respond by using that as a jumping-off point to briefly describe their trip and add more to the conversation. Meanwhile, men will usually take this question at face value, and may even feel as if the question shouldn't have been asked.
Article continues below advertisement
"I'm giving you space to explain, to expand," OP described. "I am taking your question and throwing it back at you so that you give me more."
Article continues below advertisement
Other users have noticed the same difference between conversations with men and women.
The comments section is filled with folks who feel the same way. One person wrote: "[Men] talk for information and [women] talk for connection."
Another person provided a translation for this type of scenario: "Asking an obvious question = go on with the details."
Article continues below advertisement
In essence, the idea behind asking questions that may seem redundant about what another person is talking about is that one person is essentially placing emphasis on a speaker's point so that the speaker can continue with the conversation while adding more information than they might have initially. The other person is providing a segue to share more.
If a person is truly invested in a conversation with someone else, they'll want to make sure that the other person knows that they are engaged and curious as to what they have to say. This is something that men could stand to pick up on moving forward.