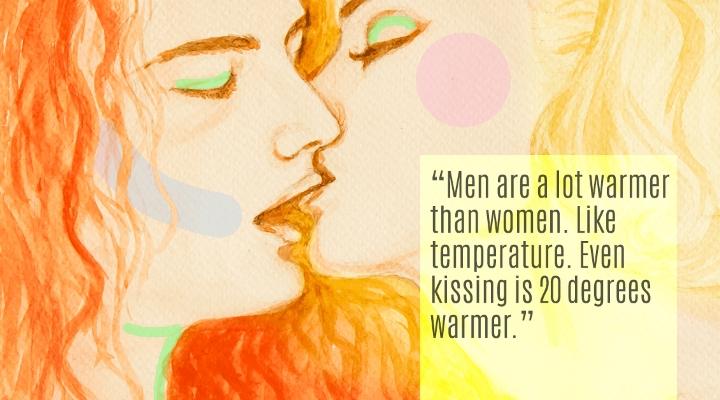 22 Bisexuals Talk About The Biggest Differences And Similarities Between The Two Sexes
By Mark Pygas

Updated
I always kind of wanted to be bisexual. I definitely find tons of dudes attractive, case in point, Zac Efron, but finding them hot and wanting to sleep with them are two entirely different things, which I discovered for myself. I've had to kiss dudes in plays and movies, and found out pretty quickly that I didn't feel the same thing as I did when I was kissing a woman. It could be that I haven't found the right guy yet, but as of right now, I'm kinda totally hetero.
Which is why I'm really interested in hearing from people who are actually bisexual, not my wishful-thinking brand of bisexuality, in what the differences between dating both sexes are.
Thankfully, a ton of people were willing to share the contrasts they found between both sexes on Reddit.

1.
2.
3.
4.

5.

6.

7.

8.

9.

10.

11.

12.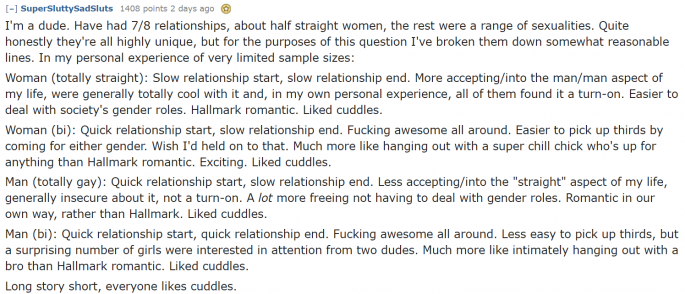 13.

14.

15.

16.

17.

18.

19.

20.

21.

22.

23.
Some high profile people have come out as bisexual in recent years, including Megan Fox, who said in an interview with Esquire, "I think people are born bisexual and then make subconscious choices based on the pressures of society. I have no question in my mind about being bisexual. But I'm also a hypocrite: I would never date a girl who was bisexual, because that means they also sleep with men, and men are so dirty that I'd never want to sleep with a girl who had slept with a man."
Former "Biggest Loser" trainer, Jillian Michaels, has also spoken out about her bisexuality. "Let's just say I believe in healthy love. If I fall in love with a woman, that's awesome. If I fall in love with a man, that's awesome. As long as you fall in love… it's like organic food. I only eat healthy food, and I only want healthy love!"