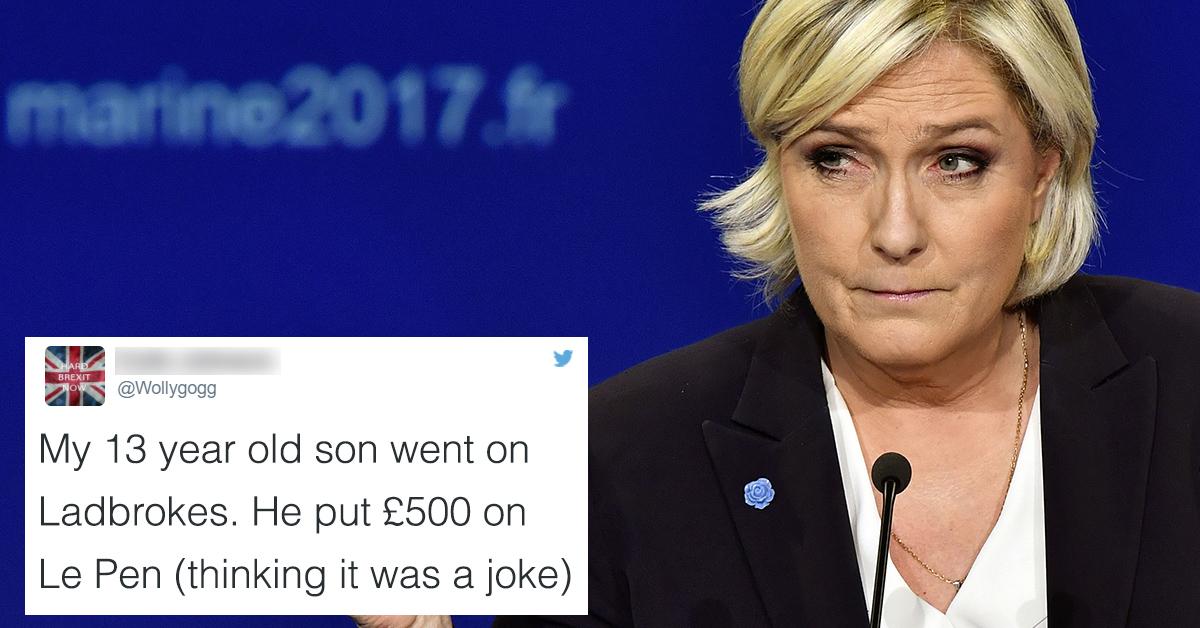 Guy Who Lost $650 On Le Pen Bet Tries To Get It Back By Pulling This Stunt
By Mark Pygas
Yesterday, France took to the polls for the second time after a first round of voting failed to elect a President. This time, only two candidates were on the ballot — centrist candidate Emmanuel Macron and far-right candidate Marine Le Pen. Macron defeated his opponent by no small margin, winning 66.1% of the vote to her 33.9%. It wasn't a huge surprise as the controversial candidate saw support begin to waver in the weeks leading up to the elections.
Le Pen, who promised to drastically lower refugee numbers and hold a referendum on European Union membership, was unsurprisingly popular among Donald Trump and Brexit supporters. They weren't exactly pleased to see Le Pen defeated, but one Twitter user had more reason than most because he staked quite a bit on the outcome and didn't seem happy with the results at all.
Twitter user Wollygogg allegedly bet £500 ($650) on Le Pen winning the election. Talk about a gamble, we hope he got better odds than just a straight bet...
And when he heard the news, the story suddenly changed.
And yes, it gets better. One person posed as a journalist's assistant to get this joke off...
Twitter user Jonnie Marbles said that Wollygogg had been bragging about the bet all day, so they decided to screenshot it for posterity's sake so there was no confusion on what actually went down.
Some people suggested that they get the police involved for fraud because of his actions.
Twitter did get a laugh out of it, though. And that's easily worth the £500.
HOW IS TWITTER FREE? The content is just too good. Sadly we're not sure if this will pay off but at least he's saving a bit of face with the attempt to get it back.