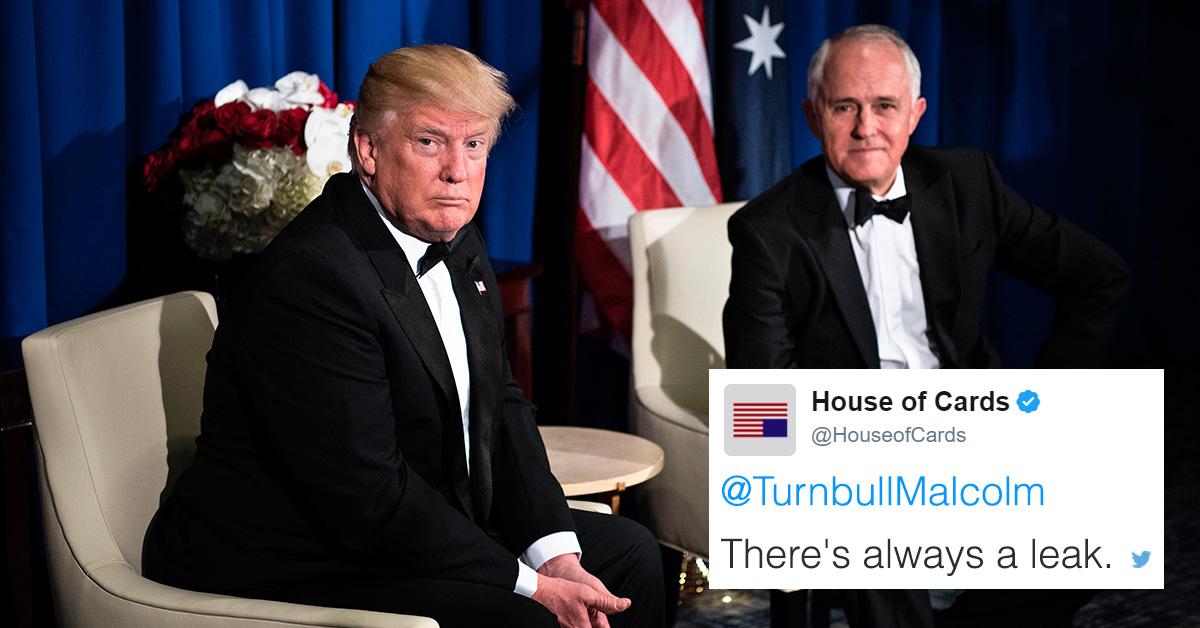 Leaked Recording Circulates Of Australia's Prime Minister Mocking Donald Trump
By Mark Pygas
Donald Trump doesn't exactly have the best record when it comes to diplomacy. In February, media reported that he "yelled" at his Australian counterpart Prime Minister Malcolm Turnbull and then hung up mid-conversation. Apparently, President Trump was angry that former President Barack Obama had agreed to resettle up to 1,250 asylum seekers who are held in Australian processing camps in Papua New Guinea and Nauru.
The deal was agreed to as thanks for Australia's involvement in Afghanistan and Iraq, and in return, Australia would also resettle refugees from several central American countries. Of course, Trump took to Twitter after the conversation to voice his displeasure.
And now, Turnbull has been caught mocking Trump during the Australian parliament's annual Midwinter Ball. The leader's speech, in which Turnbull imitated President Trump, is usually considered off-the-record and not reported on. But this year, the speech was leaked online by journalists who believe that they should be able to report on the event.
Turnbull can be heard mocking his meeting with Trump in New York last month:
"It was beautiful. It was the most beautiful putting-me-at-ease ever."
"The Donald and I, we are winning and winning in the polls. We are winning so much, we are winning, we are winning like we have never won before. We are winning in the polls. We are! Not the fake polls. Not the fake polls. They're the ones we're not winning in. We're winning in the real polls."
"You know the online polls. They are so easy to win. I know that. Did you know that? I kind of know that. They are so easy to win. I have this Russian guy… Believe me, it's true, it is true."
Speaking to 3AW, Turnbull said he was "disappointed" the speech had been leaked, but said it was "good humored."
The U.S. Embassy was also quick to save face.
And unsurprisingly, the leaked audio circulated quickly in the United States.