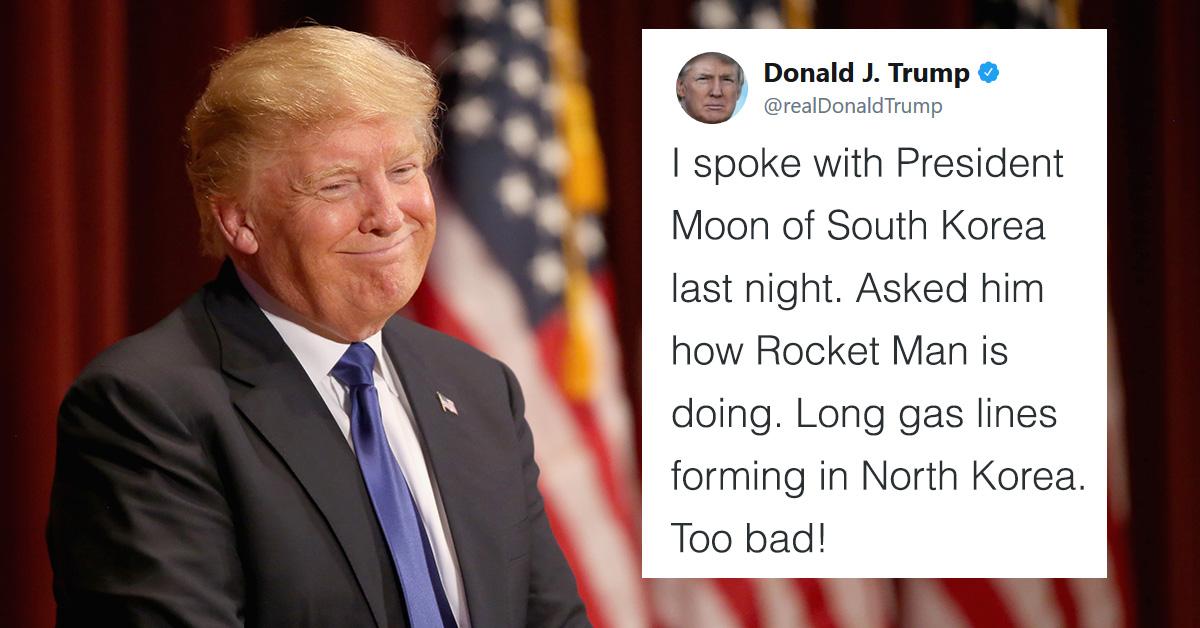 President Trump Just Called Kim Jong Un 'Rocket Man' On Twitter
By Mark Pygas
North Korea fired a second mid-range ballistic missile over Japan on Friday, just weeks after the nation reportedly conducted its sixth and most powerful nuclear test to date. In response, the U.S. and South Korean military staged bombing drills, while Russia and China began naval exercises.
Earlier in the week, the U.N. Security Council had imposed new sanctions on the country, capping fuel supply, and reportedly sending gas prices in the country soaring. Which provides context to President Donald Trump's tweet about the test, in which he calls Kim Jong Un, who some view as the biggest threat to the free world, the "Rocket Man." He wrote, "I spoke with President Moon of South Korea last night. Asked him how Rocket Man is doing. Long gas lines forming in North Korea. Too bad!"
It's always weird when we take a step back and realize that we are living in a world in which the leader of the United States of America is giving away nicknames for other world leaders (or some of our nation's leaders) as though this was rush week at a fraternity... Anyway, with his latest ridiculou nickname, President Donald Trump is, assumably, referencing the 1972 Elton John classic — effectively ruining our love for one of the greatest songs of all time. On that note, Twitter was just as confused as we are, though.
Though Trump did seem to have some support. One such rider on the Trump train tweeted, "I predict someone will be offended by the term Rocket Man... Meanwhile, President Trump just made the majority of America smile!" For good measure, that person also included a MAGA hash tag. Another person said that anyone who isn't seeing what good the President is doing is simply "blinded by the fake news."