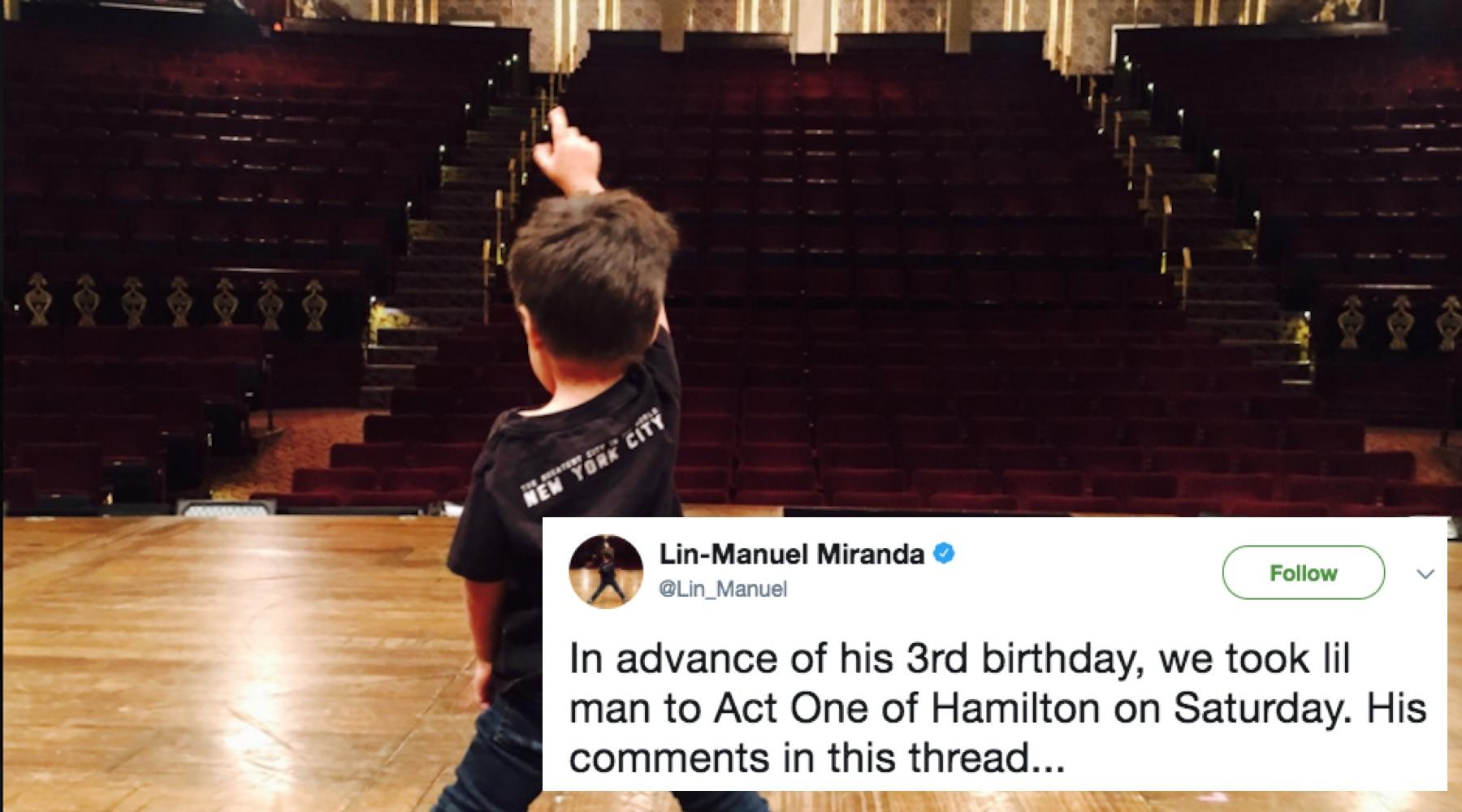 Lin-Manuel Miranda Narrates His 2-Year-Old Son Seeing 'Hamilton' For The First Time
By Aimee Lutkin
Hamilton has taken the country by storm. Writtern and composed by Lin-Manuel Miranda, the "rap-musical" tells the story of American founding father Alexander Hamilton and his adventures in the United States of America. The play has been a smash hit - consistently being the big hot ticket show on broadway each night.
Lin-Manuel Miranda may also be the most famous man on Broadway right now, but at home he's just dad trying to impress his kids. In an attempt, we assume, to let his kid know exactly how talented and important his pop is, Miranda took his three year old to see Hamilton. Now, if I ended up sitting next to a three year old after paying a thousand dollars for a ticket, I'd be pretty annoyed, so I hope Miranda signed some Playbills afterwards.
But it does sound like it was pretty cute.
Miranda tweeted out his kid's entire experience, which is helpful if you're considering taking a toddler to a three hour musical. It seems like the biggest hits were any scene with guns, kissing, or people the child has met before. So, pretty much the same stuff that's popular with adults! It's not surprising though. Hamilton is super accessible for all ages, and we're glad the little guy enjoyed the ground-breaking play as much as the masses has.
And no, the kid didn't make it through the whole show. But he will, if Miranda has anything to say about it. We can't blame him for getting a little fussy, plays can be a marathon.
It sounds like he might have a future in the play biz. Hopefully he gets his chance to wrap up act two soon. We'd love to see his reactions to the grand finale!