This Guy's Pre-Workout Amazon Review Lists All The Hilarious Side Effects He Felt
This guy's Amazon review of pre-workout supplement Beyond Raw Lit reveals all the hilarious side effects.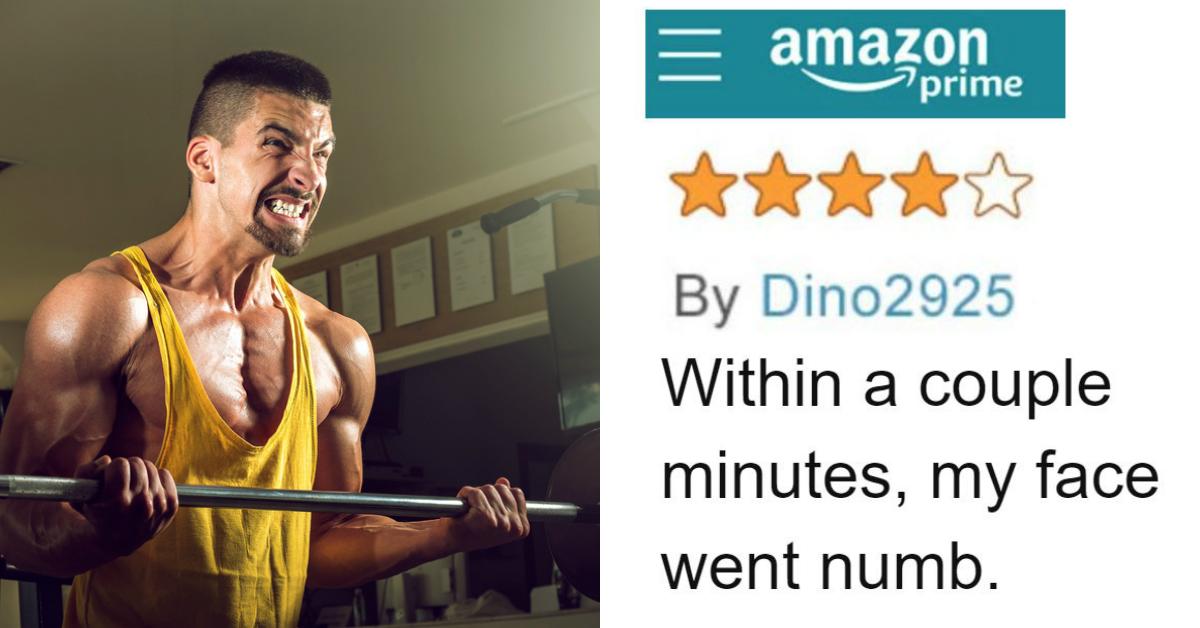 One of the best (and worst) parts about the internet is that so much stuff is just plain made up.
Article continues below advertisement
Now you might be asking yourself, "How can that ever be considered positive?" And it's true, there is a ton of fake news out there causing all sorts of havoc, so much in fact, that some people feel it helped get a former reality TV star elected President.
But, I would counter your fake news woes with the wonderful world of exaggerated Amazon product reviews that are almost always hilarious. I mean, just look at these amazing words of praise for the iconic three-wolf moon shirt.
Article continues below advertisement
Article continues below advertisement
That's right, he called it "career development fertilizer."
You can buy pretty much anything on Amazon and find out whether it's good or not thanks to the retailer's handy-dandy comments section. Coincidentally, people who actually take the time to read product reviews are prime targets for some lighthearted trolling/gifts of hilarity. Like the reviews that have been pouring in for this pre-workout powder.
Article continues below advertisement
Now if you're unfamiliar with the world of fitness supplements, there's one thing you need to know: it's a lawless wasteland.
Article continues below advertisement
Because of that, it's home to some of the craziest, "bro-science" claims you'll ever hear. As a result, there are some MOs that lots of these supplements follow. And if you used to read Muscular Development and all the crazy bodybuilding magazines back in the day, you'll know exactly what I'm talking about.
Article continues below advertisement
The LIT pre-workout powder's product description falls in line with the supplement lingo.
Clinically Dosed Pre-Workout
Built By Science. Driven By Obsession. Elevated Through Innovation.
If It's On Our Labels, Then It's In Our Bottles. Get Lit And Train With Focus, Power And Pumps.
Proven Ingredients. Proven Doses. Clinical Quality. Real Science. Real Results.
Summary:
Article continues below advertisement
Which may or may not have inspired people to write such hilarious testaments to the efficacy for this "pump" powder. Like Amazon user Dino2925's review of the stuff.
Article continues below advertisement
Walked into the break room at work for a glass of ice water. Noticed a container of this sitting on the shelf. Thought it might flavor my plain water reasonably well so I mixed some up. Blue Raspberry. I read the label as I stirred. "May cause flushing and tingling". I smirked, thinking that wouldn't be an issue. Background: 5'11", 270 lbs. A walking wall that spends an inordinate amount of time lifting large weights. I don't use supplements but am peripherally aware of their function. This is labeled as a pre-workout supplement. I figured that since I was going to the gym later, it couldn't hurt.
Article continues below advertisement
The taste was delicious. Sour and refreshing. Within a couple minutes, my face went numb. I laughed, thinking maybe there was something to that warning label. Soon, the tingling spread to my arms, legs and chest. Then the itching started. The whole body itching that someone might experience after swimming in a lake of toxic waste. The label didn't mention the itching. Then the caffeine kicked in. I think that the manufacturer forgot to mention that one of the secret ingredients was methamphetamine. Proprietary blend, with a sprinkle of cocaine. I literally couldn't blink. Had I been surrounded by a group of angry police officers, I suspect the ensuing viral video would have been epic. One review mentioned that this product is 'Fire'. That phrase went though my mind prior to reading it.
Article continues below advertisement
It took about two hours for the product to wear off. The itching was unnerving. Ten hours later and my tongue still hurts. I never did get to the gym. This product would likely be awesome during the first hour of a Zombie Apocalypse, as your situational awareness will be off the charts. You'll feel as strong as a gorilla and the itching will keep you moving. I don't know if sweating would help mitigate the itching but I suspect not.
When I get back into work on Monday, that container will still be sitting there. Calling me. Tempting me. Part of my brain will shout "Remember the itching!". Another part will whisper "Remember the rush...." I'll probably opt for a glass of water and think about zombies.
Article continues below advertisement
The invigorating, itchy affair didn't seem solely reserved for Dino, either. Other people testified to the fortifying effects of the powder.
Article continues below advertisement
Others think the pre-workout is so good that Jesus himself would use it.
Article continues below advertisement
Lots of the reviews comment on the fact that the product leaves you feeling "tingly," but everyone pretty much unanimously agrees that it works.
Article continues below advertisement
Not sure I want to be itching/tingling all day just to have a slightly better workout, but I have to be honest, I do kind of want to try it now. Sorry Dino, your trauma has done little to dissuade me from wanting this product.